It's an ideal name for a restaurant owned by an Olympic track legend who is considered the greatest sprinter of all time. And just in case you need a reminder of those athletic feats, his world record 100 metres time of 9.58 and 200 metres 19.19 are blazoned all over the front desk. It's minutes way from Liverpool Street station on Middlesex Street and the superstar name attached to it guarantees a flow of curious diners to a certain degree, but ultimately there's a desire to discover whether the food matches his own talents.
With Usain Bolt famed for representing his home country of Jamaica, you won't be surprised by the Caribbean influence throughout the restaurant, and the yellow, green and black decor in certain sections matches the colours of the national flag. The Piet Mondrian-style stain glass windows in the main dining area are so-coloured. There's a welcoming, cheery vibe that reaches out to all races, classes and bank balances and has much of the character of the man that sought to do so from stadiums all over the world. Reggae vinyl records adorn the walls as well as track memorabilia and paintings of Bolt in his famous Lightning Bolt pose.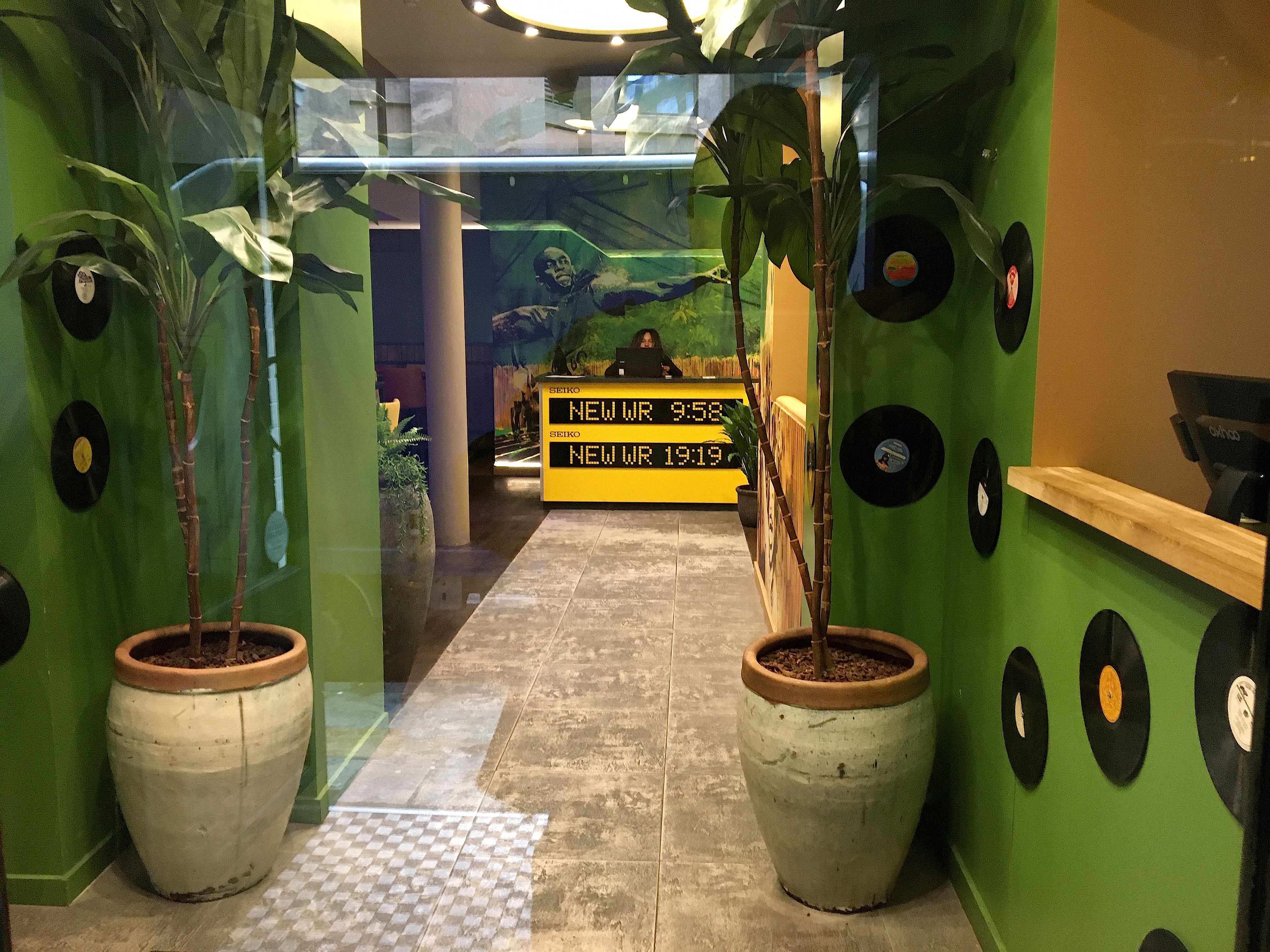 Those familiar with Caribbean food will recognise some dishes across the islands but the Jamaican menu here is marked with stand out specials particular to his homeland. A Spiced Pumpkin Soup starter sounds delicious enough, tempting you from the menu with a promise of creamy sweet pumpkin made with coconut milk and Scotch bonnet, a Caribbean red pepper – and decently priced at £5.95.
However, the Coconut and Cassava Prawns come well recommended and are mouth-wateringly coated in bammy and coconut flakes, with a delightful hint of pineapple from the sweet and sour sauce. Bammy (Bami) is the traditional Jamaican cassava flatbread similar to that eaten by the Arawak Indians who first inhabited Jamaica. It's made from grated cassava root. .                                                                                                                                                                                                                                                                                                            A serving of Curried Ackee Salsa is ideal for those with a a culinary sense of adventure but want a smallish dish or dip just in case they can't finish a meal that's new to them. Don't worry you will. This Caribbean favourite of Ackee is even more palatable alongside the spiced salsa, sweet potato and plantain chips and side dish of broccoli. Ackee is Jamaica's national fruit so go for this dish to sample one of the island's delights.