West End attraction Marble Arch Mound was temporarily closed after criticism from visitors. It promised panoramic views of London from the top of its viewing platform. We investigate reports about its 'ugly' scaffold and compare it to the notorious Tyburn Tree execution scaffold that once stood in Marble Arch.
Marble Arch drew the crowds centuries ago when villains and traitors were hung by the neck at Tyburn Tree, a wooden scaffold built to execute three at a time. Even Oliver Cromwell's corpse was hung there in 1661. The execution spot was to the north east of Hyde Park and macabre as it was, it was still considered a must-visit and entertainment for commoners and nobility alike. Fast-forward to 2021 and Marble Arch Mound is seeking to pick up where Tyburn Tree left off and become the capital's most talked about public attraction. Well it is, but for all the wrong reasons. Since it's opening, it has been beset with problems and the widespread criticism has probably led to as many new visitors queuing up to see how bad it is as potential visitors put off by the bad reviews.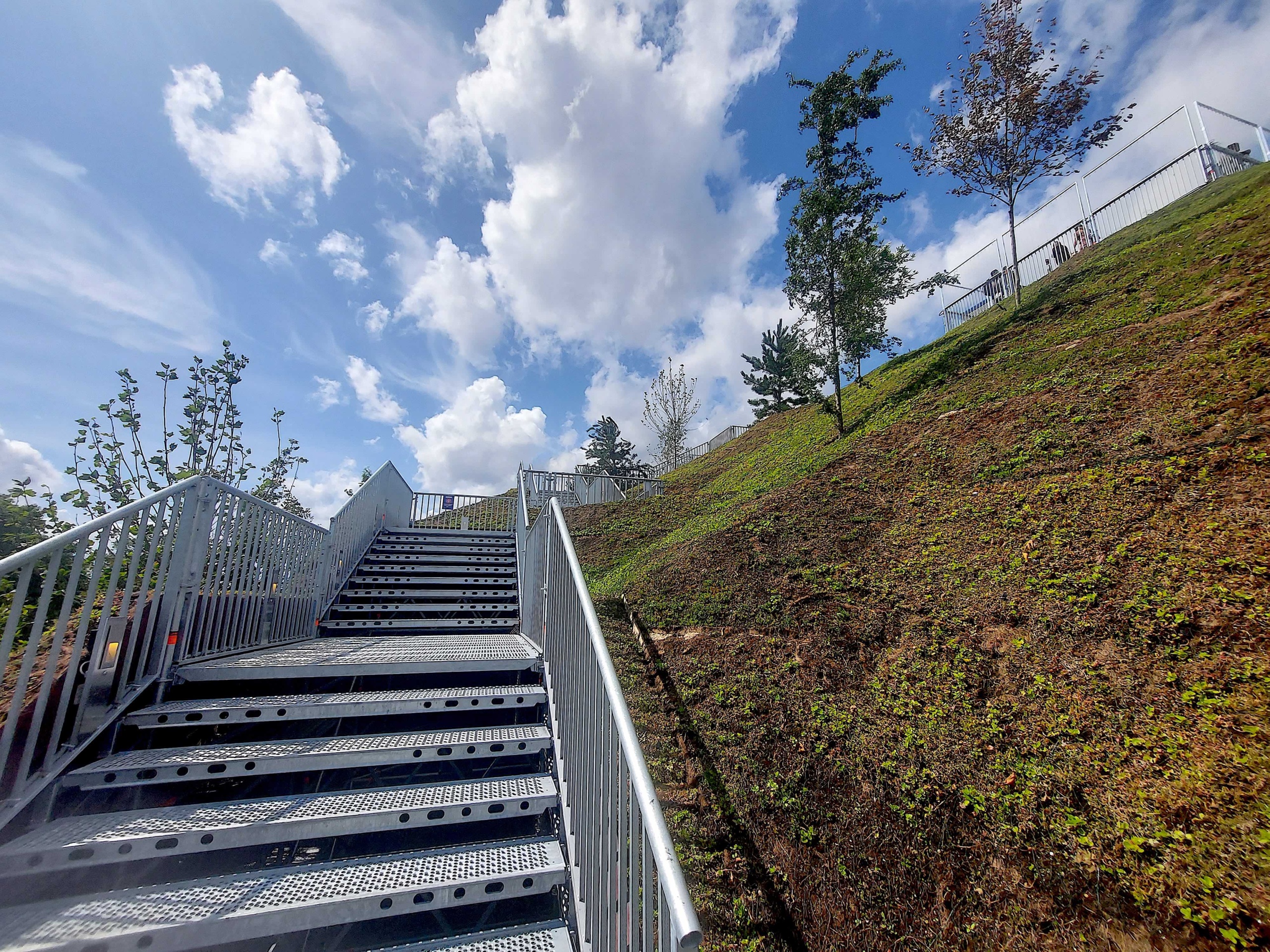 Stairway leading up Marble Arch Mound
The grim functionality of the Tyburn Tree scaffold is in stark contrast to the ugly scaffolding that can be seen propping up this £2million pop up artificial hill, touted as a top attraction with a viewing platform with sweeping views from Oxford Street to Marylebone. But many complain that  when you get to the top, there is nothing to see 25 metres up. No great views of London.  A waste of time and of tax-payers money.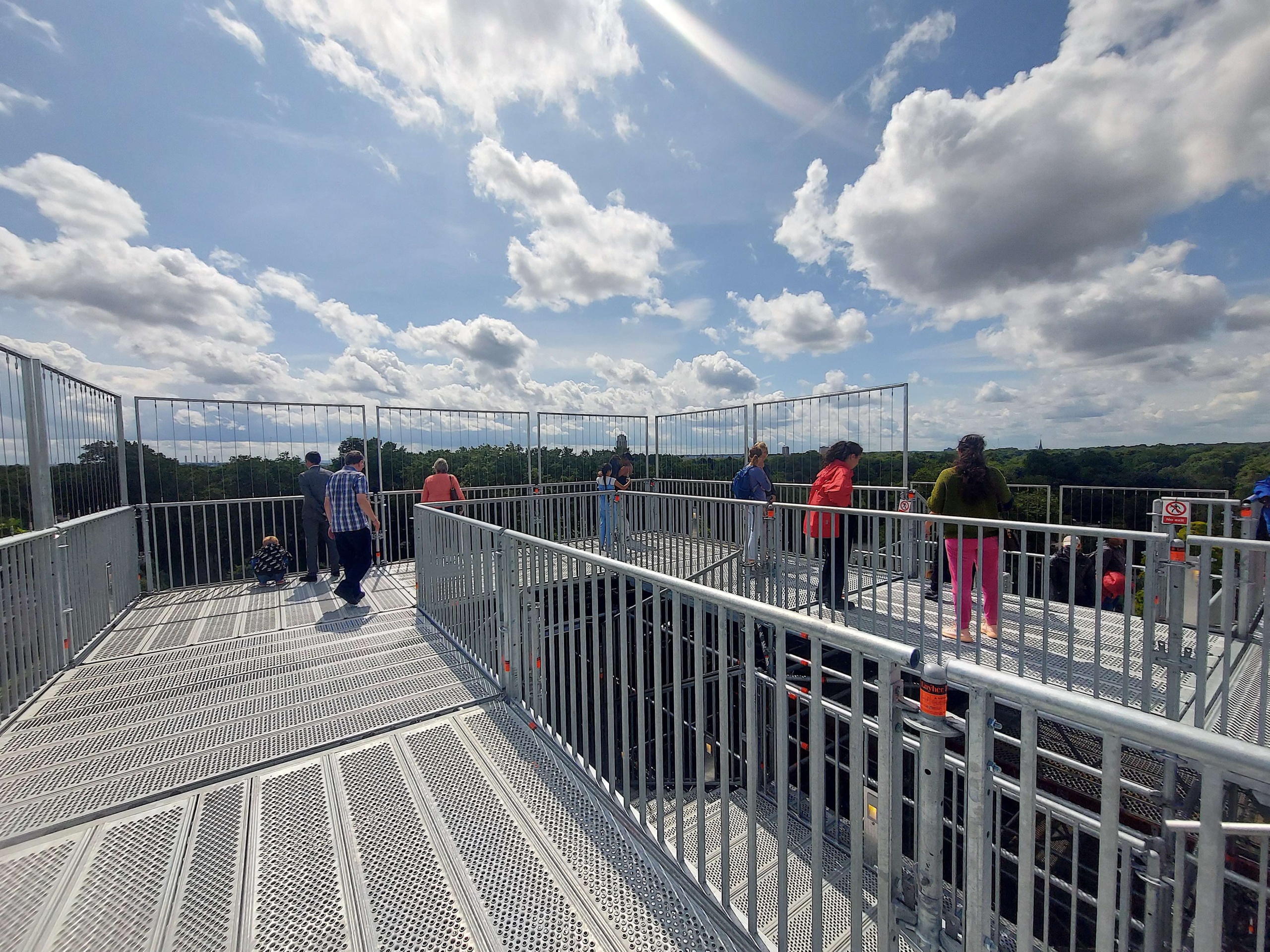 The viewing platform on the top of Marble Arch Mound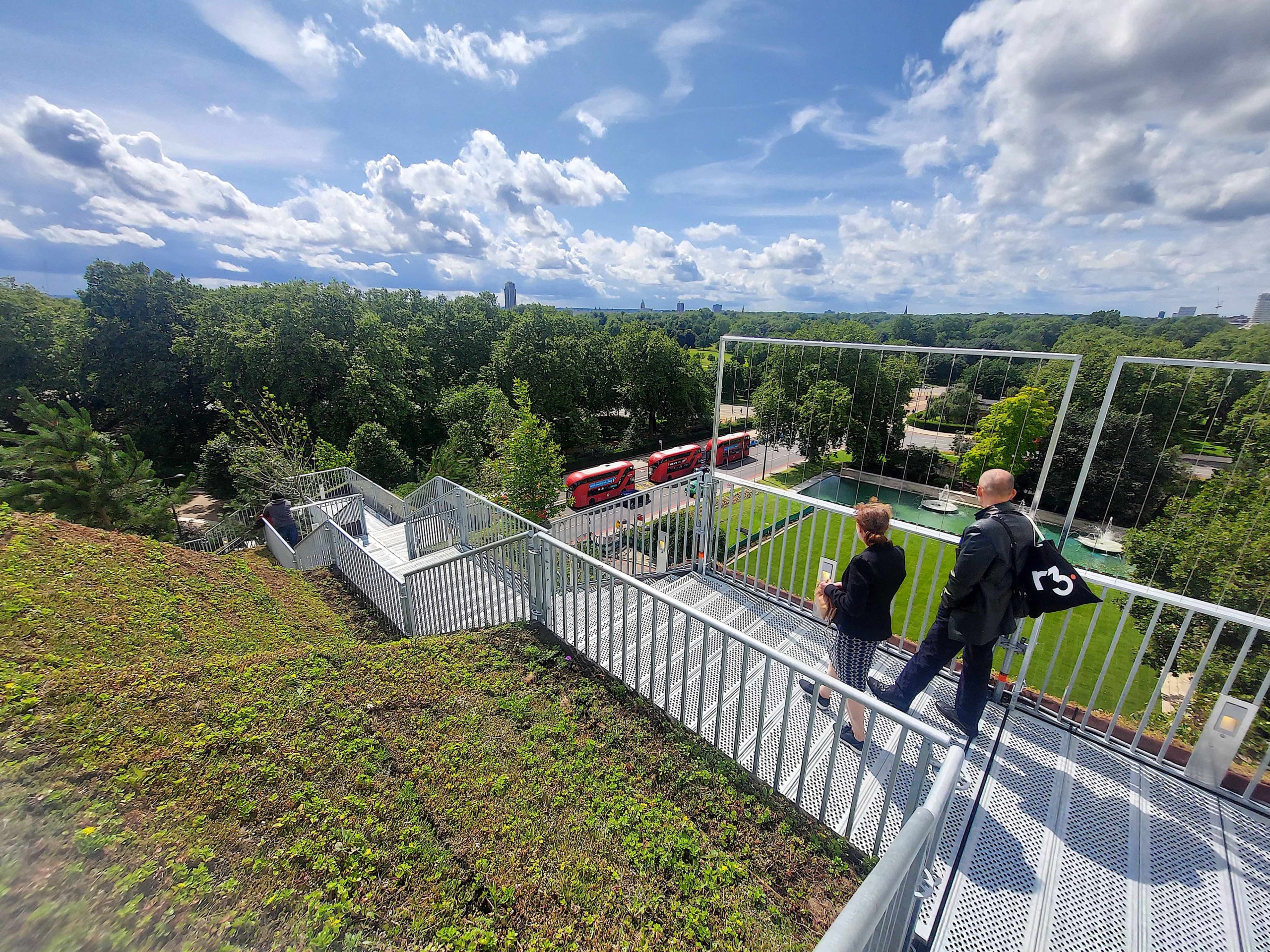 Views from the top of Marble Arch Mound
Well actually, there are pretty impressive views of London but whether they are worth the £4.50 admission fee is another matter. And other than the viewing platform what exactly is the point of it all? The City of London's Oxford Street District website says "it brings green landscaping and trees to an area suffering from traffic pollution." No. It is green and has trees but the 'landscaping' part is debatable. Patchy. Lacking aesthetics. Like many architectural or landscape ideas it was probably an idyllic vision at the drawing board stage and we've all seen similar architectural concept images which have a polished, futuristic even utopian energy that, ultimately, can't be delivered. Some say the TeleTubbies hill is lusher and greener than this patchy, half-hearted effort.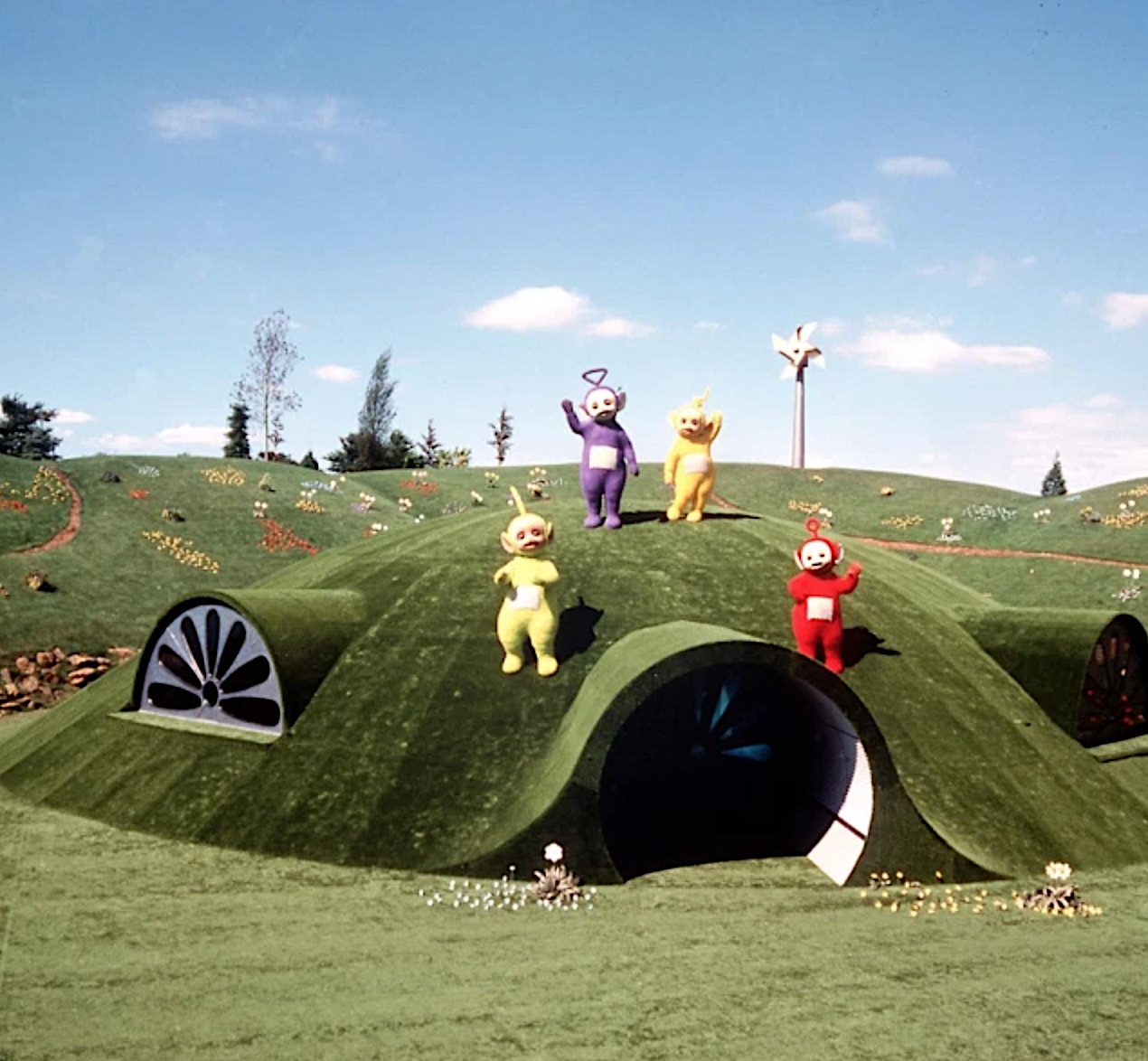 (Image – BBC)
The promise of an environmental oasis in this concrete confluence of two-way traffic fell alarmIngly short. That's not to say that Westminster Council and 'world renowned architects' MVRDV won't iron out these little bumps but if you're scrolling through social media and seeing nothing but back-to-back complaints and criticisms it will take more than a PR patching up to reverse the impact. The council has already started offering refunds.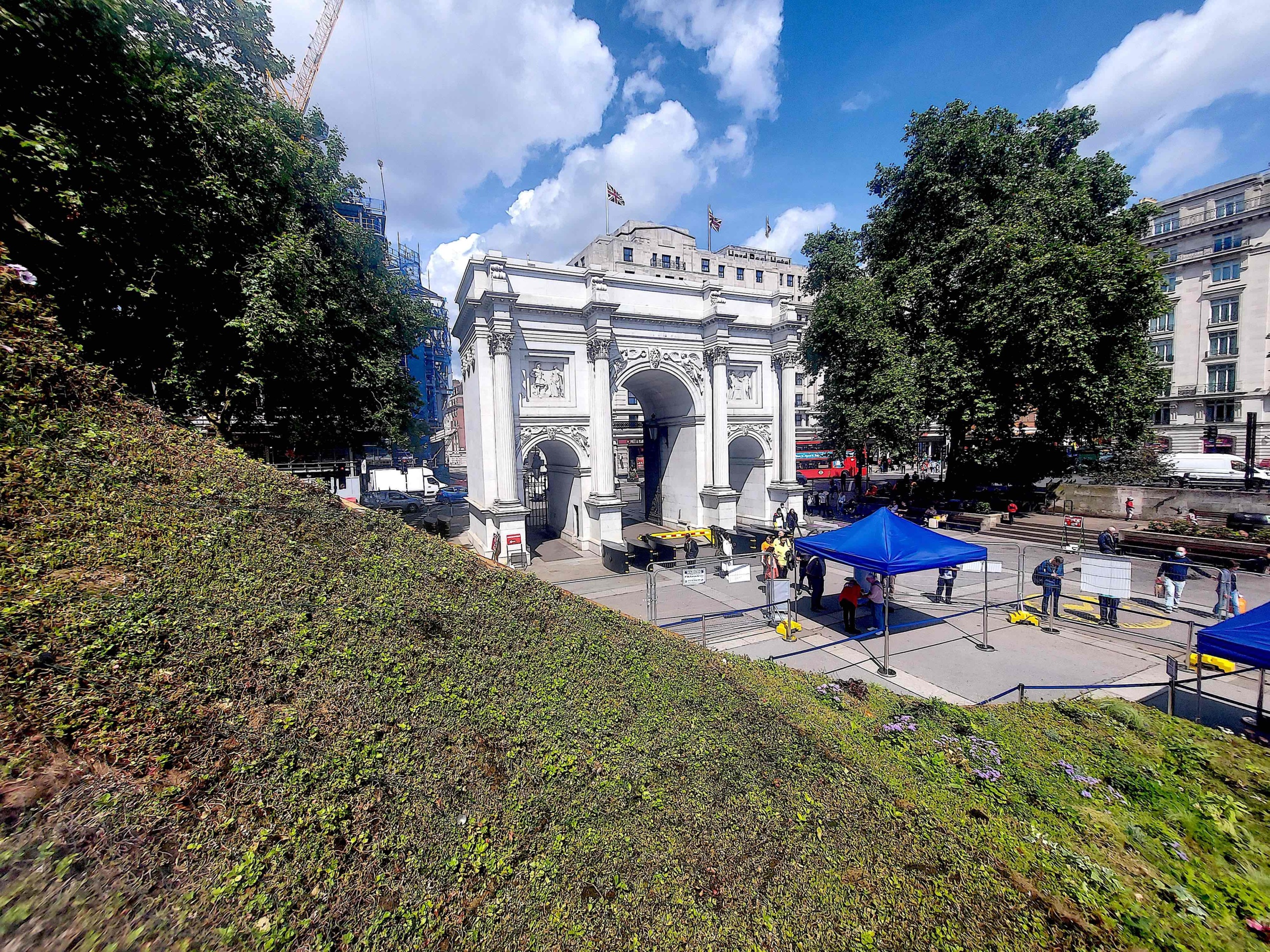 Marble Arch Mound in the foreground and Marble Arch in the background
However, Westminster Council's efforts to bring back visitors after pandemic stagnation and Brexit confusion are to be applauded. The trickle of overseas visitors who have navigated the red and amber lists no longer come to shop – the same goes for staycationers. The pull of tourist favourites such as Oxford Street has faded and the retail landscape is in a steady decline because of the move towards online shopping – the coronavirus lockdowns only accelerated this. 17% of Oxford Street shops have now permanently closed. And they are not the only thing. 
The council received so many complaints about the Mound that it is now temporarily closed but free tickets have suddenly become available for its reopening on August 9th Snap them up while you can and I, for one, would rather mount the 136-step scaffold around Marble Arch Mound than the grim and rickety scaffold of Tyburn Tree.