The Summer 2021 Möhkönvirta Contemporary Art Exhibition, Finland presents 19 artists from 5 different countries – 14 artists have produced work for the Biblio Nordic illustrated book project while London artist Denise Ballard-Wyllie is amongst the six invited visual artists outside the group. The work will be displayed in the Möhkö Ironworks Museum and its courtyard space until 31 August 2021.
Ballard-Wyllie's work had previously been in exhibitions in the Republic of Karelian in northwest Russia and the curators at its Vyhod Art Media Centre presented her work to the Finnish team who saw it as an exceptional fit for the Möhkönvirta Contemporary Art Exhibition. Some of the Karelian artists are also involved in the illustrated book project so there was a degree of cross-cultural conversation between both curatorial teams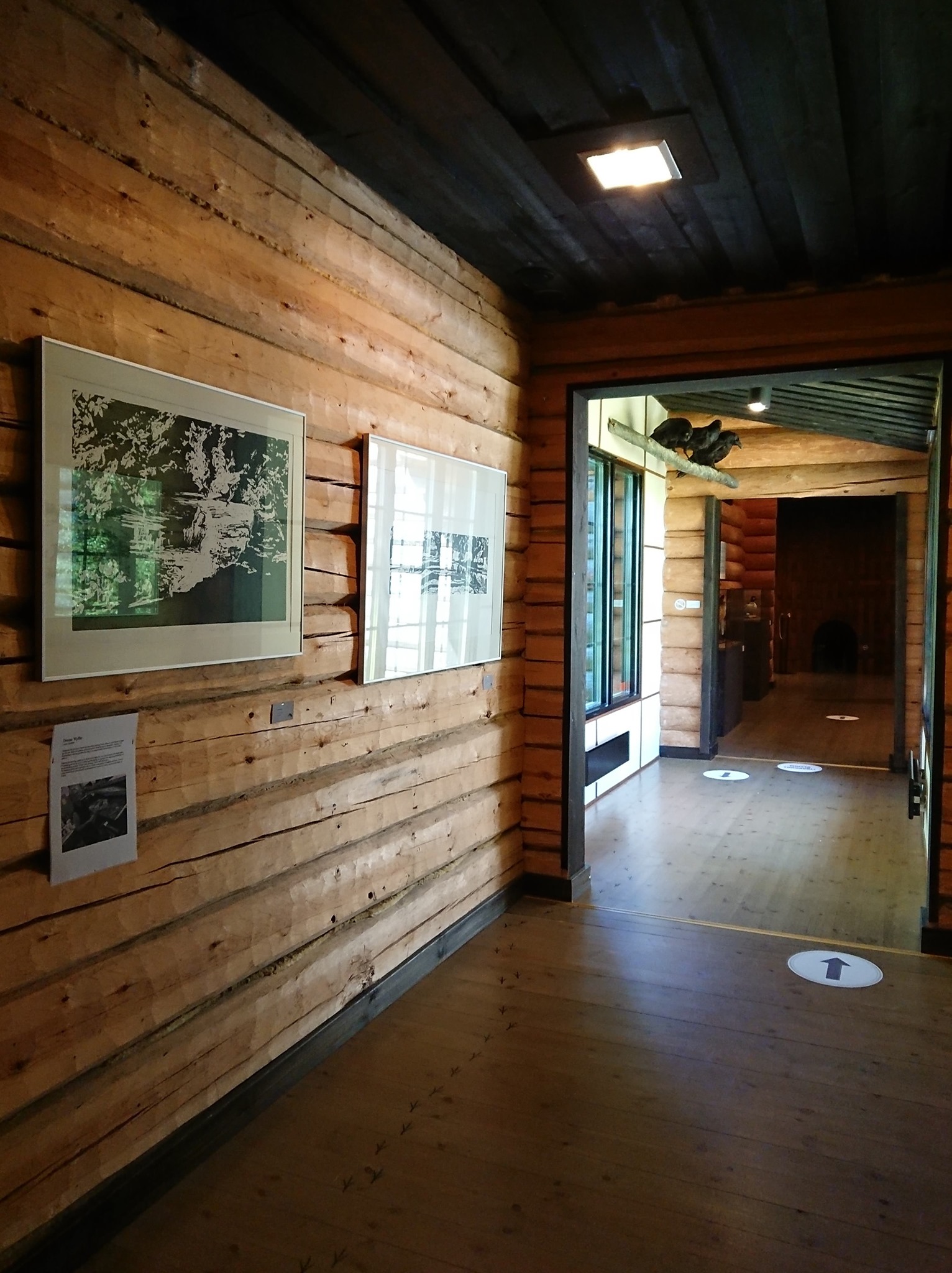 These exhibition spaces are brimming with Nordic charm and character. They are situated in the Möhkö and Parppeinvaara villages in the Ilomantsi municipality in eastern Finland. In the Parppeinvaara exhibition spaces, the work is displayed in 18th-century wooden huts and the museum dates from the 1800s and still has the structural remains of iron ore furnaces. These furnace buildings are also used for shows and offer a unique blend of the historic and the contemporary for such works. The interestingly named MOMA (Möhkö Modern Art Museum) is one such space in these furnace buildings.
This year's event is curated by Heidi Vasara and Kari Virtanen. Heidi Vasara says of the exhibition: "We have been curating the Möhkönvirta Contemporary Art Exhibition for five years now, and during that time the place has also become more familiar and loved. The works together with the Möhkö and Parppeinvaara milieu make a complete work of art. "
All the art in the exhibition is monochrome and Ballard-Wyllie's works are the black and white series of lithographs and relief prints: Wondrous Place (screenprint), Enfield Town Park, (lithograph), Friston Pond February, (lithograph), Trees And Long Shadows, (relief print lino-cut), Tunnel Of Trees, (relief print lino-cut). The visual language is even more impactful because of the monochrome palette and in some works there's a focus on bold, strong imagery and in others a more subtle tone. 
For example, in her Enfield Town Park lithograph, her subtle approach in capturing the flat water surface and shrubbery and trees is effective in drawing one into the landscape. We compare this to her layering of the dark waters of Friston Pond February, a lithograph that shows the pond frozen over in winter and Ballard-Wyllie's precision in capturing the seasonal energy with sombre, expressive tones.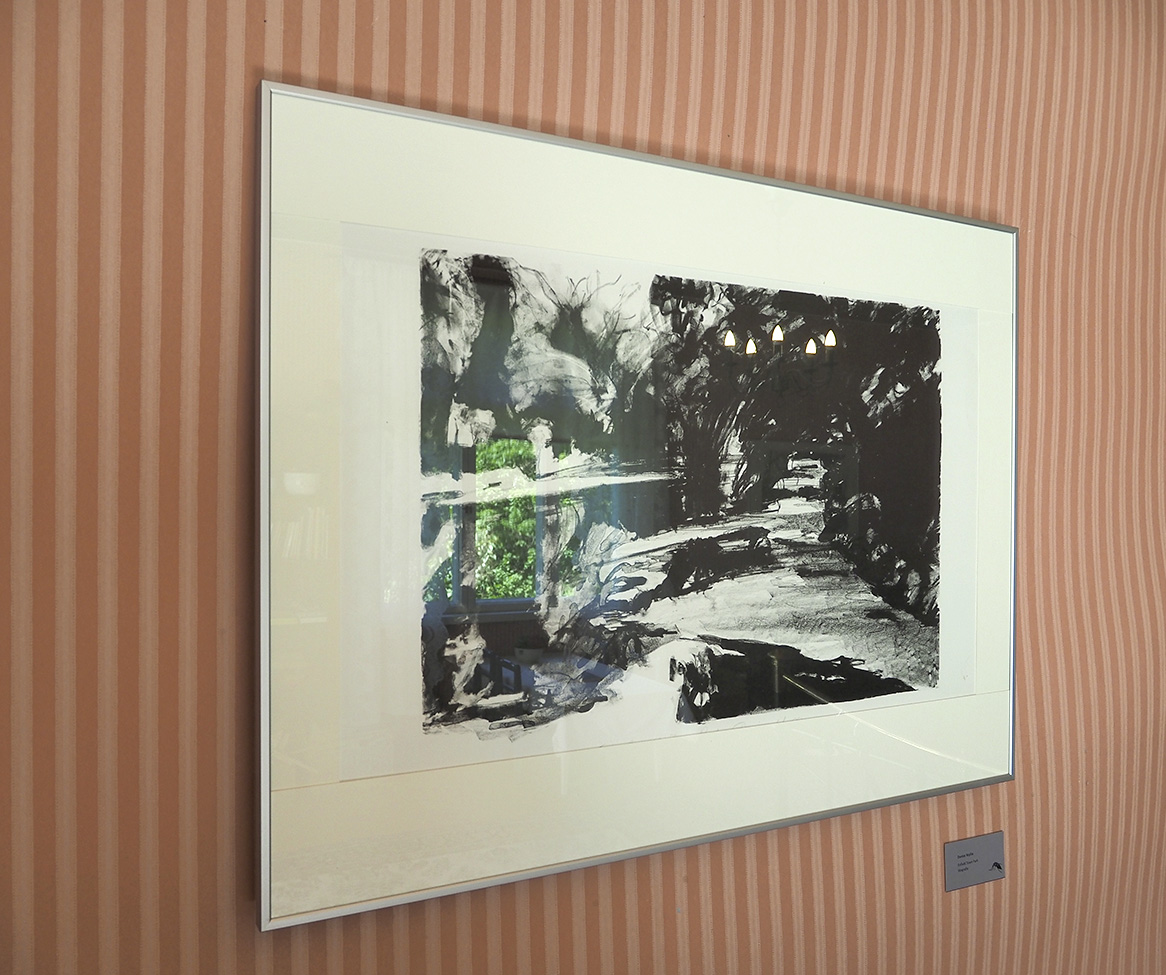 Enfield Town Park (lithograph)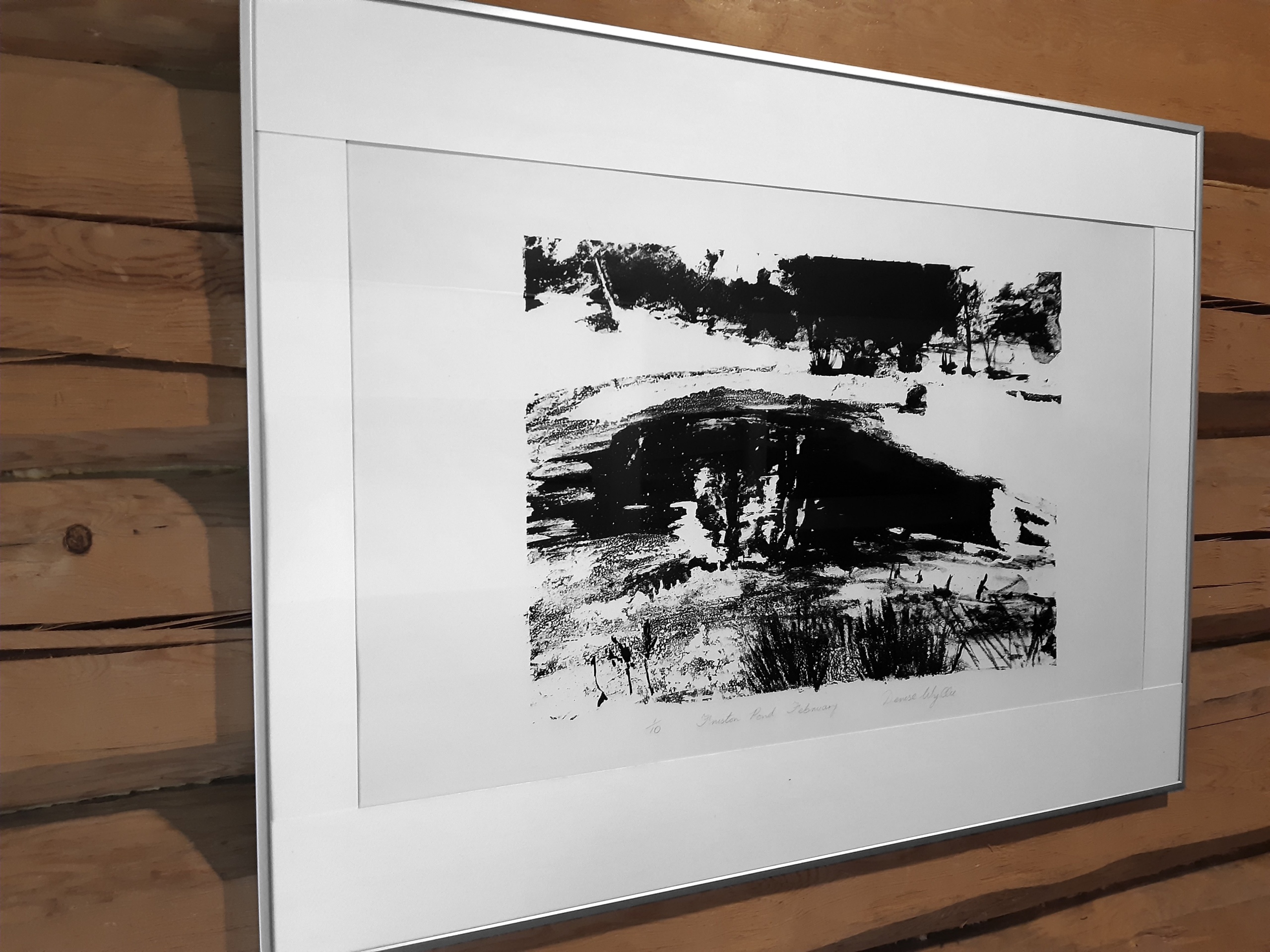 Friston Pond February (lithograph)
Curator Heidi Vasara commenting on Ballard-Wyllie's landscapes: "I found Denise's work somehow mysterious. Perhaps the black and white contrast makes an inexplicable impression, especially in darker areas. No colours to point to perspective. These six works show two different textures and she has used three different processes – lithography, screenprints and lino-cut/relief print." 
If you are curious about Ballard-Wyllie's landscapes in the context of the curator's words, then take time out to see them in person – and no better environment than east Finland's Möhkö and Parppeinvaara villages whose distinct Nordic features in many ways complement yet contrast the evocative versatility in her own landscapes. 
The Summer 2021 Möhkönvirta Contemporary Art Exhibition until 31 August 2021
The full list of visual artists: Reijo Kärkkäinen from Kuopio, Reetta Gröhn-Soininen from Joensuu, Marjaana Rotko from Joensuu, Juha Hanki from Mänttä-Vilppula, Tlali Lebohang from Joensuu and Denise Wyllie from London, England. Exhibition of the international Biblio Nordica project through Möhkönvirta artists Artem Strodubtsev, Petrozavodsk, Russia, Alison McCreesh, Yellowknife, Canada, Aleksander Haeseker, Calgary, Canada, Anu Torikka, Joensuu, Arja Valkonen-Goldblatt, Heinävaara, Derek Michael Besant, Calgary Lisichkin, Petrozavodsk, Magali Baribeau-Marchand Chicoutimi (Quebec) Canada, Natasha van Netten, Victoria, Canada, Natalia Loginova, Petrozavodsk, Natalia Egorova, Petrozavodsk, Sandra Burek, Kongsberg, Norway and Sergei Terentiev, Petrozavodsk.