To the uninitiated, you might think, that Goths and vampires would prefer to hibernate during the summer months when the days are longer, the Sun stronger and the heat becomes oppressive. It is an on-going joke that Goths and vampires might explode like fireworks in direct sunlight when Bram Stoker, author of Dracula, had The Count appearing several times in daylight in order to pursue his great desire of Mina Harker whom he crossed time to find.
It was with the emergence of the film 'Nosferatu' that sunlight became so deadly fatal to the undead and most authors, TV producers and film-makers since seem entirely unable to get over that concept, perhaps, as special effects and CGI animation can make these scenes look so very dynamic. I, personally, have always preferred Bram Stoker's view that a vampire might happily get out and about by daylight but must merely forego turning into a bat, or a mist, and perhaps just need a bit of extra time in the old coffin to get over it all.
While it may be the case that the sombre-coloured wardrobe and enormous boots that are synonymous with Gothic style might not be the most practical choice of summer attire, it certainly doesn't stop us from doing our thing and getting out and about enjoying the longer days. The Goth clubs remain very busy and there are also summer season events that people, like us, like to attend.
We just make sure the sun block is well-slavered on, or we remain shadowed by a lace parasol, as no-one really wants to get anything even approaching a tan to spoil that pale goth complexion! So, again, it's nothing to do with the fact that we might explode or melt in the summer – even if it feels like it at the time when the mercury rises!
There have been two main open days this summer at two of London's Magnificent Seven cemeteries. Nunhead and Brompton Park have hosted these lovely events this year and they are much like summer fairs crossed with a Goth festival, mainly due to the large contingent of dark souls that like to attend them. It is most amusing to see this crossover of divergent people all coming together to share a mutual interest in London's beautiful cemeteries.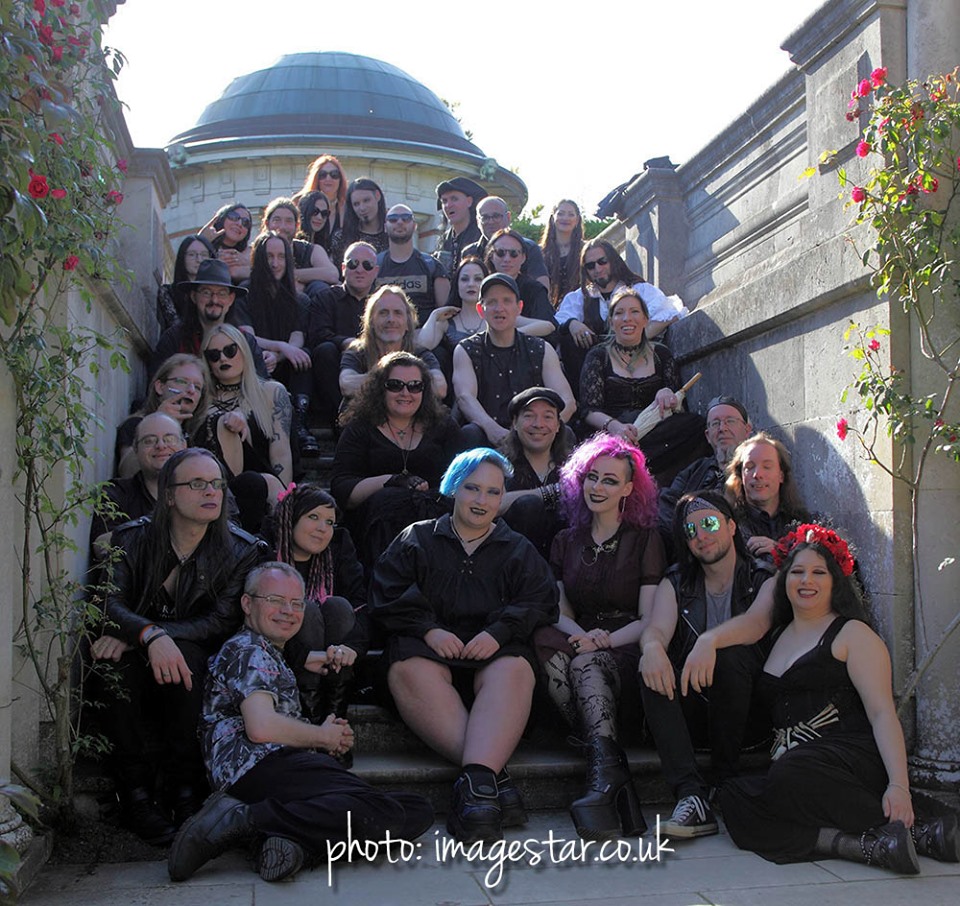 These open days are an excellent way to raise well-needed funds for restoration and upkeep of the ancient graves, mausoleums and chapels within so they can be enjoyed for many years to come by all that appreciate them. Features of the Cemetery open days normally include tours of the famous individuals whom are therein interred and tours of crypts not normally open to the public where you may see fine examples of loculus – effectively filing cabinets for coffins.
There's tea and cake to be had and other stalls selling a plethora of random things from plants to books and exhibits of wildlife, woodcarving, arts and crafts and local history. There have also been smaller open days hosted at Brockwell and Ladywell and Tower Hamlets cemeteries, which I sadly did not attend this year.
Also, there are a number of Alternative Picnics that are hosted at various locations in London. I took the plunge myself this year hosting an Ironic Post-Summer Solstice Picnic over in the enviable environments of Golders Green Park and The Hampstead Pergola. Drinks afterwards were taken at the Spaniards Inn due to its connection with Dracula, not just because it's a very ancient, becoming and welcoming coaching Inn. There will be a second Vampire Picnic – London Vampires Picnic with the Dead – in mid-August and we intend to catch our lunch at Kensal Green Cemetery just because, again, it is a very lovely place to go to with lots of ancient funeral architecture with a fine pillared chapel at its centre.
As of writing this article, we are now looking towards autumn. The Nightclub of the London Vampires 'Yesterday's Shadow' is hosting a special night on the 7th September – as it is yours truly's birthday celebration and I will be, I think, 297 as I lost count and a good few years, several times in the 1980s. It has been named What We Do at Yesterday's Shadow as most people I know have enjoyed the new comedy TV series. Also the bi-annual Goth pilgrimage, Whitby Goth Festival, is during Halloween and I must, sadly, leave my beloved London in order to travel there to the moors of North Yorkshire. Perhaps, I shall.