The Best Of Hackney Food & Drink: Restaurants, Cafes, Coffee Shops, Street Food, Bars!

                                                                                                                                                                                                                                                                                        From artisan food stalls in Shoreditch, to hip and affordable restaurants in Dalston, we bring you the best of Hackney food and drink this summer.
                                                                                                                                                                                                                                                       The pull of rooftop and waterside dining will be particularly strong this month with all the summer weather. What's Hot London? covers all this and more. Whatever your taste and budget, Hackney pretty much has it all and we sample the full gastronomical gamut and share our reviews with you.
Restaurants
                                                                                                                                                                                                                               ESCUDO DE CUBA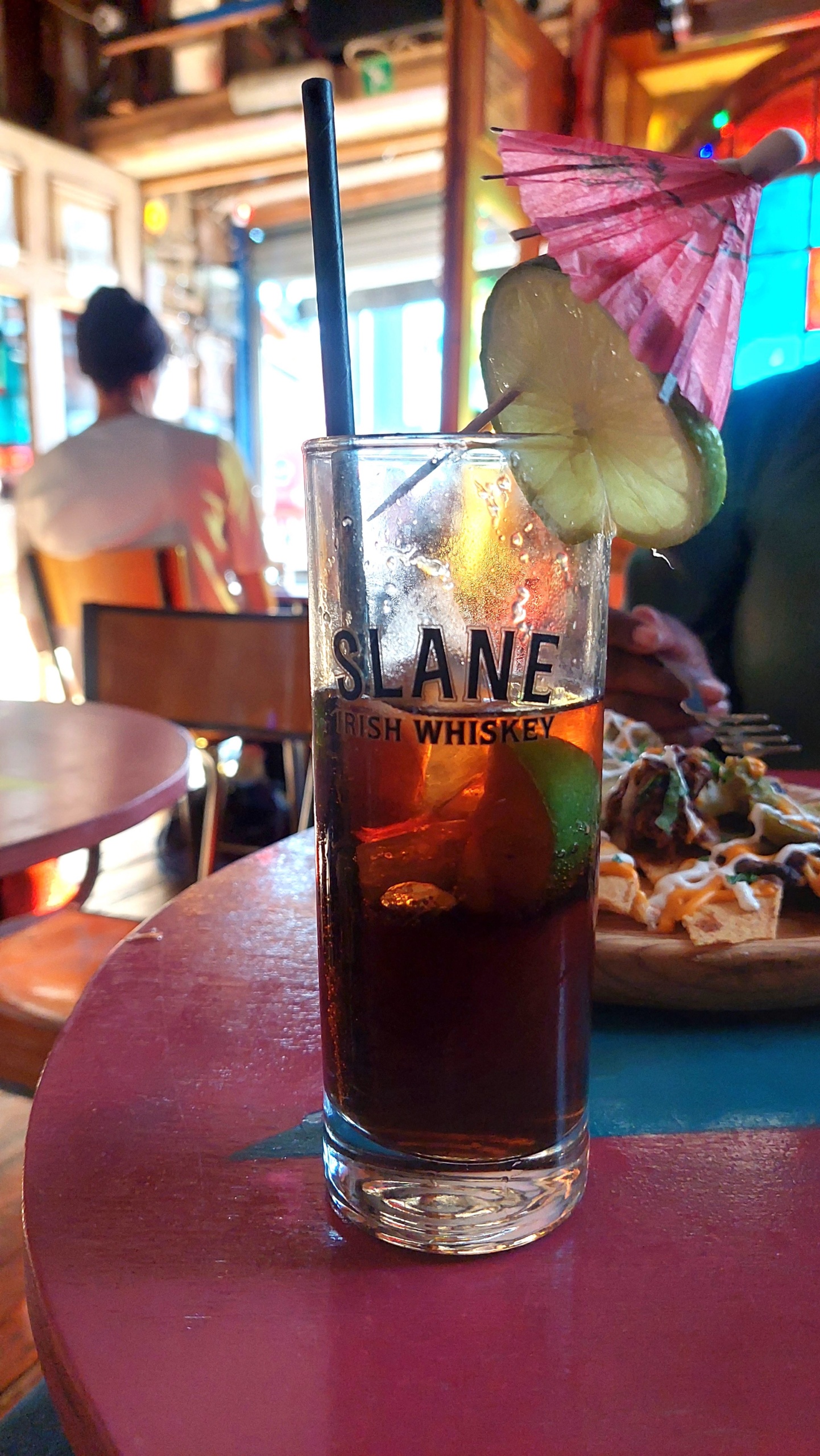 Sunny Cuba comes to London by way of Escudo de Cuba in Dalston! There's a summer  holiday vibe with salsa and rumba rhythms in the background as you down the best cocktails in the capital. Cuba Libre anyone? Or, perhaps, the more familiar Mojitos. The Basil and Ginger mix is, indeed, a refreshing option in the hot weather but you're spoilt for choice here. The bar takes a up a considerable amount of floor space so they take their cocktails very seriously!  Ceviche and other seafood dishes like Pulpo a la Gallega (boiled Octopus Cuban-style!) and also mouth-watering meat plates and grills served with Cuban colour and dazzle.
Address: Escudo de Cuba, 20 Stoke Newington Rd, London N16 7XN
BARGE EAST
This floating riverside restaurant will be celebrating its 5th anniversary on June 18th so expect a festival of fun with live music from the New York Brass Band, DJs and, of course, delectable dining on a 120-year-old Dutch barge. There's seating on the upper deck with panoramic views of the River Lee and more tables on the riverside gardens.
Address: Barge East, River Lee, Sweetwater Mooring, White Post Lane, London E9 5EN
CARIBBEAN KITCHEN
Your East End initiation into the culinary delights of Ackee and Saltfish, Curry Goat, Calaloo, Jerk Chicken and Vegan Sweet Potato & Chickpea Curry – to name a few. Freshly made dishes and locally-sourced ingredients. The restaurant prides itself on being located in the heart of the community. Mare Street is one of the few areas of Hackney that has retained its cultural roots over the decades. Enjoy economically-priced dishes that never sacrifice quality for price.
Address: Caribbean Kitchen, 67 Mare St, Hackney, London E8 4RG
Cafes & Coffee Shops

TOWPATH CAFE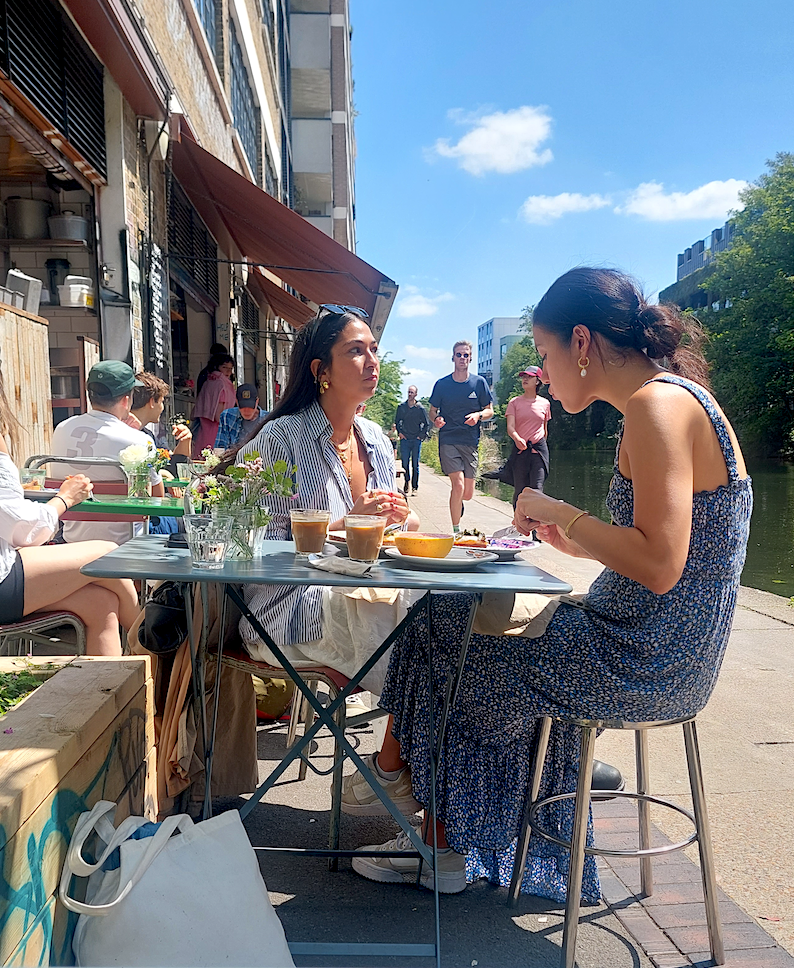 Is it a restaurant or a cafe? The scrumptious food quality leans towards restaurant, the pared back, no-frills look has the vibe of a casual, walk-in cafe. And, yes, you can walk in, but it's so popular that summertime queues along Regents Canal are a common sight. So, what makes it such a must-visit? Well, aside from the aforementioned delicious homemade, locally-sourced dishes there are great views of the canal – the likes of ducks, swans and colourful barges constantly crossing your eyeline. And lovers of waterside dining will be delighted to know that most of Towpath's tables are canalside. The breakfast bites are tantalising. Poached eggs in truffle paste with parmesan cheese, anyone?
Address: Towpath, 42 De Beauvoir Crescent, Haggerston, London N1 5SB
DALSTON EASTERN CURVE GARDEN
An oasis of green calm in the heart of our concrete city. Ramblingly abundant greenery free of the stiff aesthetics of fussy landscape gardening and over-preening. An impressive display of plant species to put your mind at rest while you sip on your coffee. If work-life balance, wellness and mental health are high prioriities, bring your laptop to these serene surrounds, work in natural flow and and forget that you're in a grey and bustling city for a while. And there's a small licensed bar if you want to grab a pint. Shuts at 10pm Weds – Sat, 8pm Tuesday and 6pm Monday!
Address: Dalston Eastern Curve Gardens, 13 Dalston Lane, London E8 3DF
H.J.ARIS CAFE
What is it about Dalston? It's got some pretty cool cafes, full of character and charming quirks so far removed from the likes of Starbucks. A suit of armour in the doorway is the first hint that this is no ordinary coffee shop. But you could almost walk past this understated antique shop/coffee shop and the exterior still references the pub that was previously there. It has a licensed bar and there's snacks and ethical coffee, which just doesn't taste like Starbucks! Art deco oddities, vintage gramophones and radios, a 1950s film projector dangling from the ceiling – it's a bit like stumbling into a mad scientist's steampunk vision of a post-modern emporium. A must visit!
Address: H.J. Aris Cafe, 11 Dalston Lane, London E8 3DF
Bar & Pubs
NETIL360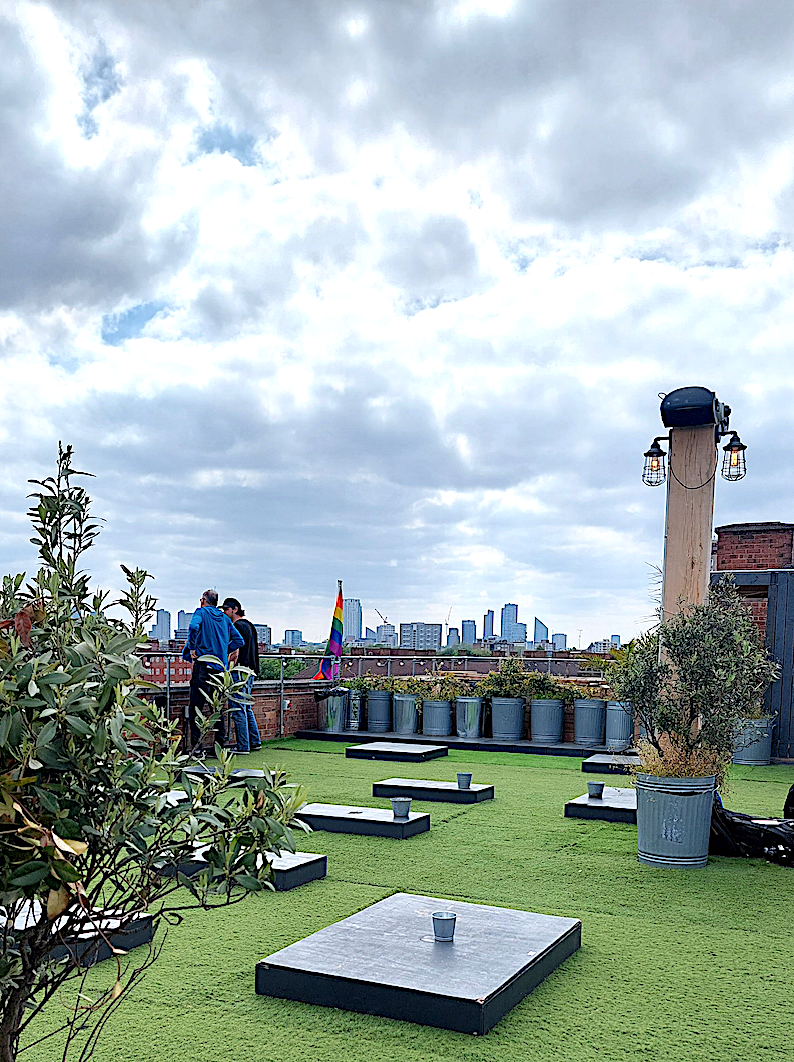 Rooftop bar Netil360 is proud of its local links. The Hackney-based Five Points Brewery, which supplies their draught beer, can be spotted from the rooftop and there's a decent view of the London skyline. The bar is situated in a cluster of creative work units so musicians, artists, designers and filmmakers hang out to chat over a pint and check out the bar's new wooden-benched Izakaya layout. It means 'stay-drink-place' in Japanese. So very apt. And check out the sushi restaurant!
Address: Netil360, 1 Westgate St, London Fields, London E8 3R
AVORA
It's unlikely you've ever experienced a cocktail bar  like this….in this world, at least. Not so much a cocktail bar, as an immersive adventure with a cast of intriguing characters drawing you into a magical world – and 3 cocktails included in the price. The interactive scenarios are suitable for all ages, so very much a family theatrical event. And at the finale you have a hand in deciding the fate of the world! A cocktail experience bar none
Address: Avora, Unit 5C, 127 Hackney Road, London E2 8GY
LORD NAPIER AND STAR
A landmark graffiti-covered pub – and the only pub in Hackney Wick. The previous pub closed in 1996 and was occupied by squatters who held illegal raves. The new owners have injected their own party spirit into the fabulously redecorated interior but kept the iconic graffiti exterior. Rooftop terrace and  ground-floor beer garden for sun-lovers.
Address: Lord Napier and Star, 25 White Post Lane, London E9 5ER.
Food Stalls & Street Food



BLACK-OWNED HACKNEY MARKET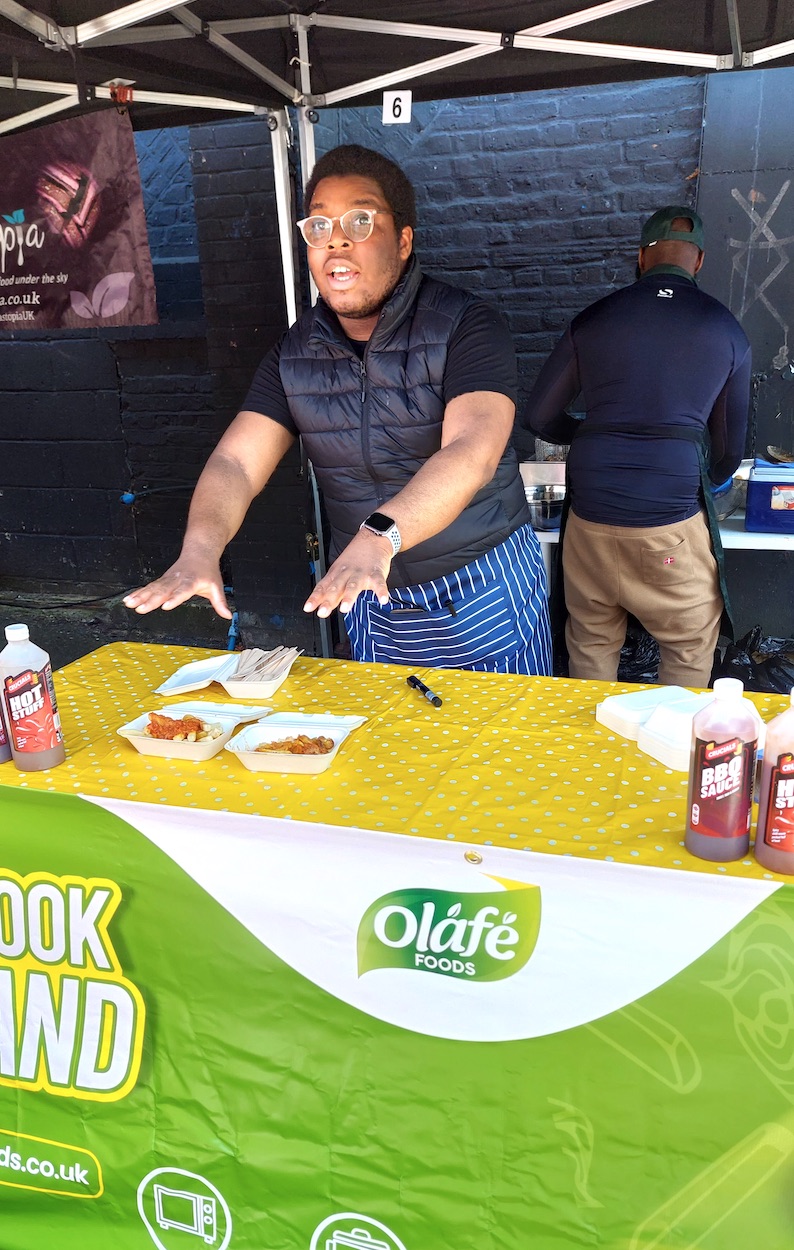 Head to Hackney's Bohemia Place for some tasty African and Caribbean street food. This collaboration with Black Eats LDN happens on the third week of every month and you'll find exotic food stalls selling the likes of Swordfish burgers, Yam French Fries, Honey Jack Daniels Chicken Wings, Lobster Tail Meals with red potatoes and peppered corns and West African Burritos. Also, Rum Punch, cocktails and craft beers. Fun, family atmosphere. And Hackney Central train station is right opposite for easy transport links.
Address: Black-owned Hackney Market, Bohemia Place, London E8 1DU.
HACKNEY BRIDGE KITCHENS
This supercool canalside food court is Hackney's best kept secret. You'll find Filipino Street Food courtesy of Filigrillz serving traditional pork belly barbecues, pork stews and the intriguingly titled Bone-less Thugs Chicken. Also, Neopolitan pizza at Made in Puglia prepared the right way with double-fermented dough and cooked in a large wood-fire oven. The stone oven's weighty presence projects the Puglian stamp of culinary care and seems to cry out: "hey, this ain't fast food." Rainbo's popular Japanese-inspired soul food is another tantalising temptation. Or if you're looking for curries, Tamila's South Indian street food menu has you covered. This food court is well worth a short and scenic walk through the Queen Elizabeth Olympic Park or along the canalside on a summer's day. It's close to the Copper Box Arena so handy if you are attending an event there and want some decently-priced, delicious grub.
Address: Hackney Bridge Kitchens, Units 1-28, Echo Building, East Bay Lane, London, E15 2SJ
URBAN FOOD FEST
If you have a free Saturday in your diary, head to Shoreditch's Euro Car Park for a street food festival to match the best in the capital. Food and drink vendors serving up international flavours. Bottomless prosecco dining deals and cocktail brunches. Dine-in or takeaway. Midday to Midnight, so it's an easy fit for your weekend plans.
Address: Urban Food Fest, Shoreditch Street Food Market, Euro Car Park, 162-167 Shoreditch High St, London E1 6HU
Sweets, Cakes & Pastries
VIOLET CAKES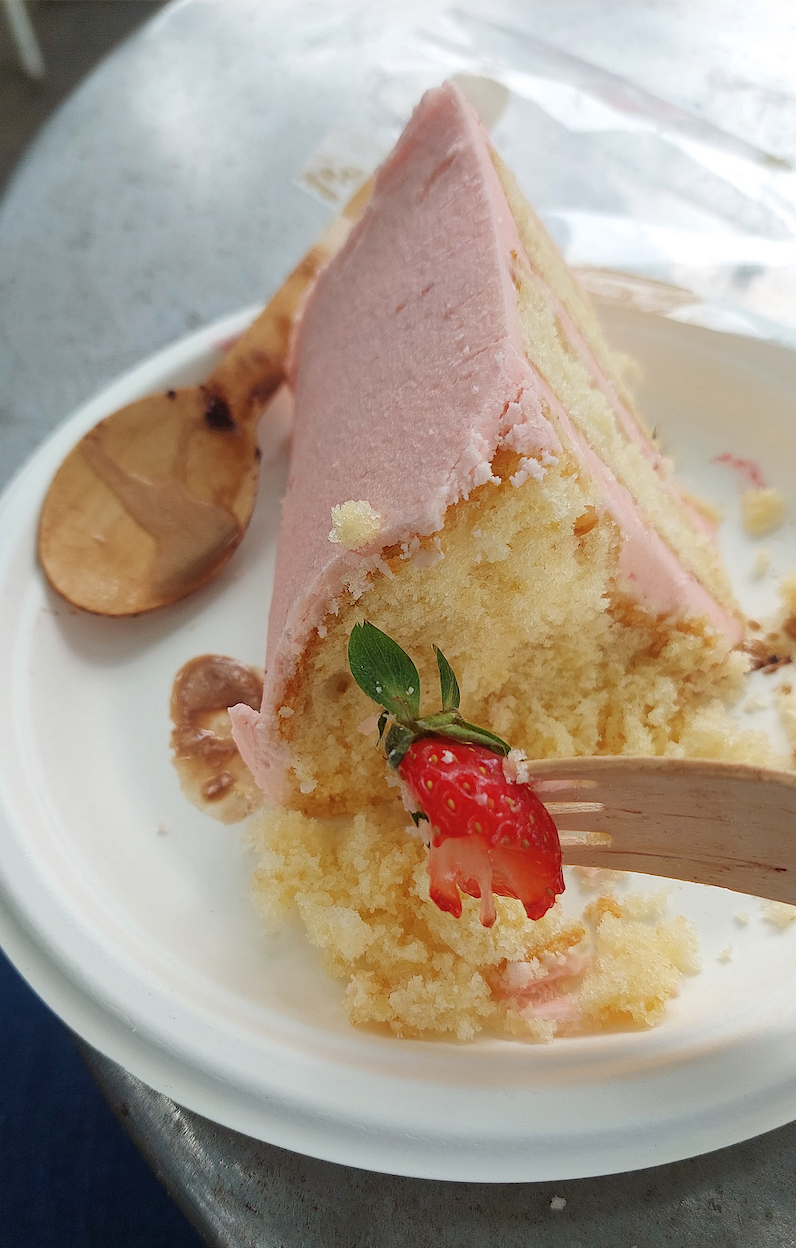 American owner Claire Ptak made Prince Harry and Meghan Markle's wedding cake so her cakes have that unofficial royal stamp of approval. But no pretentious airs and graces at this humble backstreet bakery-cafe which brings Californian sunshine to the capital. It's a popular  coffee spot and easily found right across the street from the Wilton council estate. Interestingly, you get to see the cultural crossover of the grittier traditional East End and middle class gentrification. On the front counter, the Strawberry Vanilla Cake catches the eye and will set you back £7. A deliciously indulgent summer's day treat. Take your pick from pastries, cupcakes, scones and brownies.
Address: Violet Cakes, 47 Wilton Way, Hackney, E8 3ED.