An invite to a weekend screening of Audrey Hepburn classic Breakfast at Tiffany's at the Harper Collins offices proved a little too hard to resist for an unashamed fan like myself. Organised in conjunction with BFI Love Fest it was to promote Lucy Holliday's novel A Night In With Audrey Hepburn and took place at the publisher's swish London Bridge offices with impressive views of the Capital's skyline at night, might I add. And what a clever idea. Prosecco, olives and other snacks for the huddled and curious, the comfy, well spaced sofas a notable change to jowl-to-cheek cinema seating.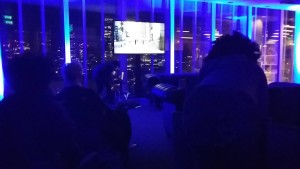 When was the last time a cinema usher asked you if your wine glass needed a top up? No, this was no cinema. A marriage of book and film in a smart promotional push, and attendees appreciating the fuss and lap of luxury.
Author Lucy Holliday was interviewed by the host before the screening but afterwards I had a few private questions of my own about the evolution of her novel. The book is about jobbing actress Libby Lomax whose career is in the doldrums, her love life going nowhere and so consoles herself on her sofa watching Breakfast at Tiffany's on endless repeat. This turns out to be something of a magic sofa because suddenly who appears out of the blue but Audrey herself dressed in her Breakfast at Tiffany's finest of svelte black dress and cats-eye sunglasses. She offers the hapless Lomax her best advice and gives her something of a shoulder to cry on.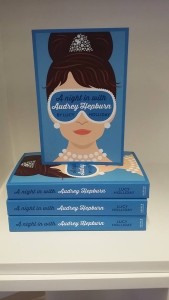 The author revealed it took 7-8 months to write which included managing other areas of her life such as childcare and was published May 2015. The screening of the Audrey Hepburn movie, then, an interesting tilt at drumming up new interest in the book, and was thought up by Lucy Holliday herself. And judging by the patient line of fans gathering in the book signing line as we chatted – a successful one. She has already produced the second installment in the series, A Night In With Marilyn Monroe was released in September 2015. Hey Hepburn! Monroe! I can see where this is going. Grace Kelly would be a good third.
Whoever it is I guess what intrigued me most about the evening aside from Holliday's humble, unassuming manner was the bringing together of cinema and literature using Hepburn as the unifying totem. A very iconic one. Most of the guests gathered thought so too as they shared their own particular Audrey Hepburn stories proving they were die-hard fans.