Founded in 2001 by Cassa Pancho MBE, (now vice president of the London Ballet Circle), this dance company does exactly what it says on the packet. Providing performance opportunities for dancers from black and Asian backgrounds and attracting a large percentage of this new potential audience in the process.
Their March programme kicked off on March 2-4th at the Barbican Theatre with an enchanting triple bill, including a Red Riding Hood performance with a twist in the tale. The large stage area proved a fitting canvas for the prelude before the fairy tale main. When the lights were cut, specks of tiny debris glistened in the voluminous proscenium like stars in a night sky and once the silver-blue lighting values dimmed up to a shimmering dusk so to did the similarly attired dancers.
And how they used every inch of that grand space. If you're new to ballet and not encumbered by every technical detail of choreography you'd immediately pick up on how the spatial balance was maintained in the cold, hard night of the front stage by the delicate warmth of these performers.
There was an incremental increase in tempo in the three prelude dances before Red Riding Hood. The first, a gentle, charming narrative, dutifully expressed as ballet for the uninitiated amongst us. The second: the dancers pirouetted in wearing the green and brown colours of autumn but their spirited embraces and joyous leaps were more in keeping with the energy of these early days of spring. The third: sinister, dramatic cello and double bass accompaniments augured darker, sharper more powerful dance gestures that suggested Hitchcockian suspense or beyond that some impending horror.
When Red Riding Hood finally did arrive there were memorable comedy moments as her grandmother has her wig snatched off by wolves characterised as trilby-wearing hoods who wouldn't look out of place on a 1930s New York street corner. The biggest baddest wolf had an air of a swaggering Indiana Jones, brandishing his lasso-like tail in the manner of Jones' whip. In one Act he spins his trilby into the air with one finger and catches it on his head, sweeping into his choreographed story-telling with a faultless grace that drew sighs from the audience.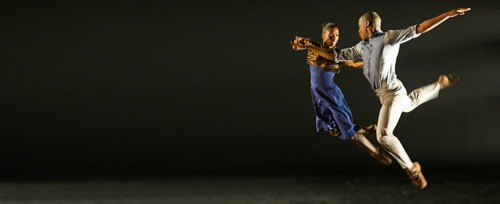 You can catch the next installment of their March Triple Bill at the Arts Depot on March 28th