Our Artists in London series looks at how Piet Mondrian, one of the founder members of the Association Abstraction-Creation, drew inspiration from his visits to the capital. The movement was formed in Paris in 1931 but the Dutch artist's creative journey would have an international flavour forced by the onset of the Second World War, which drove him to New York and London.
By then he would make his mark as pre-eminent amongst 20th-century abstract artists with his geometric style and use of primary coloured grids, rectangles and squares. He termed this style neoplasticism and it evolved from his exposure to the Dutch De Stijl art movement and their non-representational tenets.
British artists Barbara Hepworth and Ben Nicholson were fellow Associate members and among the earliest to show work at its annual Cahiers exhibition. When they moved to Hampstead, London, they invited Mondrian, as he had been both friend and mentor. They found him a studio at 60 Parkhill Rd, Belsize Park and he was based there from September 1938 to September 1940. It now bears a blue plaque marking his stay there. Mondrian didn't need much encouraging to leave France; he had feared the rise of Hitler ever since discovering he was on a Nazi blacklist. In 1937 two Mondrian works were exhibited in Hitler's Degenerative Art Exhibition.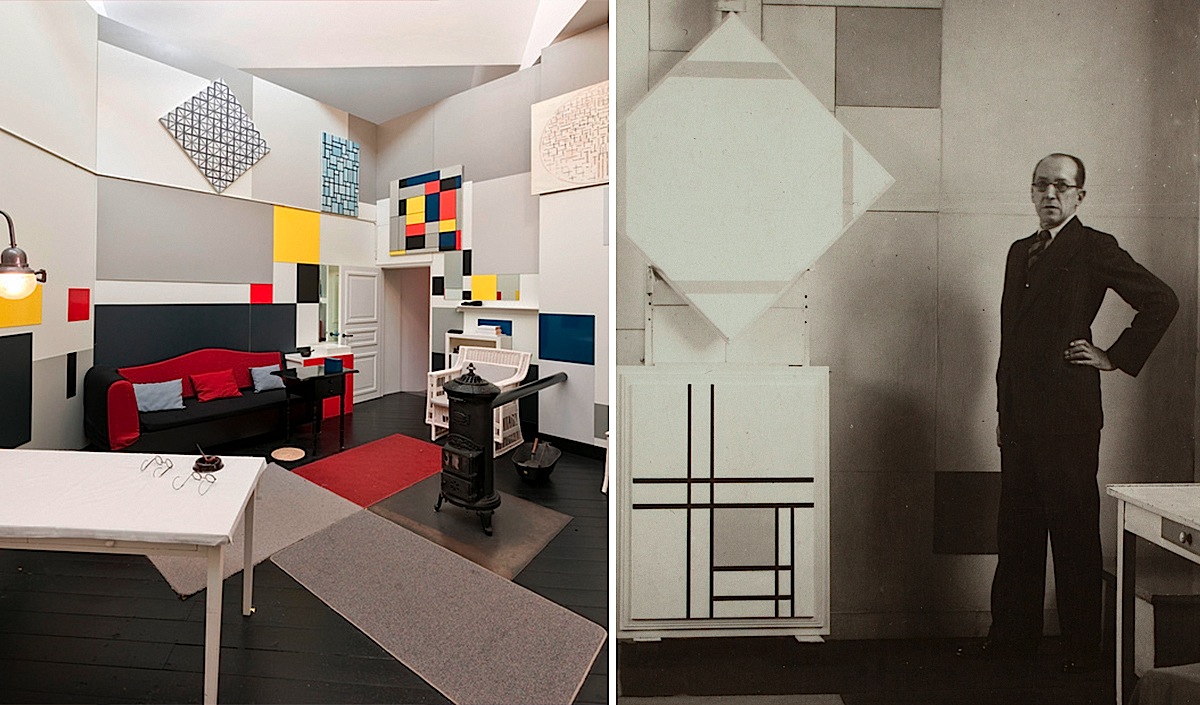 Mondrian painted his studio-flat in the style of his paintings
Hepworth recalls how the artist transformed the drab looking flat into a stimulating work environment and home, buying cheap furniture from Camden Town and painting it all white. Visitors later commented on how he used his signature style on the walls, furniture, kitchen items – anything that needed a Mondrian-style revamp. Nicholson adds that its new decor emitted the energy and feel of the South of France. Situated at the bottom of his garden, it would help in the development of that inimitable style –  rigid lines decorated in the intuitive placings of boxed primary colours.
His artist neighbours Hepworth and Nicholson fled to St Ives as Germany invaded its European neighbours. They asked him to accompany them but he declined. Once the bombings began on September 7th, 1940, he packed up his belongings once again and left for New York. According to Nicholson, it was reports of an unexploded bomb next to his studio that made Mondrian relocate so abruptly; first to a Hampstead hotel and then to the USA.
They would remain lifelong friends. In her memoirs Hepworth reminisces on her first meeting with him, recalling that his abstract style had caused such a reaction in London that it some commentators believed it would cause 'the end of painting'. All publicity is good publicity and this air of rebellious celebrity soon had women flocking around him. He enjoyed London jazz clubs and danced there with Peggy Guggenheim. This glamour in the capital was interspersed with the harsh realities of having to sell paintings during a period of international war which drove him from city to city.
By the time of his death in 1944 aged 72, many of his London paintings were incomplete and some had been despatched to New York. Composition London was completed in 1942 and by the time of his first solo exhibition in New York it was simply titled No.11. The painting is now housed in the Albright-Knox Art Gallery, Buffalo, New York. Trafalgar Square (1939–1943) is on display at Moma, New York.