It's the Boisdale connection with jazz music which has proved such an irresistible pull for admirers of the cool bluesy vibe as you tuck into their traditional British meals or kick back against the Whisky Bar or Cigar Terrace. This reputation is elevated by having Jools Holland as their Patron of Music – but that's at their Canary Wharf branch. So how does Mayfair measure up?
With a current three course deal including a glass of champagne, there's another irresistible pull for the diners. The live entertainment, heard even before you're at the door, is the inescapable sound of the twinkling of the ivories and dulcet solo singer tones. And the first thing you'll pick up on while you remove your coat and survey the place is the warm, convivial Supper club atmosphere enhanced by the rich burgundy red walls, mahogany panelling and ornate brass fittings – the colour red known to stir appetites and raise the temperature.
Situated just off Park Lane, Mayfair, the environment oozes class and Boisdale compliments and mediates this with its own brand of diner attraction, one that comes without the stiffness associated with some establishments in the area. The restaurant is on the lower floor and has yet another floor beneath it so there's that cosy, plush basement feel about the place. Whether by accident or design, jazz is the perfect music for such a layout. It was converted from listed stables and retains some charming structural points that make it stand out from standard restaurants. They even have their own Stable Bar pushing this message home to the neigh-sayers.
The starter of Roast Mini Dumfrieshire Blackface Haggis comes served with mashed potatoes and bashed neeps. This traditional Scottish plate lets you know which home country dominates here. That's if you haven't picked up on the tartan chairs you're sitting on. The main of Roast Norfolk Outdoor-Reared Chicken Supreme is again first class. The creamed potato, tarragon and mushroom voloute it's served with can comfortably accommodate a side dish of Truffle, Rosemary and Parmesan Chips.
And, indeed, the words comfortable and accommodating are perfect words to describe the unique atmosphere at Boisdale, but you might like to add relaxing, elegant, and perhaps even homely.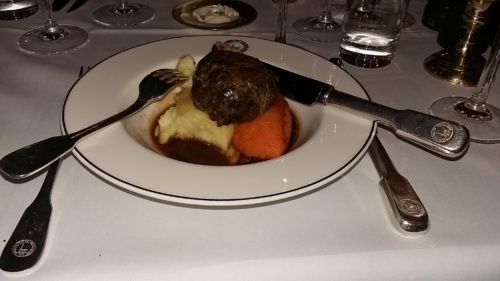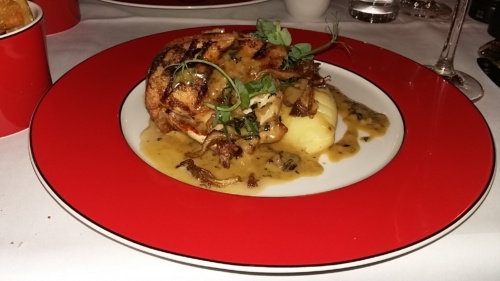 Boisdale of Mayfair, 12 North Row, Mayfair, London W1K 7DF