The Jamaican culture minister's call for the return of Taino artefacts seized from their country and now owned by the British Museum has prompted Nigerians to renew their own demands for the return of looted Benin Bronze relics. With the British Museum now in negotiations to temporarily loan them back to Nigeria, we discuss the rightful ownership of items from Africa and beyond displayed and archived in the museum.
If you went to the average museum and removed every artefact that had been taken from its country of origin without permission, you'd very likely be left with an empty building and a couple of security guards twiddling their thumbs. But we decided to deal with hard facts by visiting the British Museum on a mission to distinguish the legitimate gifts from the stolen and looted.
_________
"If we are going to talk seriously — these objects will never come to Egypt" – Dr Eltayeb Abbas, director of archaeological affairs at the Grand Egyptian Museum commenting on the British Museum's collection of looted Egyptian relics.
_________
In 2017 President Macron pledged to return all African artefacts seized by France 'without consent'. The UK is now under pressure to also lead the way with restitutive measures. They were rival colonial empires throughout the 18th and 19th centuries. This forceful creation of African colonies has led to these disputes centuries later about ownership of artefacts such as the Benin Bronzes.
The first European 15th century expeditions to Benin City in Western Africa were relatively peaceful but by1890 the British were seeking colonial control over Western Nigeria with Benin fiercely resisting. In 1897, the British troops sacked the city in revenge for an attack on a British consular mission. With the king Oba Ovonramwen in exile, brass artefacts were removed from royal compounds without permission and sold on to other European nations.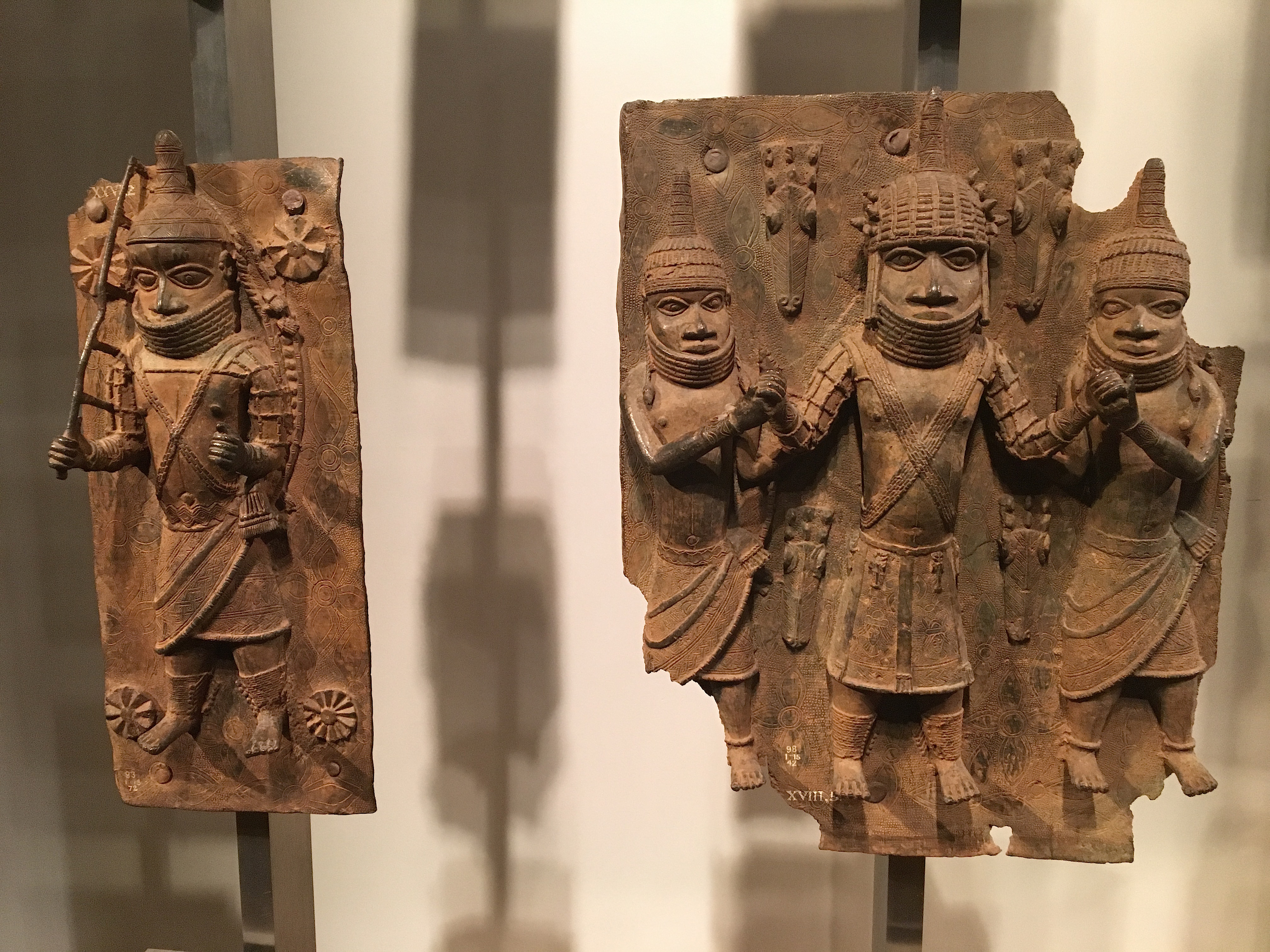 Benin Bronzes, British Museum
Amongst these were 900 brass plaques thought to be cast in the 16th century and showing palace rituals – the disputed Benin Bronzes. These finely crafted brass artefacts were much sought after because this metal was favoured by Benin royalty. While the brass items were seized by the Foreign Office to pay for the expedition, British officers looted wood, ivory and other brass artefacts for personal gain. Once these arts and crafts arrived on European shores, they'd leave an indelible mark on European culture with artists such as Picasso appropriating the distinctive forms of the carvings. In those early years, it was British and German museums that bought the bulk of them.
Items from other African countries are displayed in the British Museum with their origins and method of seizure clearly marked out. There's a majestic-looking wooden slit drum taken from the Sudan-based Khalifa Abdullai warriors in 1898 after British and Egyptian troops defeated the Muslim Mahdists. The battle was led by Major Herbert Kitchener (Lord Kitchener) who sought to drive them out of Sudan, which they overran in 1885.
_________
"We are currently in our second decade of repatriation efforts, with no end in sight." – Stephen Yellow Old Woman, general manager of Blackfoot Crossing Historical Park, Canada commenting on attempts to have a 19th-century relic returned from the Royal Albert Memorial Museum, Exeter.
"We have conveyed our formal request to them (Ashmolan Museum, Oxford) for restitution of the idol to India (15th-century bronze idol). The idol wing is now further investigating the matter about the original theft and subsequent smuggling out of the idol." – Rahul Nangare, the first secretary of the Indian High Commission
_________
There are many African relics in the museum where ownership is a little vague or certainly not disclosed. Names are attached but no account of how they were obtained. A 14th century Dogon-Tellem wooden carving of a figure with a sacrificial patina is, in this sense, particularly intriguing. This Mali tribe produced craftwork depicting Creation and this Nommo figure was one of their mythological ancestors. The journey from 14th century Mali to 21st century Britain is likely to have several foggy areas as regards appropriation, even where more recent ownership can be traced.
It isn't just the African items that raise concern. The ransacking of the sacred and the regal was the norm even as far afield as the Solomon Islands in the southwest Pacific. In 189O, the British took control of the islands as a protectorate and in 1891 troops from the HMS Royalist seized items from ancestral shrines to sell on to the British Museum.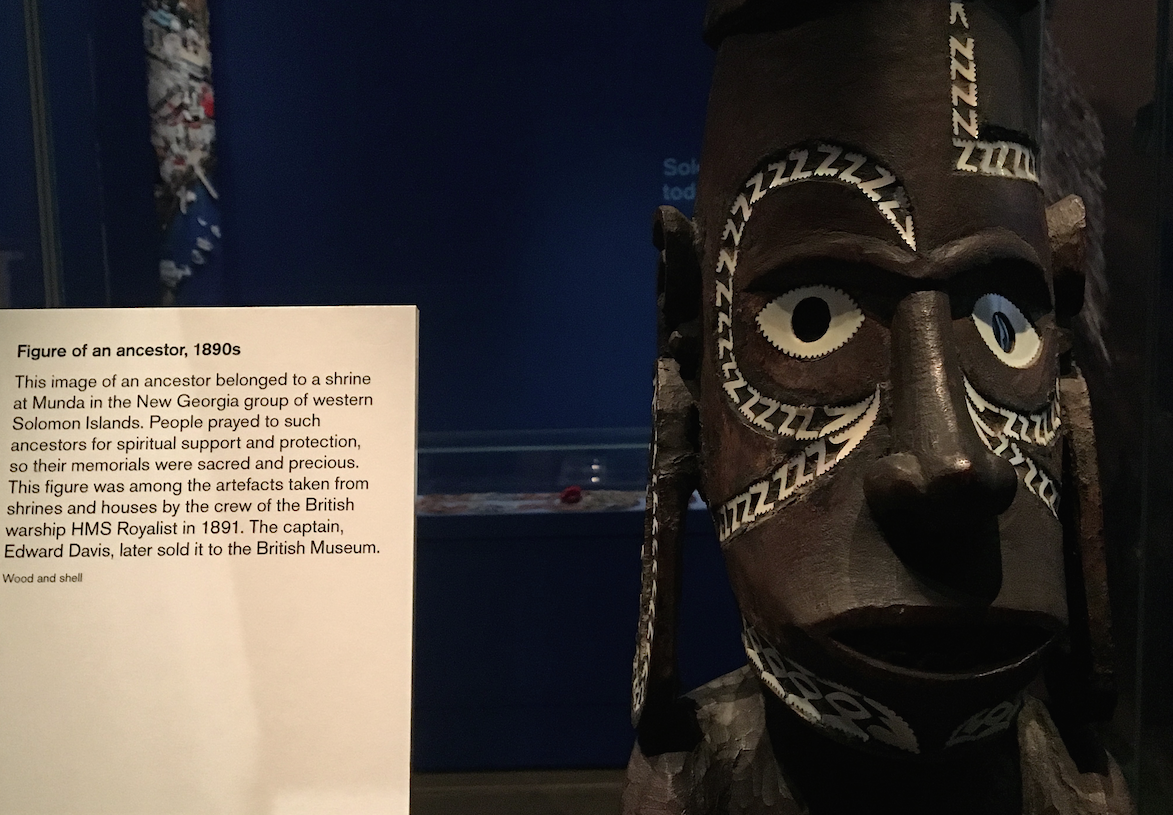 Solomon Islands Figure of an Ancestor, British Museum
It also has to be said, there are records of items being given as gifts by Solomon Islanders. The Lau people lived on the Malaita Islands within the British Solomon Islands Protectorate and used bird-carving nets to catch fish for ancestral ceremonies. Anglican missionary Arthur Hopkins received one as a gift from a Lau priest and in 1903 sold it on and it was eventually bequeathed to the British Museum.
For certain, the British Museum is a central figure in much of this foggy trade of items by British troops and officers. Even though they have provided us with an opportunity to see historic items of priceless cultural value that we'd likely never encounter, this has to be weighed against a growing sense of injustice about how some were obtained. It is an issue museums all over the world must face up to. Hopefully, the French president's vocal support for restitutive measures will have a knock-on effect in the UK and beyond.