The Talk Around Westminster: Does Rishi Sunak Have A Democratic Mandate For His Policies?
.
Last night's TUC 'We Demand Better' rally at Westminster Central Hall called for a #GeneralElectionNow. WHLondon covers the rally and also talks to people around Westminster about Sunak's mandate for austerity.
With two consecutive Conservative leaders – and therefore UK prime ministers – appointed by Tory MPs and party members rather than the general public, questions have been raised about whether Rishi Sunak has the democratic mandate to pursue austerity measures as he seeks to plug the gaping hole in the UK's finances caused by the tumultuous Truss-Kwateng mini-budget. Labour deputy leader Angela Rayner described his appointment as 'a coronation and not an election' while Scotland's First Minister Nicola Sturgeon warns he may pursue austerity-led policies which would be "a horror show" for Scotland. She adds: "public services cannot withstand another wave of austerity".
The TUC are seeking immediate remedial action. Their recent lobbying of MPs at the Palace of Westminster was followed by an impassioned rally of speakers and reps from all spectrums of working life demanding an early general election and policies more favourable to workers rather than the corporate world.
Frances O' Grady, General Secretary of the TUC, and the first woman to hold the position, laid bare the everyday realities of those on inadequate wages now facing increased hardships, rousing the attendees with her scathing and honest assessment of 12 years of Conservative government. Mick Lynch of the RMT also rallied support for an 'autumn of action' against Tory policies.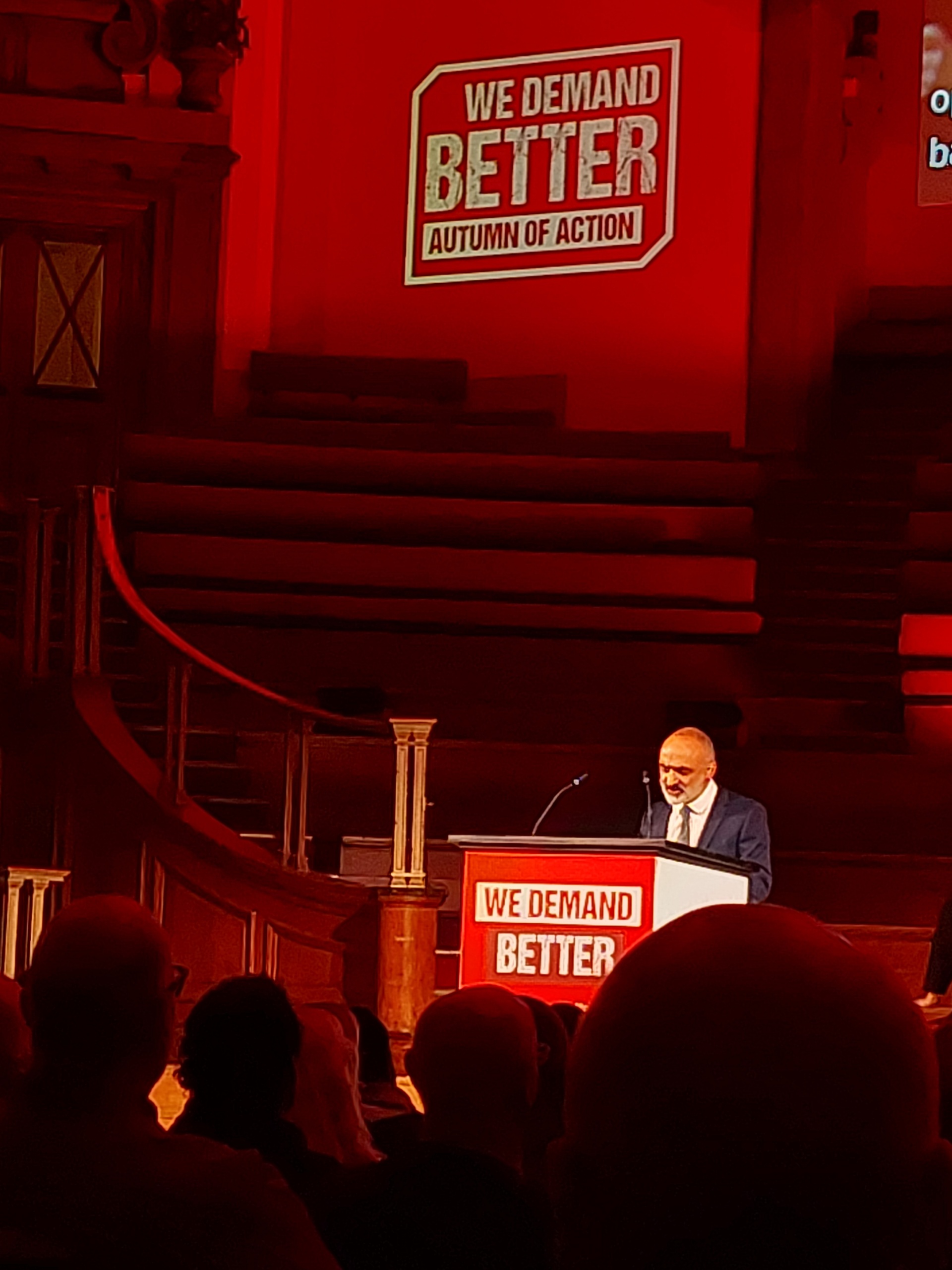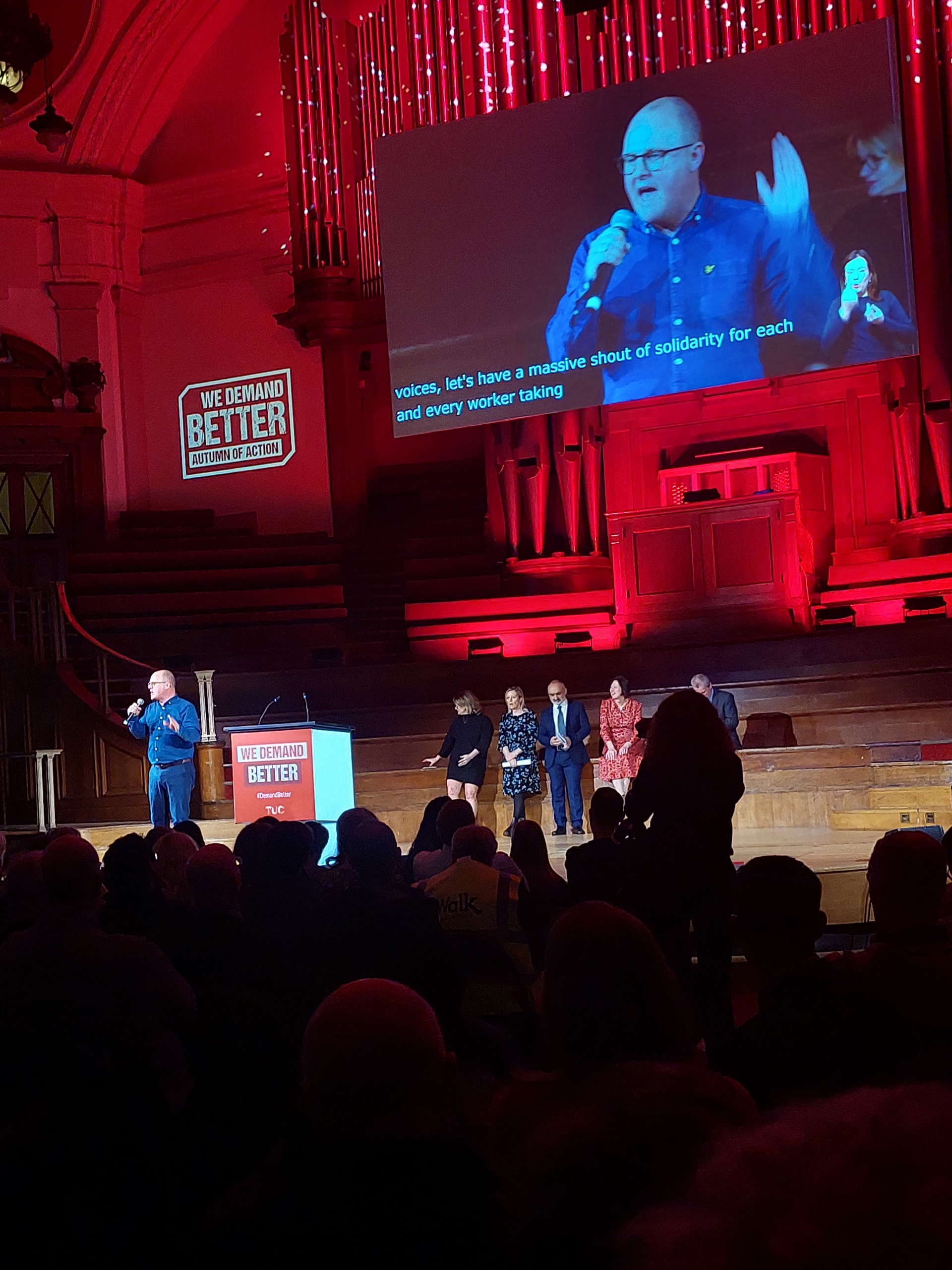 Also, among the many speakers was UNISON's Northern regional secretary Clare Williams who drew attention to the pay crisis and workers struggling to make ends meet. And in reference to the looming austerity measures: "We have a government that crashed the economy and now they've got the audacity to tell us there are difficult decisions and difficult choices to be made. What they mean by that, is that workers have got to pay the price for their mistakes." She maintained that Sunak had no mandate and a general election was needed.
A recent YouGov poll shows 63% of the British public want an early general election. WHLondon talked to people on the streets of Westminster.
Brexit Steve – Westminster anti-Brexit campaigner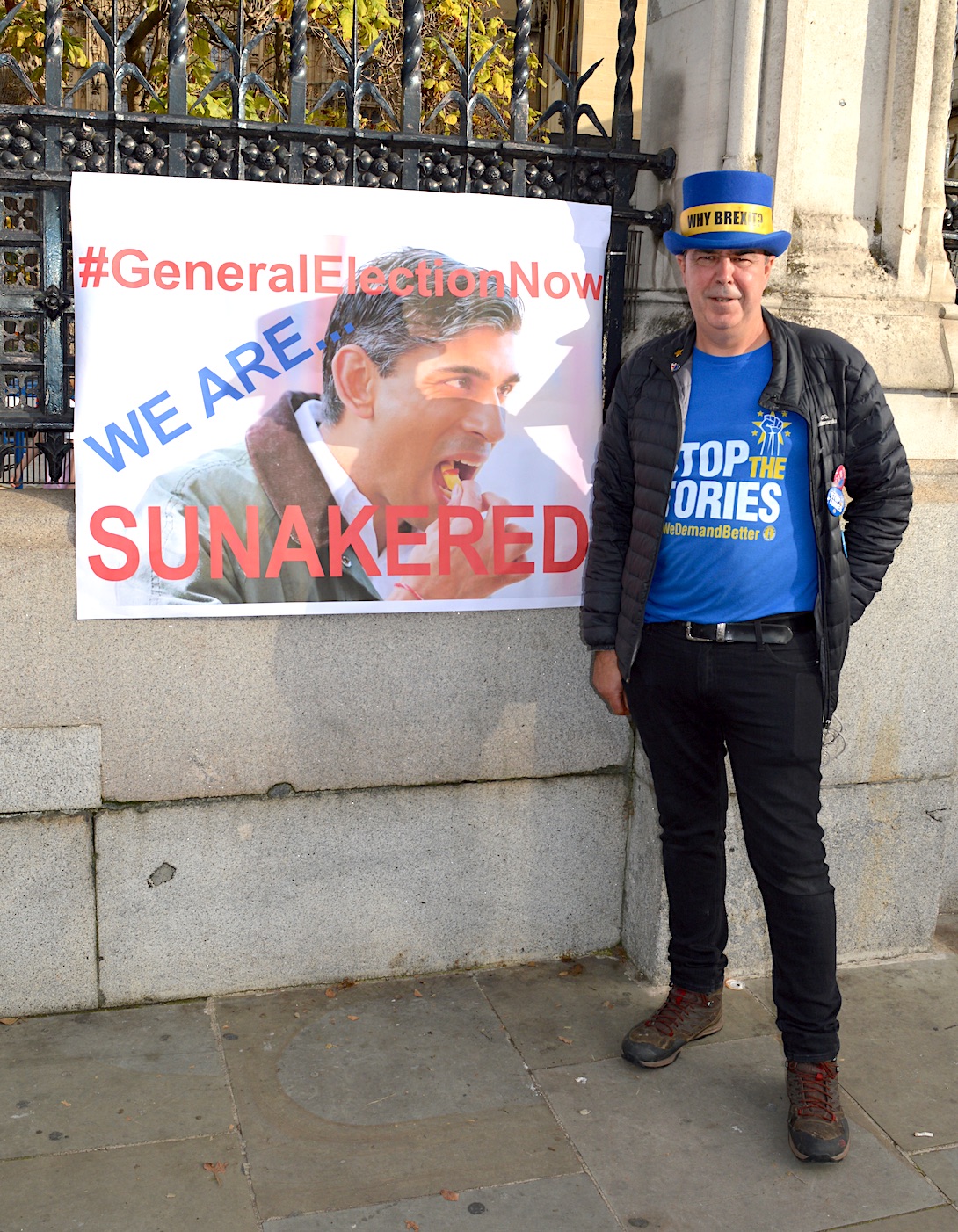 "Early or otherwise, whenever the general election does come it will be a wipeout for the Tories. Personally, I was hoping Nadine Dorries became prime minister because that would have killed them off for a millenium. But seriously, we could have Labour as the next government – but who says the PM will be Keir Starmer?
Tom Darwood
"It's a perfect opportunity to have a general election, then we will see exactly where the minds of the British people are directed. Rishi Sunak has got a fabulous opportunity to show the British people he can serve them and raise levels of trust that he can deliver. I hope there is a general election soon because there are many questions to answer regarding this premiership. He has not been voted in by the British public and we need to pass that endorsement into the hands of the general public."