Three years after his Hail to the Loser debut show at the Saatchi, Italian artist ALO returns bearing the fruits of an urban expressionist style developed from street art and studio work. Now based in London since 2011, this journey also took him to Paris where, no doubt, the inspiration for A French Gypsy Lady (mixed media on wood) was found.
Like much of this figurative work it has a strong ethnic feel, perhaps those patterned robes are more African or Middle Eastern than gypsy. Other female figures have angular Afros marked out with his signature stiff lines and hard angles. Even their sometimes disembodied eyes have this geometric style. There's a stylistic uniformity across canvases where he employs a pointillist effect to produce a rainfall-like pattern in the background. These vertical dashes are interrupted only by the horizontal lines in the grids and squares in disparate corners of the canvases.
The commonplace subject matter of 'Drunk Lady' and 'Man & Cigarette', to name a few, owes much to his self-confessed admiration of Italian master Caravaggio who stood out amongst his contemporaries for painting everyday people in sometimes unflattering ways rather than pandering to the idealistic beauty of the times. But where Caravaggio employed the dramatic use of lighting to add his emotive take on these representations, ALO prefers an urban expressionism which can be seen in the absence of soft curves and gentle edges as well as his use of jarring colours.
The nods to German Expressionism can be felt from afar and up close. Everything from the stick-thin necks to the exaggerated squared off shoulders, a subjective take on human existence coloured by the artist's life experience and creative journey. There is an awkwardness, a disjointed sense of angst dressed up in the paradoxical urban cool of street life.
There's so much of his work on show in the two rooms of the Saatchi's Print & Originals Gallery that some paintings have even crept round to the serving area of the private view's champagne reception; where they should have been better lit. But that aside, this young artist has set his stall as a name to be looked out for in 2017.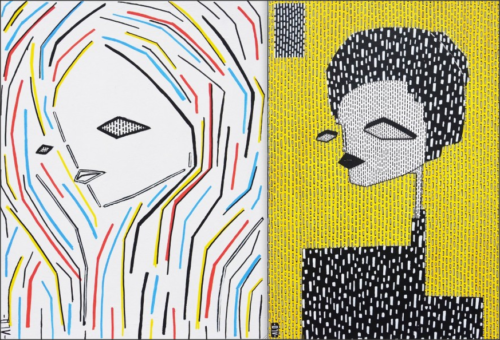 Exit from Aden: New Works by ALO Saatchi Gallery, Kings Rd, Chelsea 15 March to 10 April