The exhibition and tour of the Shakespeare's Globe theatre is open everyday with a paid ticket. However, on the occasion of Shakespeare's birthday that falls on April 23, the Globe threw open its doors to the public to celebrate Shakespeare's birthday over the weekend on Sunday, April 19 that included free entrance to the exhibition and tour of the Globe. This year's celebration had Hamlet as the theme.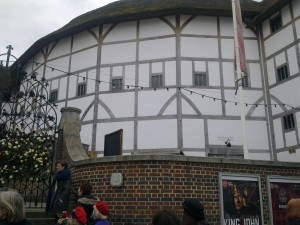 The Globe theatre from outside.
There were entertainment activities for children and families such as a bouncy castle, face painting,  a candy shop and story telling.
Outside at the foyer of the Globe was a giant sized Happy Birthday greeting card for visitors to sign in.
If you missed this year's open day at the Globe, mark the next Sunday leading to Shakespeare's Birthday on April 23 in your diary for the next one.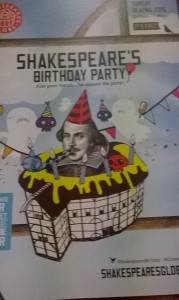 A Shakespeare enthusiast quoting from Timon of Athens in a street play outside the Globe
Read our feature of the exhibition and tour at the Globe theatre here.