Hélène Amouzou: Voyages. The artist's journey from Invisible to Visible
                                                                                                                                                                                                                                      The Autograph ABP Gallery in Shoreditch has a remarkable track record for documenting the experiences of those whose stories need to be heard and holds the distinction of being England's first gallery space for diversity in visual arts. Hélène Amouzou's haunting analogue, hand-printed photographic works are a well-delivered fit for Autograph's diversity aesthetic.
Hélène arrived in Belgium from Togo in 2004, fleeing war in her country of birth and her work speaks of a sense of invisibility as she seeks citizenship. Her spectral images offer reflections on existence in a limbo state with no place to call home, no sense of security and without the proximity and emotional support of family members, a continent away.
This 'invisibility' is a familiar experience for many migrants as they seek acceptance.  In the words of Professor Mark Sealy: "a life lived outside of the law, hyper-alert and emotionally taxed, near invisible'. And that spectral, discombobulated reality is expressed in many of Hélène's works.
We interviewed the artist about her first UK solo exhibition and how she sourced painful experiences for those evocative images.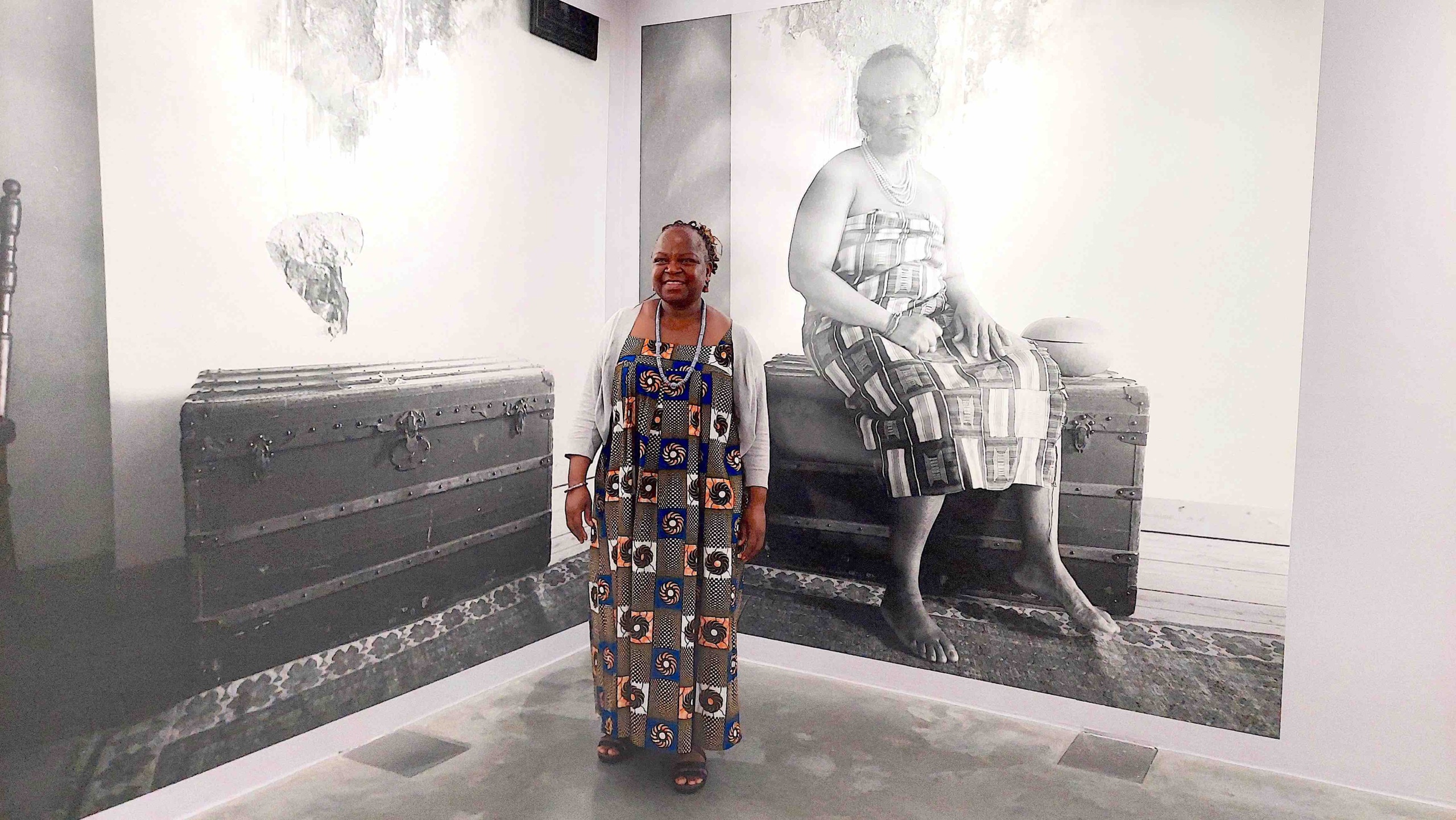 What first inspired your creative journey to become an artist/photographer?
When I arrived in Brussels from Togo, I had to go through the bureaucracy that migrants face but had no citizenship papers and no right to stay, which meant I couldn't look for work. So I had to stay at home without any kind of assistance. I began going to church and met a woman there with a background in video editing who offered to train me in video and film production. I lost contact with her after she left church but I wanted to learn more. Eventually, I found a college, the Sint-Jans-Molenbeek Academy of Drawing and Visual Arts in Brussels, where I could study film and photography. A tutor advised me to focus on photography, which I preferred anyway. But I had no experience whatsoever at this point. In September, I started the course and found the younger students seemed to know which direction they were moving in but I must admit I felt a little lost. However, I soon discovered my creative path and maximised the technical and creative potential of analogue photography.
When was that transition from hobbyist photographer to artist-photographer?
I clearly recall the first photograph I ever took. From that first photo, my focus was always on producing work for myself and not for public show. In fact, one of the requirements for this three-year course was to produce a self-portrait to be judged before course assessors. Even then, I didn't want my face to be seen so just took a photo of my body and kept myself anonymous. But the assessors encouraged me to have a more candid approach and share my story. As I progressed with the course, a teacher remarked on the quality of my work and encouraged me to approach a Brussels gallery to exhibit my pictures. But I felt uncomfortable – I was quite shy at the time. Even after the exhibition, I didn't pursue other exhibitions because I wasn't ready to share my personal story with the world. But I guess the transition had already occurred.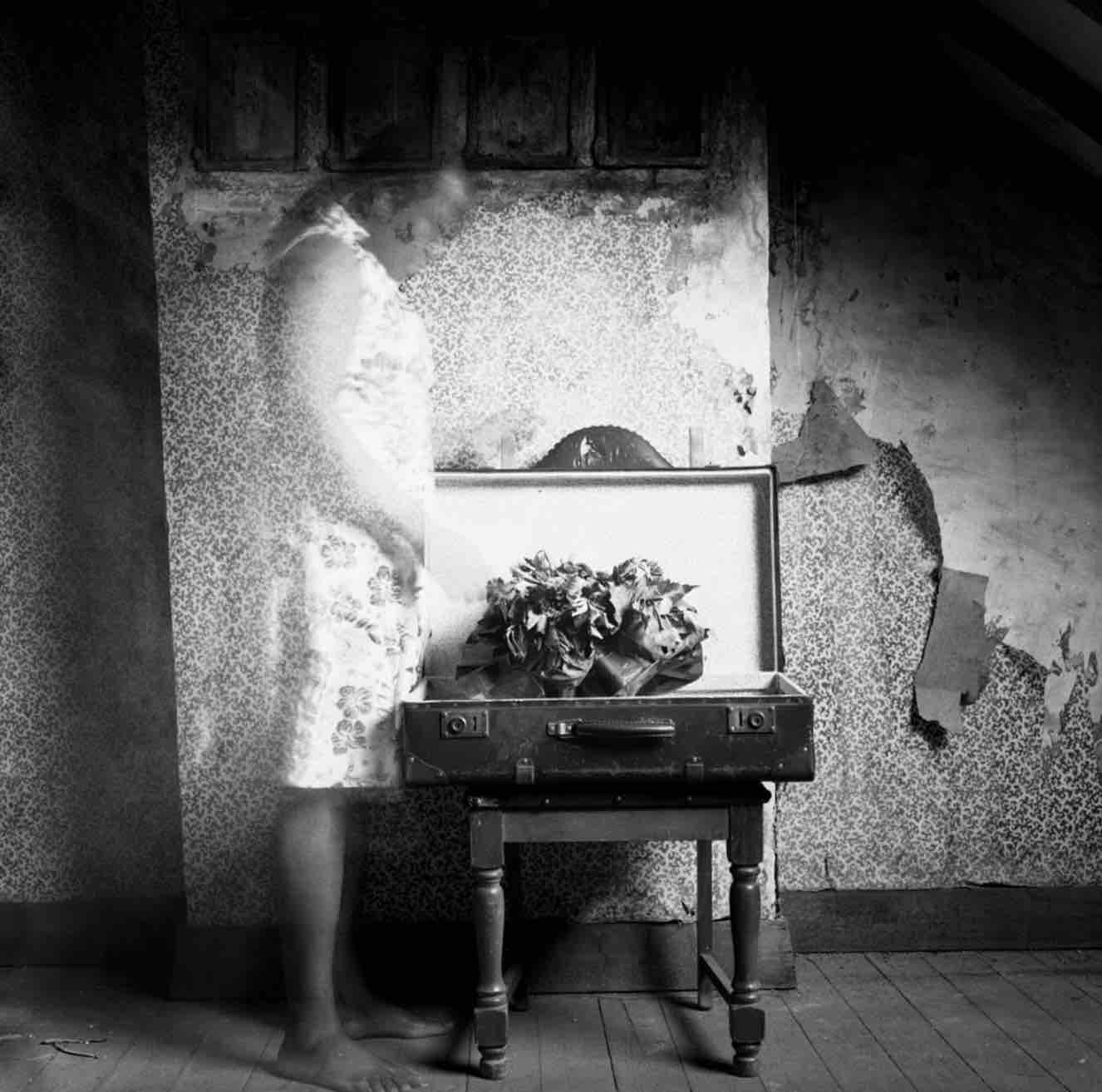 From the series Autoportrait, Molenbeek
And some of your work is connected to your feelings of displacement after leaving your country of birth and trying to find citizenship in Europe
Yes, I didn't have the official papers that gave me the right to stay in Belgium so I felt I was always on a journey. I had a child with me yet couldn't give her safety, security, a home or an identity. Indeed, I do have an identity but in Europe and Belgium I just feel like a nobody. I feel I am on this constant journey to find acceptance and in search of somewhere to settle down and find peace. So the pictures I create are documenting this journey to a place where you can just be yourself and don't need ID cards and papers and can just exist as a human being.
Many of your self-portraits depict you in stages of transparency till almost invisible. Can you explain this theme to our readers?
Well, it's because I feel invisible. I feel like I don't exist. Yes, I have family connections – I have left family behind in Togo but here in Europe I am alone. On the streets of Belgium, no one really sees me and this is a very personal pain. It's difficult to share and describe so I document it creatively through my photographs.
What's the story behind the large-scale black and white self-portrait that catches the eye as one enters the gallery?
I created this photograph of myself in traditional Togolese dress to remind me of my background and heritage. Obviously, in my new surroundings people do not dress this way so it is important to have a reminder of my background and what I have left behind. It's a part of my identity wherever I am.
"Self-portraiture is a way of writing without words. My aim is to reveal the deepest parts of myself"
Hélène Amouzou: Voyages

22 Sep 2023 – 20 Jan 2024. Autograph ABP, Shoreditch