Just as the Turner Prize hit its thirties it suddenly got all age-conscious and decided being older isn't such a bad thing after all. It was established in 1984 and was named after British landscape painter J.M.W Turner who was a bit of a whizz kid himself – elected as a full member of the prestigious Royal Academy at 26 while his famous rival John Constable didn't get there till he was 50. Notably, the Turner Prize once had an upper age limit of 50, which tended to overlook the brilliant late bloomers in the Constable tradition. This limit was scrapped for the 2017 prize and the latest winner was 63-year-old Preston-based black artist Lubaina Himid. She was born in Zanzibar but moved back to her mother's Lancastrian roots as a child and brings much of her race, class and gender into her work.
The prestige of winning the biggest prize in art has, of course, splashed her work all over the national press and it seems a shame that her talent might not have been brought to our attention because of age restrictions. It's perhaps understandable that there are national and international school and youth prizes which focus on rewarding emerging talent away from the glare of scrutiny and protected from the competition of mature art professionals. However, considering the colossal power of the Turner Prize, an upper age limit did seem an unfortunate shut out for an already uniquely selective trophy.
Late bloomers need love too. And others are never late – just happy to wait. Undiscovered but talented, until art critics and award judges herald their accomplishments and ramp up the footfall to their studios and exhibitions. The Turner vs Constable rivalry during the 1700s and 1800s is a classic example of this. It also underscores how financial rewards are impacted by selection committees at the highest level.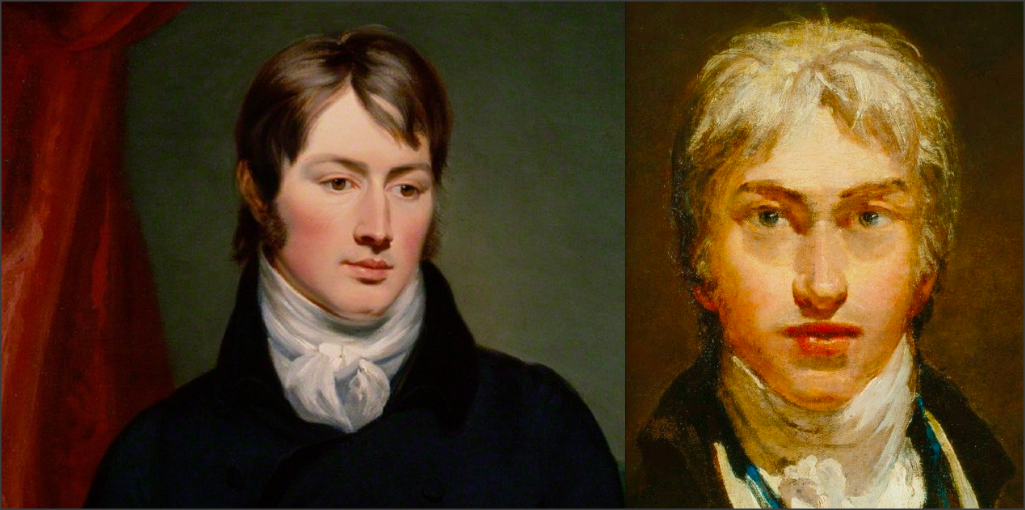 The slow blossoming Constable (left) versus the young and brilliant Turner (right)
Theirs was described as the biggest rivalry in British art and barber's son J.M.W. Turner became a huge hit in the UK two centuries ago, aided by powerful art patrons during his prodigious ascent. His rival Constable, born only a year apart and therefore benefiting from much of the same commercial opportunities available during the Georgian and Regency eras, only sold twenty paintings in England throughout his lifetime and experienced financial struggle while his early blossoming rival stole the limelight.
Turner's early selection for the Royal Academy had much to do with his commercial success that followed. In Turner's case his skills were truly outstanding and the Academy would have been foolish to overlook him even at that young age but elsewhere youth should not be a criteria for brilliance and rewarded excessively in its own right. Yes, young artists should be carefully nurtured but it's short-sighted to restrict talent that flourishes beyond the bounds of years.