The Victoria and Albert Museum will be expecting a rush of visitors today seeking to catch a glimpse of Leonardo da Vinci's notebooks, following his birthday over the weekend on April 15th.
These invaluable items are much sought after by museums and private collectors alike and one sold for $30 million at a 1994 auction. His notebook collection first made international headlines back in 1980 when bought for $5.6 million. American oil tycoon Armand Hammer, president of Occidental Petroleum Corporation, forked out the sum for the private scribblings of an Italian great who was a Renaissance Man in every sense of the word – and the term probably originated from his remarkable working life.
Dated around 1508, it contains 300 notes and sketches scrawled on its 72 pages. Experts have verified that one of his most famous works The Mona Lisa was also sketched in it. The Florentine genius lived through a period of artistic and scientific excellence and with the great man at its vanguard. He excelled as an engineer, inventor, sculptor and painter producing the blueprints for works as diverse as alarm clocks, military catapults, beard shavers, parachutes, tanks and even a basic helicopter.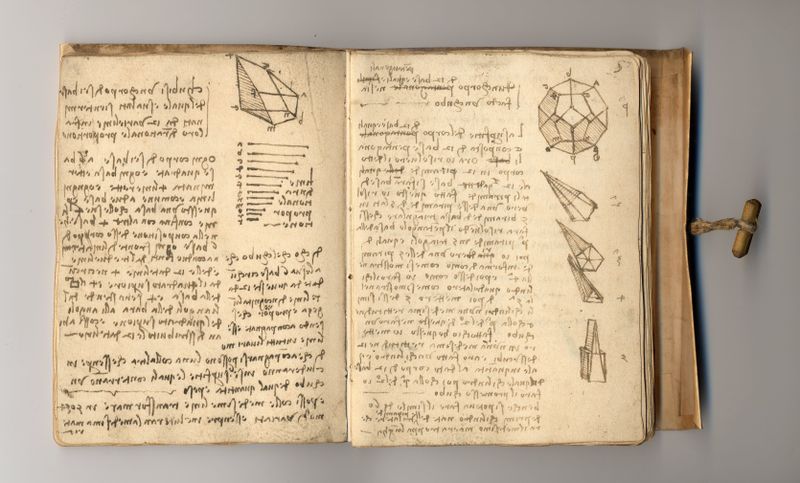 This Italian polymath was widely recognised as the greatest mind of his time and enjoyed the patronage of the ruling Medici family of the day as he incorporated botany, architecture, music, chemistry, geology, anatomy, and mathematics into his professional life. Luckyily for him, his patron Lorenzo di Medici was also an artist or perhaps his amazing achievements may never have flowered.
And this is what makes his notebook so valuable. It is one of the few surviving keys to the workings of a brilliant mind and includes notes in his preferred mirror writing technique (read from right to left) of a device that enables two men to carry a wounded third over a river. All in all, a remarkable document that ties you to history and the man who went from the humble apprentice of Andrea di Cione (Verrocchio) to the blossoming heart of the Italian Renaissance.
 The chain of discovery which brings it to the V& A is an interesting one. It was in 1690 that painter Giuseppi Ghezzi discovered the notebook collection while rummaging through a chest of documents that he probably had no business nosing around in. It belonged to a 16th-century sculptor called Guglielmo della Porto who studied Da Vinci's methods.
Seventeen years later the 1st Earl of Leicester paid a handsome sum to add it to his family's art collection. It thereafter became known as the Leicester Codex. In 1980 one of his descendants, Lord Coke, was forced to sell it because of tax problems and once it fell into the hands of oil tycoon Armand Hammer it became known as the Hammer Codex. By 1994 Microsoft billionaire Bill Gates smashed the previous record, paying over $30 million and giving it the original title of the Leicester Codex. The V&A doesn't have this particular manuscript but it does have five other Da Vinci's notebooks including the displayed Forcester Codex which was bequeathed to the museum by John Forster in 1876. Catch it while you can.
 The Victoria and Albert Museum Daily: 10.00 – 17.45 Friday: 10.00 – 22.00.
What's Hot London? magazine is available in print, online and as digital download