Britain faces its biggest crisis in recent history but Bulldog spirit and community kindness is the way ahead during these uncertain times.
Scroll down to the bottom to the section in green text for NHS and Public Health England advice and helplines and to contact community mutual aid groups across London. Also, read about how the Health Secretary has gathered an army of volunteers to work alongside the NHS and community groups.
* 25,150 confirmed infections in the UK

* 1,789 dead in the UK

* Medical experts hope to keep total UK deaths to below 20,000

* The 4,000-bed Nightingale Hospital being built at  the Excel Centre will be the world's biggest


*

Boris Johnson and Prince Charles test positive for coronavirus

*

Government launch NHS Volunteer Responders

– sign up here

https://www.goodsamapp.org/NHS


* Downing Street say lockdown may be up to six months
Let's start with the facts. Public Health England has fluctuating figures for death from flu in the UK. 1652 died in 2018-2019 but there were 13,000 flu-related deaths in 2008-09 and 28,330 in 2014-15. The coronavirus death figure (1,789) is lower than the five-year average for flu. But there is considerable concern that the spread of infection, if not controlled, could potentially run into the hundreds of thousands because unlike flu the world isn't close to developing a vaccine. Also, current research shows that the coronavirus is spreading quicker than flu or SARS, even though the COVID-19 death percentage is lower than flu, SARS or Ebola.

* Biggest Tube closures since Second World War

* 40 Tube stations closed from March 20 and more expected


* Waterloo and City Line and Night Tube closed from March 20

* Rail use is down 95%

* Bus use is down 75%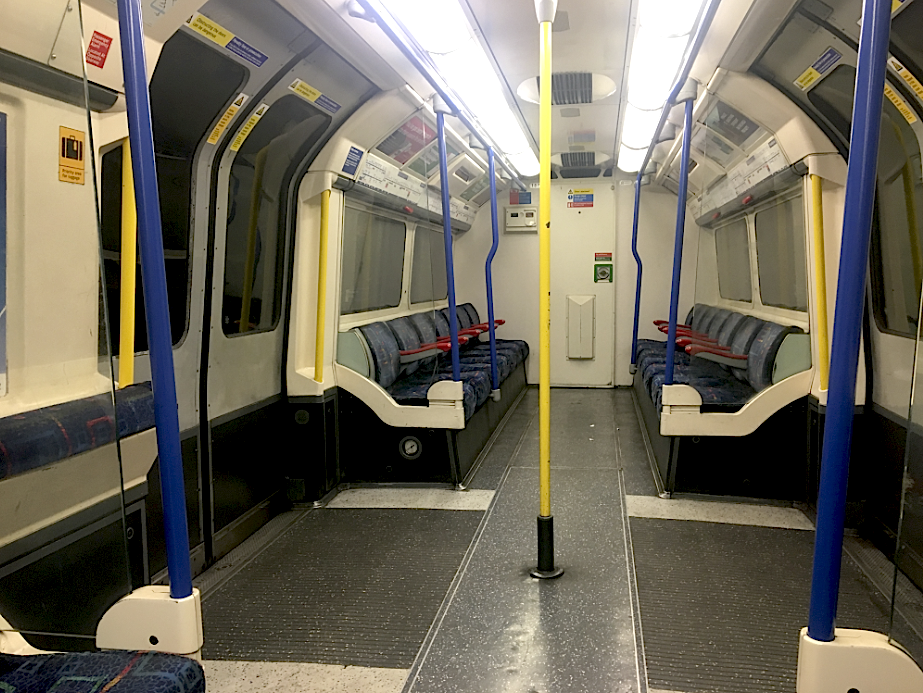 Empty Tube at lunchtime.
The last comparable health concern the UK faced anywhere near this level of national disruption was the 1918-19 Spanish Flu epidemic which killed 228,000 in the UK and a quarter of the nation was infected. This airborne virus infected a third of the world's population killing 50 million people – more than battlefield deaths from the two world wars combined. However, 21st-century science, medicine and hygiene standards are more advanced and expected to prevent an epidemic if prompt, well-directed action is taken.

* Nurseries, schools, colleges closed until further notice from March 20th

* School exams cancelled

* 9 million children and 500,000 teachers affected
China was able to contain it using authoritarian but effective measures which have now seen no new infection cases coming out of Wuhan where the virus was first found. News footage of residents being dragged to quarantine at gunpoint or similarly self-isolated in their homes shocked the world. Boris Johnson had hoped to avoid restrictive measures but has introduced on the spot fines for people found breaking social distancing rules.

* Supermarkets begin rationing as panic-buying hits supplies

* Morrisons chief executive warns of shopper riots if panic continues

* Environment Secretary George Eustice reassures nation there is enough food for everyone in the supply chain
However, it is now a matter of when not if the government passes more legislation restricting public movement and closes shopping centres. There was concern that West End pubs were ignoring the official guidance and operating as normal – packed out and possibly hastening the spread of the virus. This reaction was discussed at a Cobra meeting called by Boris Johnson and the PM ordered all pubs, restaurants, cinemas and gyms to close.
* 700,000 may lose their jobs after virus panic

* Bank of England cuts interest rates to a record low of 0.1% (lowest rate since 1694 when the bank was founded)


* Governor of the Bank of England calls it an economic emergency but advises against job cuts

* The pound falls to its 2nd lowest since 1985

* Chancellor commits £330bn to combat coronavirus and shore up economy

* Retail and hospitality sectors most hit
Expect the lockdown measures to hit the capital first before the rest of the UK. Latest figures show the rate of infection is higher in London than other UK regions.
* Concern over medical staff and emergency services exposed to virus

* NHS expected to be overwhelmed and services at critical point by summer

* 20,000 former doctors and nurses come out of retirement to help NHS
BULLDOG SPIRIT AS COMMUNITIES FIGHT CORONAVIRUS  TOGETHER
Community spirit, collective action and volunteers have proven vital in re-energising the nation and providing a helping hand where necessary. Health Secretary Matt Hancock has gathered an army of 750,000 volunteers to shore up the NHS and community organisations in the fight against the spread of the pandemic. They will be deployed in hospitals, health organisations, nursing homes and community centres. Sign up here https://www.goodsamapp.org/NHS

The NHS Volunteer Responder duties include:
* Delivering medicine from pharmacies

* Driving patients

* Phoning the isolated and elderly
For official government advice on the outbreak check out these links below
NHS Advice General advice and rules on staying at home.
NHS 111 Call Service  What to do if you think you have the virus.

Government Guidance –  coronavirus: what you need to know.
Public Health England Facts and figures. Information for health professionals and organisations.
___________________
Community Mutual Aid Groups are sprouting up all over the UK after the first was formed in Lewisham. There are now 300  nationwide. The services they offer include:
* Shopping

* Cooking

* Driving

* Picking up prescriptions

* Supporting the isolated elderly
However, these groups must comply with government guidance on social distancing and self-isolation to avoid the spread of the virus
__________________
The London list of community mutual aid organisations is below. 
• Newham Covid-19 Community Support
• South West London Covid 19 Community Support
• Southwark Mutual Aid Covid 19
• Tower Hamlets Covid19 Community Support
• Waltham Forest Covid 19 Mutual Aid
• Havering Covid 19 Mutual Aid
• Islington COVID 19 Mutual Aid
• Newham Covid 19 Solidarity Group: 07496602149
* Haringey Covid-19 Mutual Aid
• Greenwich Covid 19 Mutual Aid
• Soho/Covent Garden Covid19 Mutual Aid
• Battersea Covid-19 Mutual Aid
• Northolt COVID-19 Mutual Aid
• Barnet COVID-19 Mutual Aid
 
• City of London Covid 19 Mutual Aid
• Lewisham Covid 19 Mutual Aid
• Volunteer childcare for Healthcare staff during school closures – Covid-19
• Putney Coronavirus Community Support Group
• Kensington COVID- 19 Mutual Aid
• Twickenham & Richmond Covid 19 Mutual Aid
• Wimbledon Isolation Support Group
• Hounslow Covid-19 Mutual Aid Group
• Biggin Hill – Self-isolating Assistance
• London Borough of Enfield Covid-19 Mutual Aid
• Redbridge Covid 19 Mutual Aid
• New Malden Covid 19 mutual aid
• Surbiton Coronavirus Community Response Group (CCRG)
• Stroud Green Covid 19 WhatsApp group
• Hammersmith Covid-19 Mutual Aid
• Wandsworth Covid 19 Mutual Aid: (Balham, Tooting, Clapham South)
• Norwood Junction Covid 19 Mutual Aid
The umbrella organisation for all community groups is  Covid-19 Mutual Aid UK