LONDON FASHION WEEK is barely a weekend away and it promises to be a celebratory, wine popping few days of launch parties before catwalks across the capital host the brightest emerging design talent. Oxford Fashion Studio recently held its London Collection Season Launch on Devonshire Terrace, near Liverpool Street Station in the exact outdoor spot where its catwalks will be located. The choice of architectural backdrop a deliberate move by the event organisers, capitalising on London's hip, metropolitan vibe.
In a series of interviews with studio owner and founder of Oxford Fashion Week Carl Anglim, runway director Tiffany Saunders and catwalk model Amy Woodman, I uncovered the inspiration behind this exciting new fashion label looking to take London Fashion Week by storm.
During our conversation, it emerged that Carl actually studied Law at University but on graduation had an urge to focus on people and society orientated work which would lead him away from his legal studies. Essentially a desire to be hands-on in whichever path he took. He admitted to
having an interest in design but with no overwhelming knowledge or interest in fashion. His immediate circle, though, did have and this was all the impetus he needed to launch his company.
However, one thing that did come in handy was his experience of living and studying in the historic city of Oxford. This had given him first-hand experience of its stunning architecture and scenery which he sought to incorporate into his vision of a fashion empire, using stand out locations in catwalk shows to embrace the power of environment.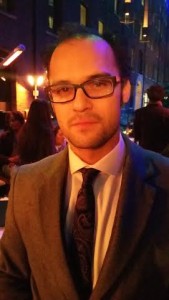 Part of the studio's manifesto was to judge designers on talent and quality alone with a preference for designers blossoming two to three years after graduation. One of his key recruits was not a designer but runway director Tiffany Saunders. She started off as one of his models – and in 2010 was actually voted Face of Oxford Fashion Week but emerged as a capable and ambitious member of the team who shared his greater vision for the label.
This enthusiasm was duly rewarded when she was asked to become model choreographer and by 2014 had been promoted to director of the lingerie show in Oxford. (In a hair-raising stunt she actually borrowed a real python from a friend which was draped around the neck of one of the catwalk models!). That same year she would rise to assistant director of the whole organisation. It's not hard to see why!
And if you're interested in attending their show on Sunday February 21st 5pm and 7pm look out for the stunning 6ft, red-haired model Amy Woodman – you might recognise her from the TV show Britain's Top Model 2001 – she ranked eighth out of all contestants. Based in Norwich, she has been a full-time model for two years and is signed to Oxygen Models.