The Calder Prize 2005-2015 at the Royal Academy building, Mayfair was the biggest art party in town on Feb 11th. Organised by Pace London this private view celebrated the work and influence of American sculptor Alexander Calder but this time through the interpretations of previous winners of his Calder Prize. Although teeming with guests on the lower and upper floors, the attendees and the size of the venue dwarfed the actual amount of exhibits. If you found yourself squeezing through the fair-sized crowd to ask gallery ushers if there were other rooms the polite shake of the head you were greeted with was not a disappointment. In art more than any other discipline quantity is no guarantee of quality.
The six Calder laureates were Tara Donovan (2005), Žilvinas Kempinas (2007), Tomás Saraceno (2009), Rachel Harrison (2011), Darren Bader (2013), and Haroon Mirza (2015). All of them kept to the brief of Calderesque, as shown by the trademark mobile sculptures in the front gallery.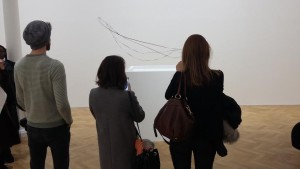 He invented this art form – and although Marcel Deschamps gave it that name it was Calder who ushered in suspension and kinetics as art form with his inimitable global stamp. Trained as an engineer his early mechanical toys made from wire and other found objects were a nod to his vocational training. Once he became a fully fledged artist they had evolved into mobile sculptures with motorised elements before the introduction of the air current element for which he became famous.
All of the work is anonymous so during your gallery visit don't go searching for labels. Hey it's always going to be one of the six so instead allow yourself to go with the flow. The incongruous elements will sweetly become something harmonious and collective without this interruption. But with it everything suddenly becomes a Calder exhibition with contemporary comment. Or does it? Even without that the individual stylistic threads are pronounced. The most eye-catching of these exhibits are unashamed tributes to his genius and what looks suspiciously like a metallic coiled ring floating on a current of air is the most notable of these. For yes without doubt Flux by Zilvinas Kempinas is the crowd puller. Its bizarre, gravity-defying dance is strangely therapeutic. Never once touching the ground in its fluid, figure of eight, reminding one of some species of silver coloured, thread-like sea life with the ethereal qualities you only ever find in the greatest depths of our oceans or as quanta in subatomic realms.
The Calder Prize 2005-2015 exhibits are at the Pace Gallery from February 4 -March 5 2016, Tuesday-Saturday 10-6pm.