S.O.U.L. Connect's recent short film screening and networking night at the BFI, South Bank sought to address the low numbers of ethnic minorities employed professionally in television and film, giving them a platform for their development. The S.O.U.L initials stand for screening our unseen lives and emerging directors such as Damien Swaby capitalised on the attentive audience. His short documentary The People of Brixton which examines the character of the area and its gentrification had its London premiere that evening.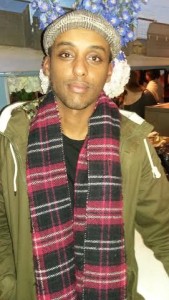 Also in attendance was Mo Ali director of dystopic urban movie Shank (2010), which cost £270,000 to make and grossed around £1.69 million at the box office. During my short interview with him he spoke about his latest project a feature film inspired in many ways by Paulo Coelho's novel the Alchemist. It is still in the funding stage but sounds an exciting new challenge designed to stretch his talents to the next stage.
The organisation regularly holds these screenings and networking evenings with film industry hopefuls invited to share their dreams and discuss projects. So if you've recently made a short film keep an eye out for the next S.O.U.L Connect.