Scream London Gallery's After Show Party private view for emerging artists was the place to be if you happened to be in the vicinity of Oxford St on February 11th. London's most famous street has had a lot of bad press recently because of its car pollution levels but the refreshing talent on show was a purifier of sorts. Certainly of the soul. Totally unpretentious, the work had a youthful, vibrant feel about it and in the best sense reminded you of an end of year University degree show where the cream of talent is preparing to set off on horizons new with a sense they can conquer the world. But these weren't Uni students so Scream London has done a good job of selling blossoming, unbridled talent to us.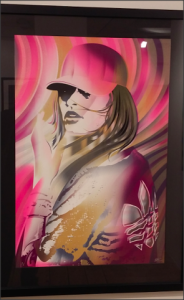 Mark Petty was one of the stand out artists. Currently running one of the Saatchi creative departments, his background in advertising, photography and illustration coupled with his pop art tastes gives him a unique take on contemporary society. His Delight Your Senses shows a street girl in an Adidas jacket and baseball cap captured in a rainbow-like vortex of fluorescent colour. I don't use the word rainbow lightly, this is colour exploding forth in an uncompromising manner yet filtered back into a muted gradient. It's tailored to the senses to ensure that you can experience it without the need to reach for the remote control and adjust the saturation.
The pop-art Julie Andrews by the same artist would look out of place in the same street as our Adidas girl. You'll never see The Sound of Music represented like this. There are obvious religious connotations with her floating angelically in a crucifixion-like position in full Austrian governess garb. The background is a succession of black and pink dots which draw your focus to the centre ground. It's definitely a nod to the evolution of image as sacred. Throughout history human beings who are no doubt extraordinary are pushed into the sacred by painters such as he. We have no interaction with the person depicted, no reference to who they really were so the deity-image becomes the person. His pop-art element adds some irony to all that. Much needed really.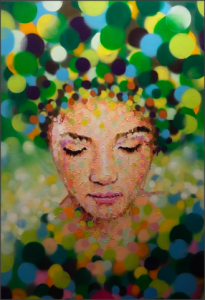 An artist known only as Jimmy C (James Cochran) works a mean spray can on Emerald Contemplation, his figurative take on a demure looking woman eyes closed, deep in thought. A dotted depiction that will have art historians making tenuous comparisons with the pointillism paintings of Seurat and Signac. (Jimmy C's are more closer to bubbles than dots, although the impressionist technique and sentiment is similar). With a spray can? How did he pull that off? When I think spray can I think clumsy graffiti tags – well OK the odd Banksy style masterpiece on a disused railway arch. But I think that's the point – its hardware store texture and application are ideal devices to show the venerable and immaculate with a contemporary stamp. You're not quite in a dream but those multi-coloured dots, blobs and bubbles remind you it certainly isn't reality. Perhaps a vision. You the viewer are a willing participant in a sensory experience where yes you are real but that gently hallucinogenic vision can't be. And getting back to spray cans that's one of the reasons why its called art. It means you can't do it, until you master the art of course.