London-based painter and printmaker Denise Wyllie returns to Russia with a September exhibition in Petrozavodsk, Karelia, Russia which brings the English Garden back to the republic. She will reconnect with the art community she first met almost three decades ago as the first non-Russian woman artist to have a show in this region in the north west of Russia and expects a warm welcome. This completes a 28-year narrative of international co-curation and collaboration. 
Despite Covid-19 pandemic restrictions, the artist and the gallery organisers have staged an extraordinarily powerful exhibition of her latest lively, colourful Japanese-inspired floral prints, which are juxtaposed with earlier meditative, sombre, deep, dark ponds and English forests. Both these styles come from the same artist and clearly reflect her internal emotional landscape. 
Wyllie is returning to the same Russian gallery where she exhibited in 1993, when Russia lowered its cultural and economic barriers and welcomed artists from the West. The old Artists' Union Gallery, now the Vyhod Media Centre, is a new space for inventive ideas using creative media and a hub for experimental expression. Some pieces from that original exhibition are still stored in their Art Contact archive.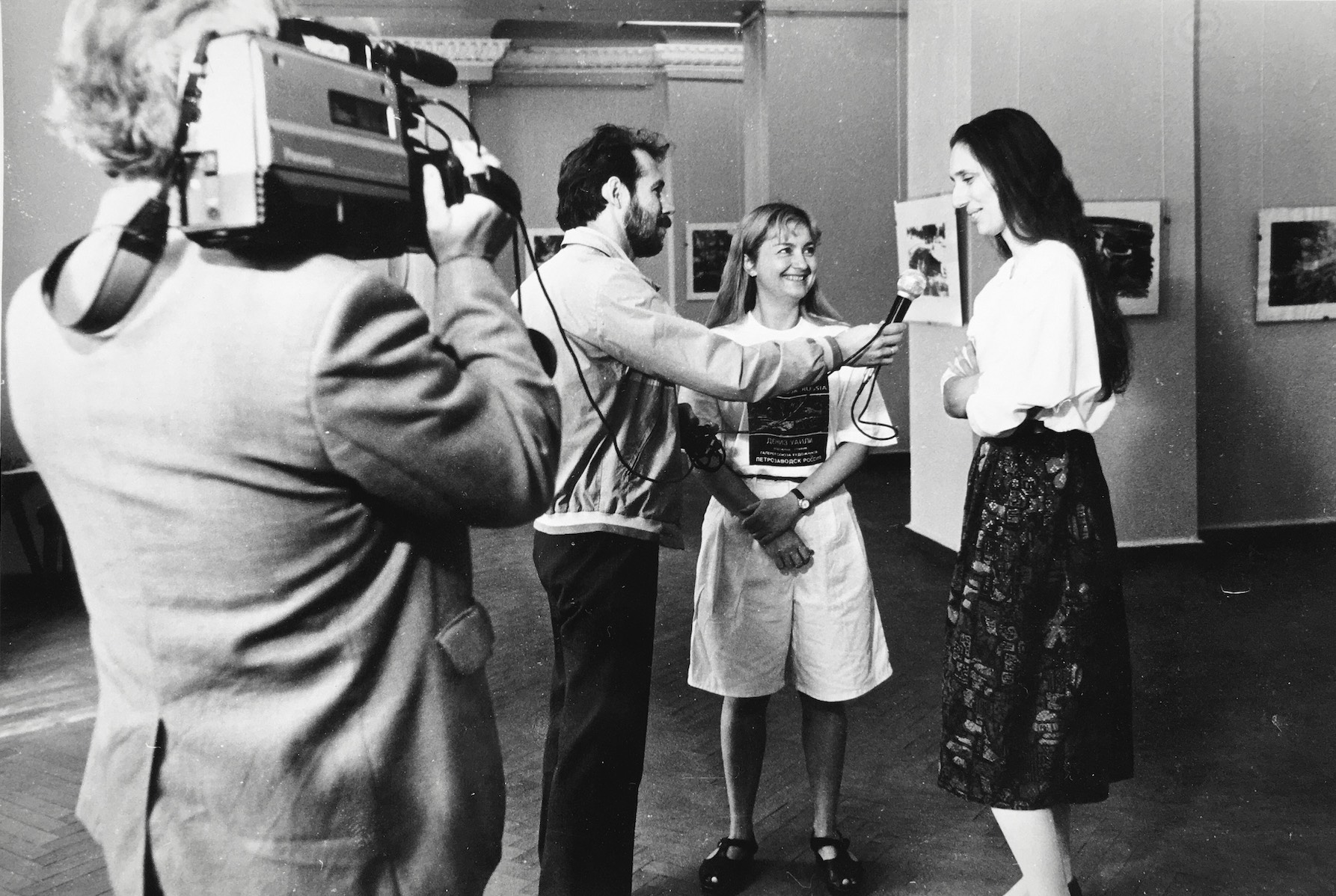 Denise Wyllie, the first non-Russian woman artist to exhibit in the Artists' Union Gallery Karelia, Petrozavodsk. TV interview with art critic Masha Yufa.
Denise Wyllie said: 
''I feel such connection when painting and intense urgency laying on colours when printmaking, that time stops. I am unaware of all other sensations and I do not notice that I am kneeling in ice, or have been standing in one place all day, until later when I can barely walk.' 
Wyllie paints quietly in formal gardens, after public opening hours are over. She also works hidden among wild gardens, in the drifts of native flowers that have self-seeded around structures such as architectural Gunnera manicata or clipped topiary. This provides an opportunity for her to focus on capturing the light at different times of the day. 
How this English artist adapts her emotional energy to each of these nature spots is apparent in her changing style and preferences. All the spaces of nature have, in truth, the hand of humans guiding and controlling them. Wyllie chooses dusk and pathways with glimmers of light, or the joyous rambling roses that have scrambled to reach the uppermost of pergolas and continue reaching out into the skies. These artworks represent a search for hope in the darkness.
The media centre is in the hub of the region's creative industries and arts. Masha Yufa, Head of the Petrozavodsk City Hall's art exhibition centre, and Sergei Terentjev curator at the Vyhod' Media Centre have worked with its artists for more than 28 years and are two of the founding members of the group Art Contact, with Wyllie joining soon afterwards. This group of artists and free thinkers hired the gallery from the respected Artist Union, to exhibit Denise Wyllie's 'Wild Garden' in 1992. They had ambitions to reach and connect with the world and Wyllie, being of the same mind, threw herself into this mission with great energy. 
Wyllie continued in this momentum of extreme activity, making ambitious projects in Karelia and exhibiting widely in the UK and abroad. She has developed well-established creative links with artists in the Netherlands, France, Italy, Australia, Puerto Rico and the USA. Her work is held in many international art collections including the Netherlands, USA, Japan, Germany, Puerto Rico, as well as the Victoria and Albert Museum London, UK and the Karelian Republic Museum of Fine Arts, Russia, plus the Art Contact Collection, itself.  
The people of Karelia truly love their homeland's special kind of nature: vast lakes, country dachas escapes, bears in the huge forests and the foraging of wild berries and mushrooms. In contrast to Russia's severe winters and natural beauty, Denise Wyllie's paintings show the warmth and cosseted cosiness of England's abundant rose gardens inspired by Renaissance, Victorian and, so-called, wild gardens where flowers are permitted to run amok. 
Wyllie has lectured on The British Landscape Tradition in Art and admires many gardeners who have created places of unusual beauty and colour. 
Denise Wyllie said: 
'I would like to experience being in a new place in the UK during these Covid times, that is not just within myself. This place, whether real or imagined, would be underpinned with the same philosophy we English have for London fashion design; maverick controlled chaos.' 
The English garden's heritage is exemplified in the flowers-cum-vegetable plots that ran 'higgledy-piggledy' from Victorian cottages. It can also be found in the work of famous gardener-artists such as Gertrude Jeykll, Vita Sackville West, Laura McLaren, Kitty Lloyd-Jones and more recently Penelope Hobhouse. These are places she wants to investigate for her new artwork. 
Vyhod Media Centre artist/curator Sergei Terentjev concludes: 
'Denise Wyllie's Gardens' looks like a space of art – a picturesque paradise in which there is the artist's fruitful, creative, visual and intellectual work presented to the viewer, as seemingly familiar plots of world art. They are filled with a romantic stormy delight and a postmodern irony all of itself. Wyllie reflects being the timeless creator, in that she continues to adapt to the context of her artistic expression.'
Denise Wyllie: Gardens runs till 27 September 2020 at the Vyhod Media Centre in Petrozavodsk, the capital city of the Republic of Karelia, North West Russia.