A new exhibition at the Espacio Gallery in Shoreditch, London brings together the work of a selection of artists themed around the coronavirus pandemic. Eddie Saint-Jean, one of the exhibiting artists, visited the gallery before the opening to hand in his work to the curator and experience the new normal for artists, curators and galleries.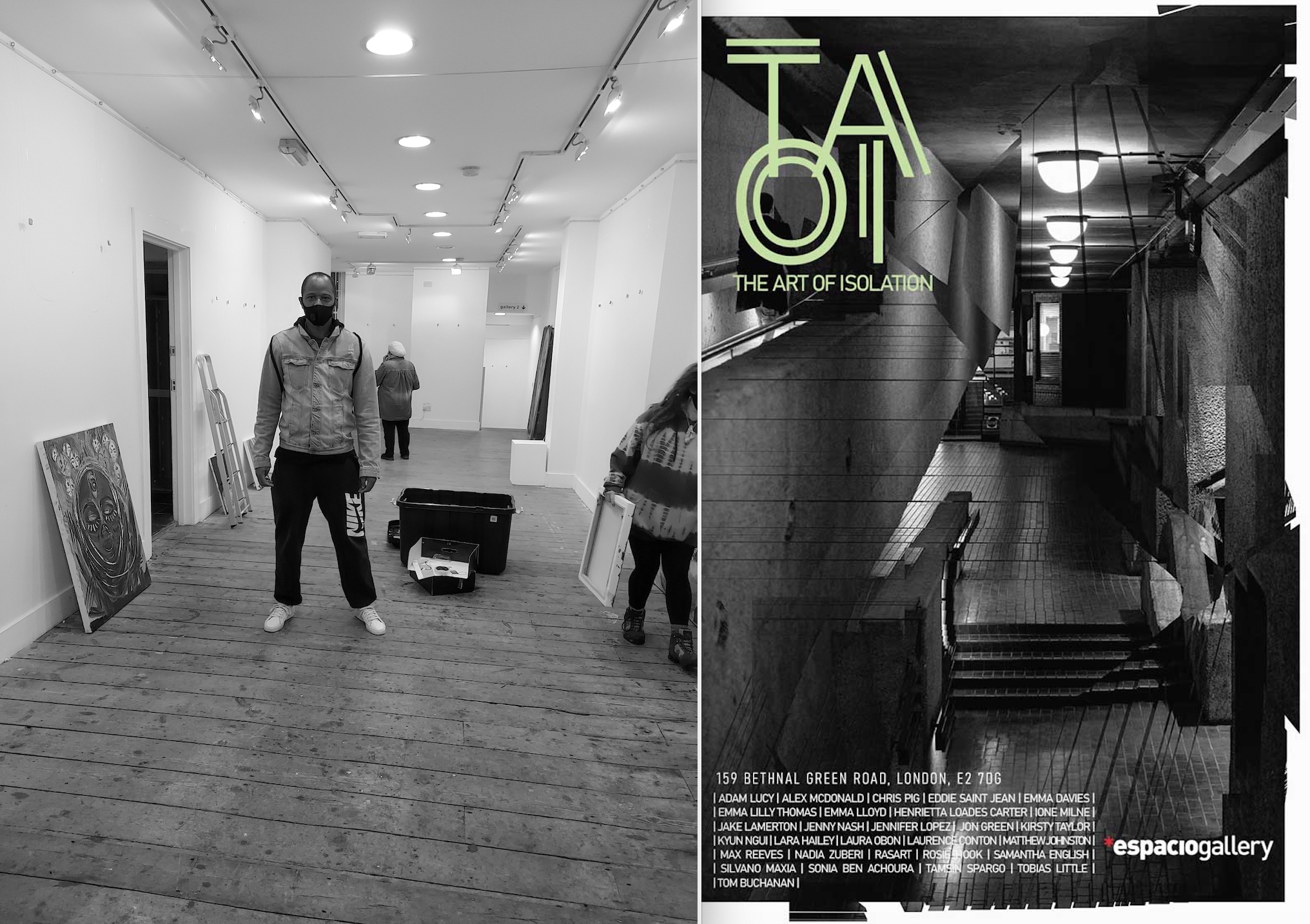 Artists delivering their work to the gallery but Covid-19 restrictions mean they are no longer involved in the hanging of their work.
Curator Adam Lucy greeted artists at the gallery entrance masked up but no less enthusiastic about this demarcative event. The artists had already been informed that because of Covid-19 restrictions on social distancing, artists could no longer participate in the hanging of the art but were assured their work was in safe hands. He also apologised about private view restrictions which meant wine drinking was no longer permitted – obviously, because of possible virus spreading., Even with disposable glasses there was a danger of compromising the recent Tier 2 restrictions introduced by the government over the weekend.
The Art Of Isolation, Espacio Gallery, 20-25 Oct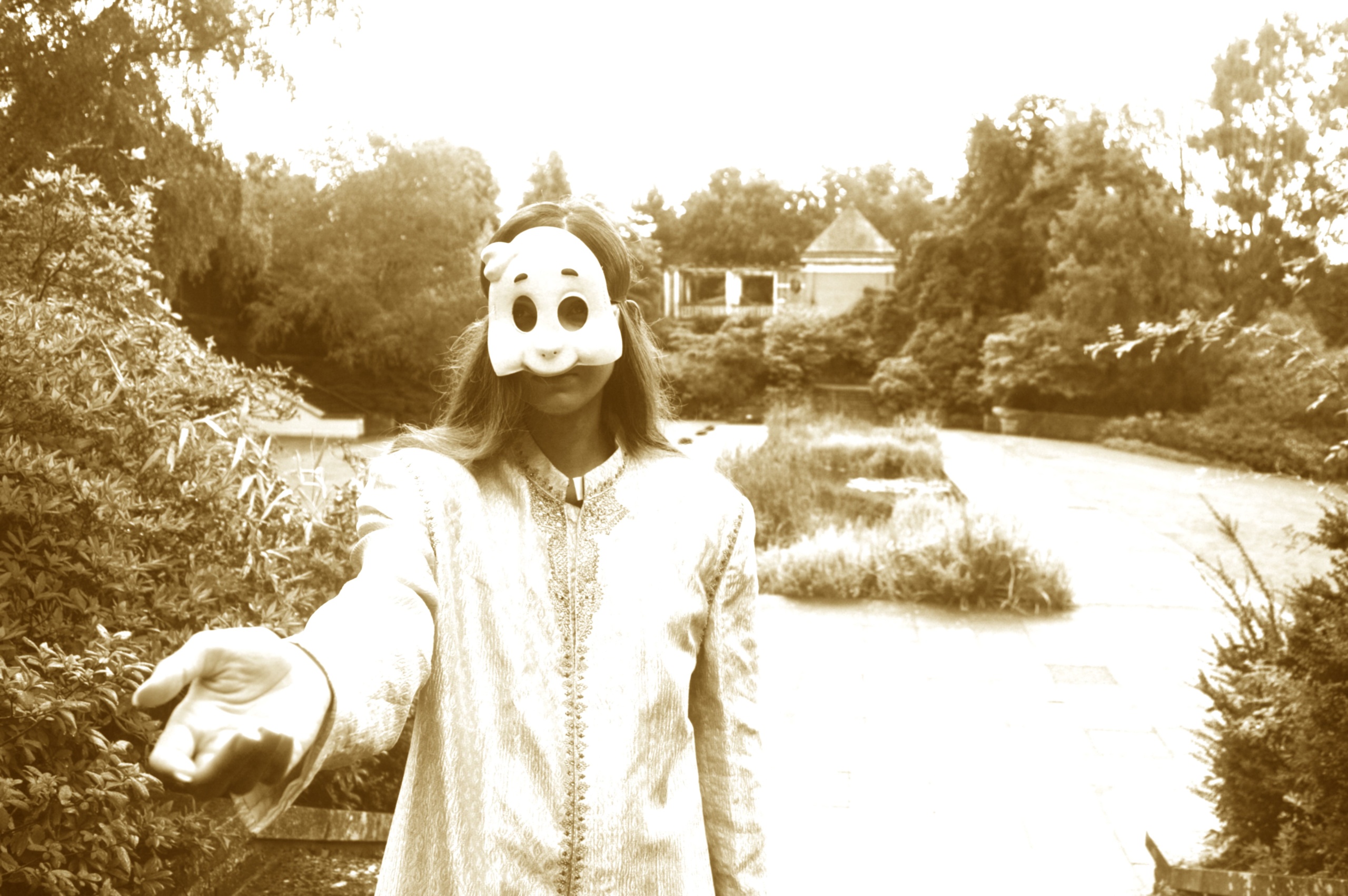 Uncanny 2 photograph by Eddie Saint-Jean
So where does this yoyoing of rules on public events and socialising leave the arts in general and visual arts in particular? Many cultural institutions have embraced digital exhibitions, fairs, festivals and virtual viewing options to try and reconnect with viewers. All this considered, Adam Lucy's determination to squeeze in a 'real' exhibition during these topsy-turvy times has to be applauded. Who knows? It may even be a rare event over the next year and a half. 
With the social media and internet generation already overloaded with eye-catching and sometimes OTT content tailored to stretch a 30-second attention span into a few reluctant minutes, galleries have some catching up to do to keep their viewers engaged using this online alternative. Can digital ever replace the physical?
Some art lovers are already complaining about online overload and of not experiencing the work in the same way as in-person. It has to be said, there's something almost hallowed about getting up close to art in a hushed, white-walled gallery. Almost a sacred space, it's undoubtedly part of the whole experience and an irreplaceable component of aesthetic appreciation  – hence the importance of curators and exhibition spaces large or small, stamped with character and creativity.
Galleries and museums must be praised for trying to find a new way to connect but their virtual walkthroughs can sometimes leave one feeling a little cheated and dry.  A bit like a 3D gourmet meal offered in 2D but with no virtual salt or seasoning capable of making the technological leap from screen to palate.
This is why the Art Of Isolation exhibition is so important. One of the few London exhibitions directly addressing the reality of Covid 19 and also acting as a rallying call to disconnected artists in the UK struggling with Tier 1, 2 and 3 restrictions, lockdown and isolation. The pandemic has literally changed not just how people look at the work but rewired the artists themselves. 
Persian artist and model Hedi Nami is the model in Eddie Saint-Jean's photographic work for the exhibition and in this series she wears thematic face masks which represent coronavirus masks but with a Freudian Uncanny tilt.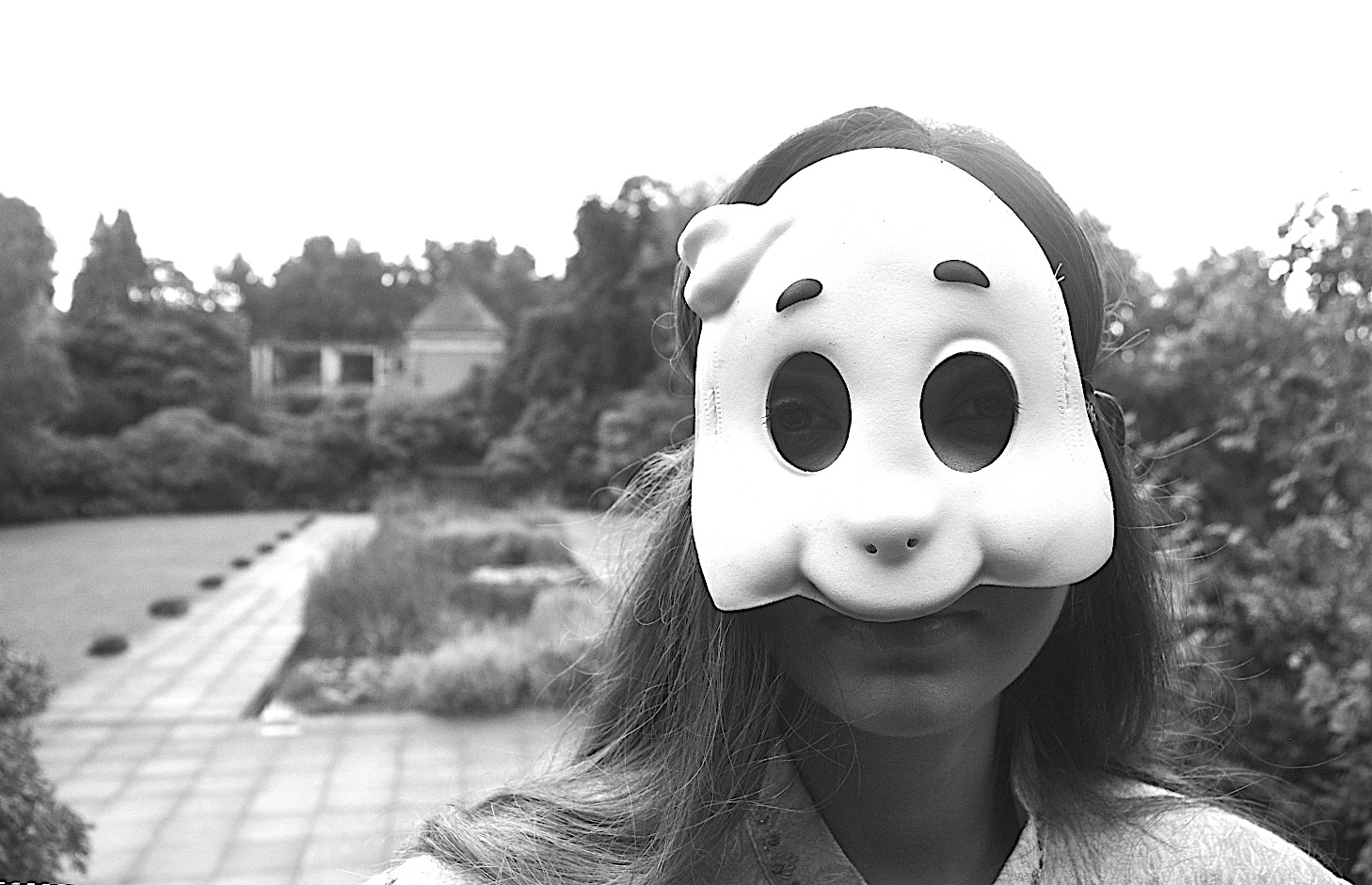 Uncanny 4 by Eddie Saint-Jean
Hedi says: "At this time of crisis, gallery events like these are essential for giving people motivation for life and reminding them these pandemic restrictions are temporary. The real-life gallery experience is needed because it is a reminder of life and colour. Also, it boosts the immune system when we are allowed outdoors in the physical presence of positivity and creativity."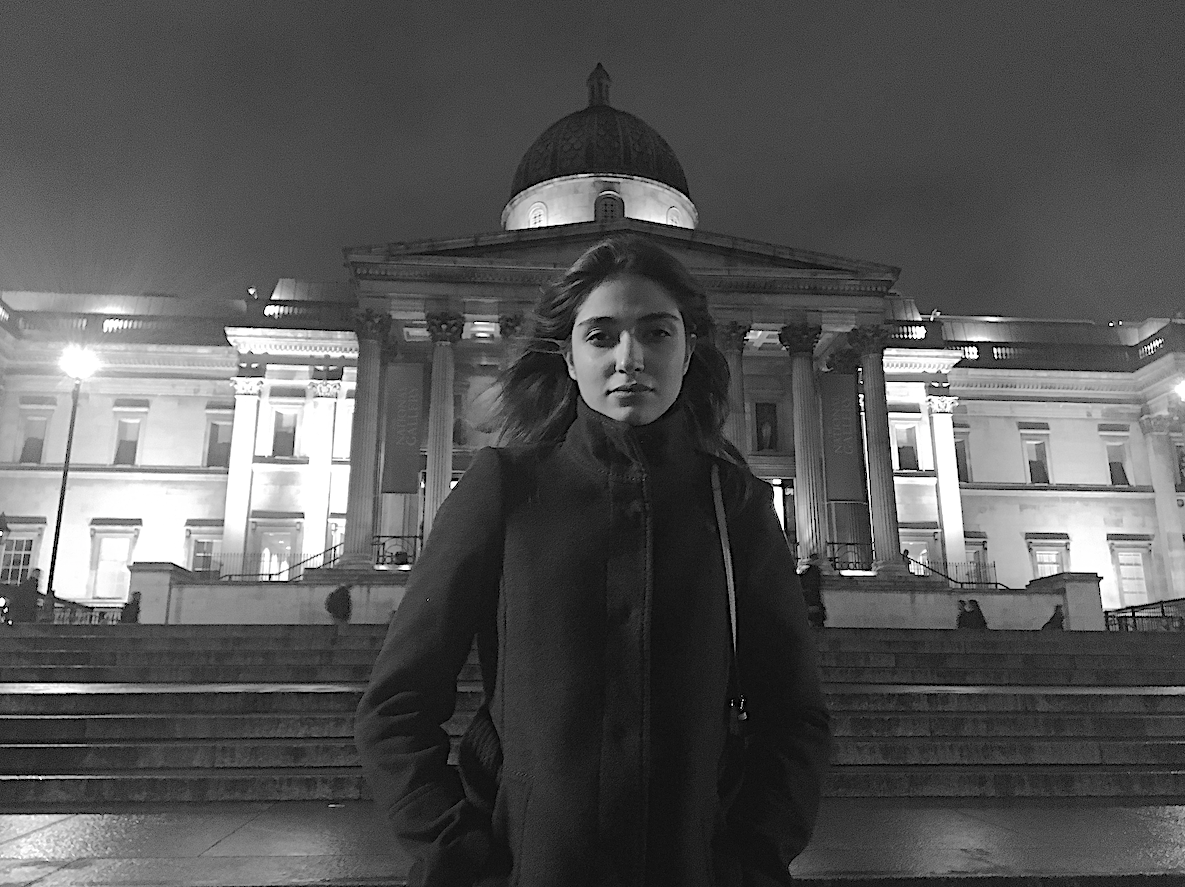 Persian artist and model Hedi Naimi outside The National Gallery, one of the many landmark art institutions forced to close during the pandemic.
Eddie Saint-Jean says: "Adam Lucy has to be applauded for an exhibition which brings together artists in this way. The entire art process from creation to delivery of work is now subject to overriding restrictions and these changes are sometimes thrown upon us on a monthly, even fortnightly basis. There's a big cultural leap happening – not the kind we would have wanted but we will have to adapt to this accidental new cultural phase with its digital and online focus. Expect great advances in simulation to reflect these testing times."
The Art Of Isolation Espacio Gallery, 159 Bethnal Green Rd, London E2 7DG. 20-25 Oct.