London's waterways will be the hottest spots in the capital for foodies in search of summer al fresco dining. Here's a selection of canalside and riverside hang outs you'll want to visit during our sunniest season.  Get set for the June heatwave!

LITTLE VENICE

There's some debate as to which of the great poets gave Little Venice its name – Robert Browning or Lord Byron. However, the Romantic bards picked up on the tranquil, picturesque surroundings and compared it favourably with the gondola city of Venice. And you can see why they rated this West London canalside oasis so highly. It makes everyone's top ten must-visit list.
Watch the world go by in one of the waterside eateries such as the perfectly-named Waterside Cafe, an adapted moored barge known locally as 'the floating cafe'. Where better to chill out, take in the natural surroundings and de-stress? Ducks, swans, wellness practitioners, canoeists, joggers – it all happens here but in a zen-like mode where you're hardly aware of them. A serving of the cafe's Famous Waterside Cream Tea will compliment this downtime, as will the summer favourite of strawberry jam and English clotted cream scones.
PADDINGTON BASIN

Another canalside oasis – just along the water from Little Venice – and it has a longer stretch of waterside eateries. Moored restaurant barges of the likes of The Grand Duchess, British Shellfish Company, The Cheese Barge and May Green offer dining on upper deck terraces in the glorious sunshine. Of the many canalside bar-eateries on this sun-soaked slip of West London waterway, Vagabond wine bar stands out – and not just because it takes up a huge section of Paddington canalside. It's a specialist wine merchant with a selection of 120 wines to enjoy . Bondi Green is so over-flowing with flowers and shrubbery it looks like Kew Gardens has come to Paddington and Gail's artisan bakery-cafe is a popular bring-your-laptop work space.
WEST INDIA QUAY

Trade ships from the West Indies docked here to offload their sugar cargo during the slave trade and the Victorian warehouses still exist today. It's an interesting architectural mix – futuristic-looking office blocks and bridges sit alongside centuries-old, historic buildings. You'll find a street market here lunchtimes Weds – Fri and KERB street food sellers serving from parked wagons.
And, yes, restaurants and cafes. Brown's Brasserie has decently-priced two and three-course meals. The sirloin steak sandwich with horseradish mayonnaise and truffle oil will not disappoint with a light leafy side dish. Alternatively, Burger & Lobster, Doner & Gyros, The Sipping Room and Rum and Sugar are cheek-by-jowl along the quay. And check out the amazing views of the quay and next door's Canary Wharf skyline!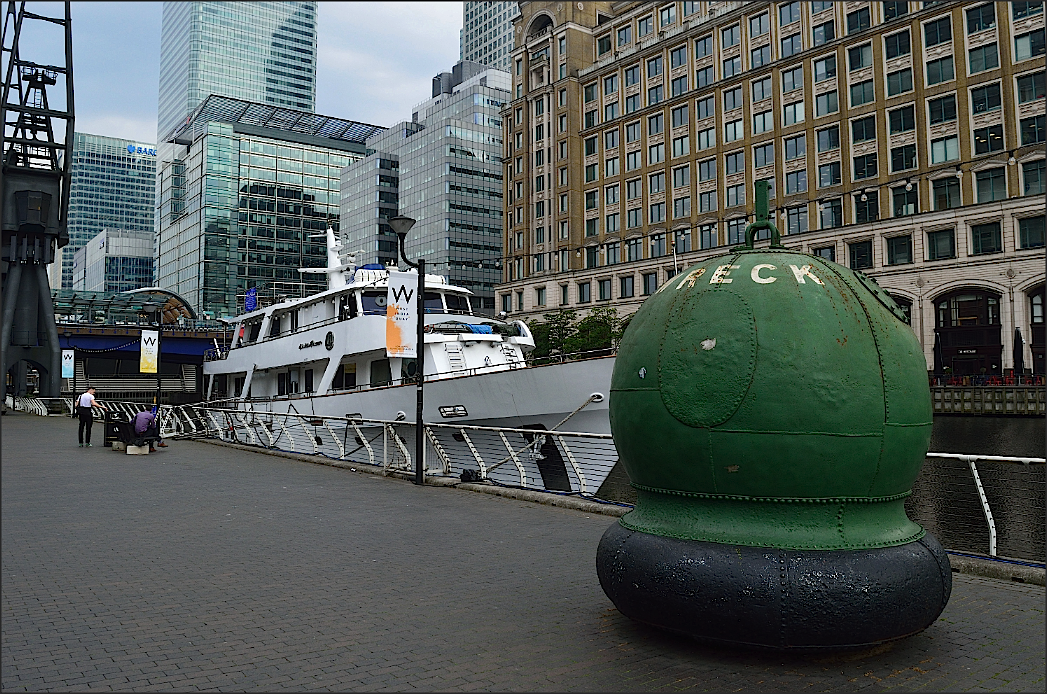 Amazing quayside views
CANARY WHARF
Mercato Metropolitan food court, Wood Wharf is your first stop in Canary Wharf for that special green spot with eye and mind-pleasing riverside aesthetics. Frecso's melt-in-your-mouth Neopolitan Pizza fresh from a wood-fire oven will have you wolfing down those dough edges you usually discard. No joke! Badiani's divine gelato are a taste of heaven – try the pineapple and ginger sorbet. But they may melt quicker than you can eat them in the searing summer sun if you're dining al fresco. Also, Lebanese, dim sum, katsu, poké and Indian food counters. The atmos and ethos is 'lay back and chill out'. The food court provides sun lounger-style bean bags by the river as well as conventional indoor and outdoor tables and seating.
The new Water Pavillions development on Water Street is an architectural dream with two magnificent floating pavilion restaurants  on the river catching the eye. Hawksmoor is a steak restaurant to impress for that date out with a difference. It's pretty spacious with seating for 150 diners –  and room for 120 more in the Lowback Bar and along the riverside terrace. So, yeh, you can't get more riverside al fresco than Hawksmoor's floating restaurant!
SOUTHBANK

Truffle burgers, fish and chips, artisan sweets and cakes served out of food wagons – it all depends on what you fancy! And you can grab a latte or cappuccino and work from your laptop at the Royal Festival Hall's Riverside Terrace Cafe. At the weekends there's  a pop up market and delicious Ethiopian vegan streetfood from Ethiopique.  If you're not fussed about being right next to the river then Ping Pong restaurant serves some delectable dim sum dishes and has al fresco tables. If you want to see a film first, BFI Southbank has riverfront dining on the ground floor and a cocktail lounge-style Balcony Bar with tables overlooking the river. Free Wifi!
MAYFAIR OF THE THAMES
If dining on a 1927 luxury steamship yacht moored along the Thames sounds appealing, then Yacht London is custom-made for dining with a difference. Elegant, art deco charm and stunning views; the London Eye and South Bank are just across the river. Yacht London is easily found at its regular spot on the north bank in an area known as the Mayfair of the Thames. The gangplank walk to the yacht is especially winding and anticipatory. Ramping up the tastebuds in more ways than one.
REGENTS CANAL – HAGGERSTON
Arepa's name gives you a bit of a clue as to what's on the menu at this Venezuelan restaurant. Obviously, it's not just a one item menu devoted solely to Venezuela's savoury dough wrap. Hang out here and you can watch the barges breeze past along Regent's Canal while dipping into staple favourites such as Yuca cassava chips and mouth-watering mains such as Pabellon Criollo, which is a shredded beef, rice and black bean dish.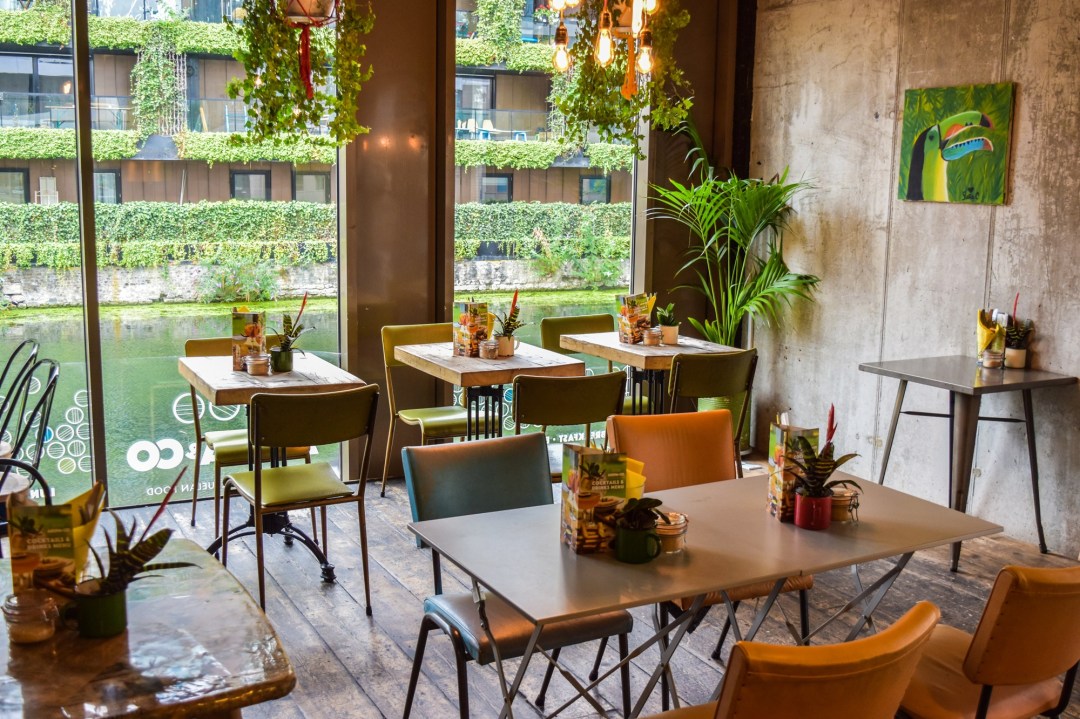 Arepa & Co
RIVER LEA – HACKNEY WICK

Floating restaurant Barge East will be celebrating its 5th anniversary on June 18th so expect a festival of fun with live music from the New York Brass Band, DJs and, of course, delectable dining on a 120-year-old Dutch barge. There's seating on the upper deck with panoramic views of the River Lea and more tables on the riverside gardens.
BANKSIDE
Head Bankside and you'll be spoilt for choice, regardless of whether you're looking for a lunch time option during a tourist jaunt or an evening hang out after work. The likes of the Tate Modern often go on after dark and visitors spilling out at closing time often choose to enjoy splendid views of St Paul's Cathedral across the river from the Founders Arms. It's a landmark pub in this arts and culture-focused corner of Southwark and perfectly placed to catch the footfall from Bankside Gallery, the Tate Modern and Shakespeare's Globe theatre.