So going by the title is this an exhibition where visitors are invited to the studio of the great Spanish artist and get to check out his pristine footprints on the paint-spilled floors? Well not exactly but close enough. This immersive exhibition at Mayoral, Duke St, Piccadilly is a reproduction of the atelier where he created those great works and yes comes complete with primary coloured paint spilled on the floor to give it that lived-in authenticity.
It's an interesting concept when you consider most exhibitions seek to keep that hallowed distance between artist and the rest of the world. Almost as if lifting that veil of mystery might detract from the craft and ultimately the value of the paintings. If anything the mystery is increased by being in the reconstructed work space of this avant garde artist.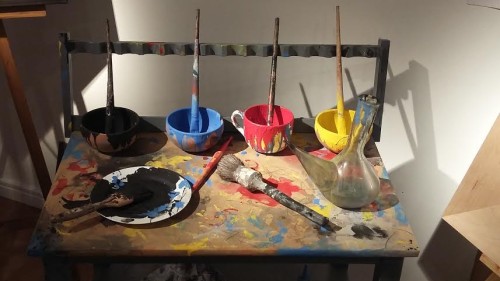 Physically you're so close that his brushes are always within arm's reach but spiritually you are forever an elusive brush stroke away from the soul of these masterpieces. It's a double-edged sword.
Although born in Barcelona he moved to the French capital in 1920 to find new inspiration for his work amongst the Montparnasse art community. There he met the ultimate inspiration Pablo Picasso who also had strong links with Barcelona and Paris. Miro's flight from Paris at the onset of the Second World War took him back to a Spain now controlled by General Franco but during the war he would resettle in Majorca. It was there that he built the studio this exhibition is based on and where he would work until his death in 1983.
It was designed by close friend and fellow Catalan Josep Lluis Sert, a noted architect. They parted during the outbreak of war but despite the fact Sert was now in New York their transatlantic friendship remained intact. Letters discussing mutual projects are also displayed in the exhibition.
Alongside his familiar, strikingly coloured surrealist works are display cabinets of found objects. He was an avid collector and would seek to beautify this personal trove known as his Pinacoteca, giving them pride of place in his living environment. They range from animal bones to South American clay figures. It's an interesting aside to this surrealist painter, sculptor and ceramicist.
The exhibition is an intriguing insight into the method behind the man and the opportunity to trace his footsteps will no doubt be welcomed by both artists and non-artists alike. It runs until 12 February 2016 at Mayoral, 6 Duke St, St James's, London SW1Y 6BN. Monday to Sunday, from 10.00 to 18.00. Bookings by appointment are also available.