It was the boats versus the goats this weekend. Saturday April 11 saw some action-packed sporting frenzy with the much anticipated annual Oxford-Cambridge boat race. The four mile river trek from Putney to Mortlake was watched by Londoners from across the north and south side of Thames. It was thriving business for riverside pubs offering good views between Hammersmith and Putney as people thronged in huge numbers to watch the race live. The BNY Mellon Oxford-Cambridge men's boat race was preceded by the Newton women's boat race held for the first time alongside the men's race this year. Both the men and women teams from Oxford beat Cambridge to win the 2015 boat race.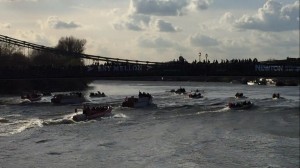 (Oxford-Cambridge Boat Race 2015, Photo by CN Gandhi)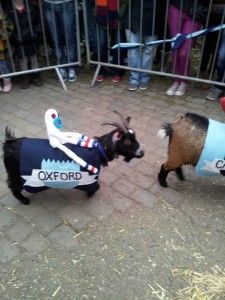 Meanwhile, at the east side of London in the Spitalfields City Farm, there was yet another sporting spectacle between Hamish and Hugo, two handsome goats representing Oxford and Cambridge racing their way to the finish line for the 7th time this year. Hamish beat Hugo to claim the trophy, a cornucopia of vegetables making it a first win since inception for Oxford at the Oxford-Cambridge annual goat race,  a fund raising event.
A triple whammy in boat and goat races combined for Oxford this year. A day of boats, goats and some good ol' sports for Londoners!
( Oxford-Cambridge 2013 Goat race photo by Ew Leal)