The I Matter Exhibition, curated by Lincolnshire-based Olu Taiwo, sought work by minority ethnic artists themed around the title I Matter and all its iterations. The submissions, from all over the world, included paintings, photography, sculpture, video and mixed media – and talented London artists were amongst those selected to show their work. The exhibition opened at the Babylon Gallery in Ely, Cambridgeshire and is now on a touring show of the UK and beyond. It's currently at Peterborough Museum until November 28, 2021.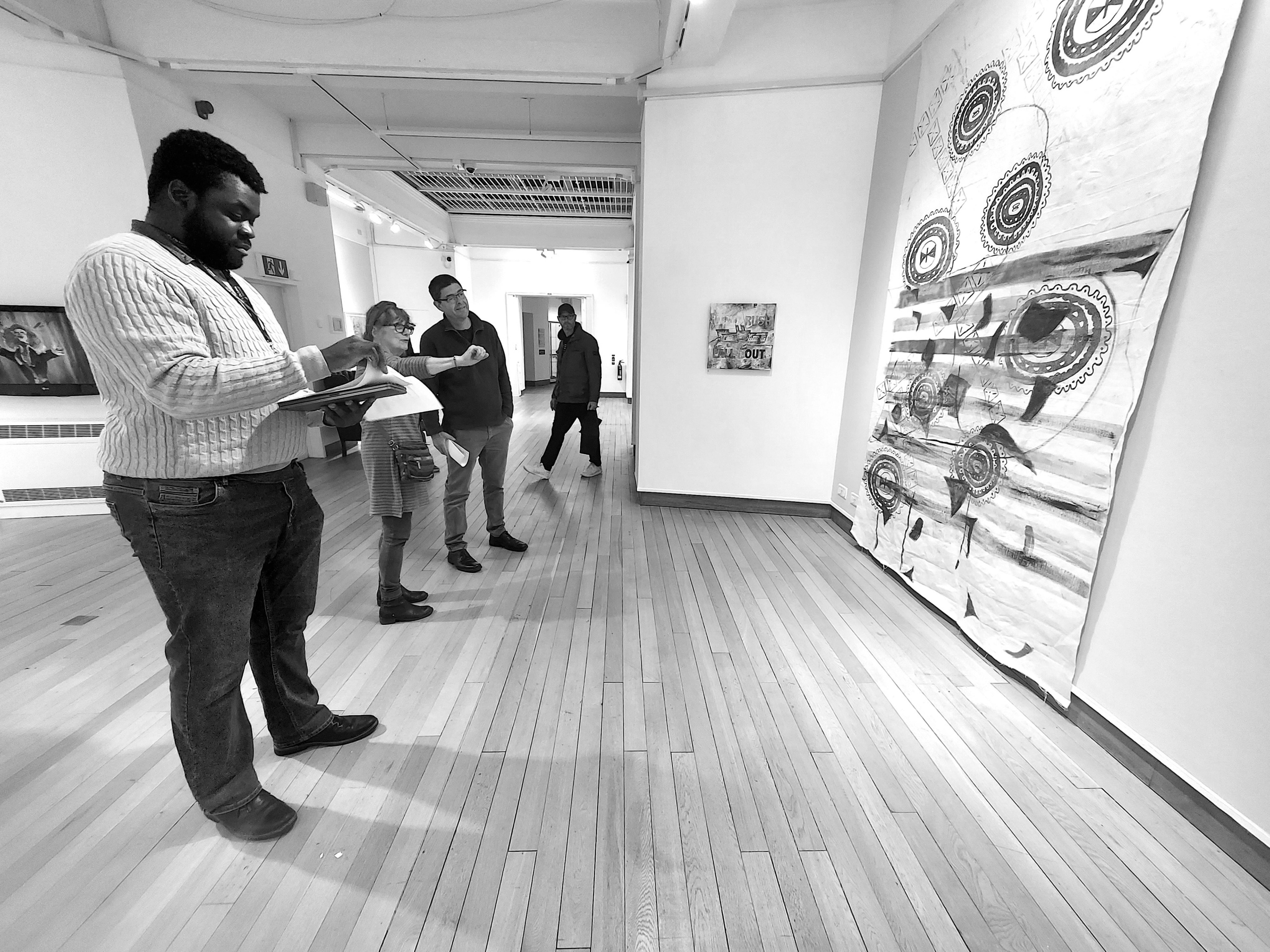 I Matter curator Olu Taiwo in the foreground.  I Matter Exhibition, Peterborough Museum
We asked the artists what the term I Matter means to them and also the inspiration behind their work.
Latifah A. Stranack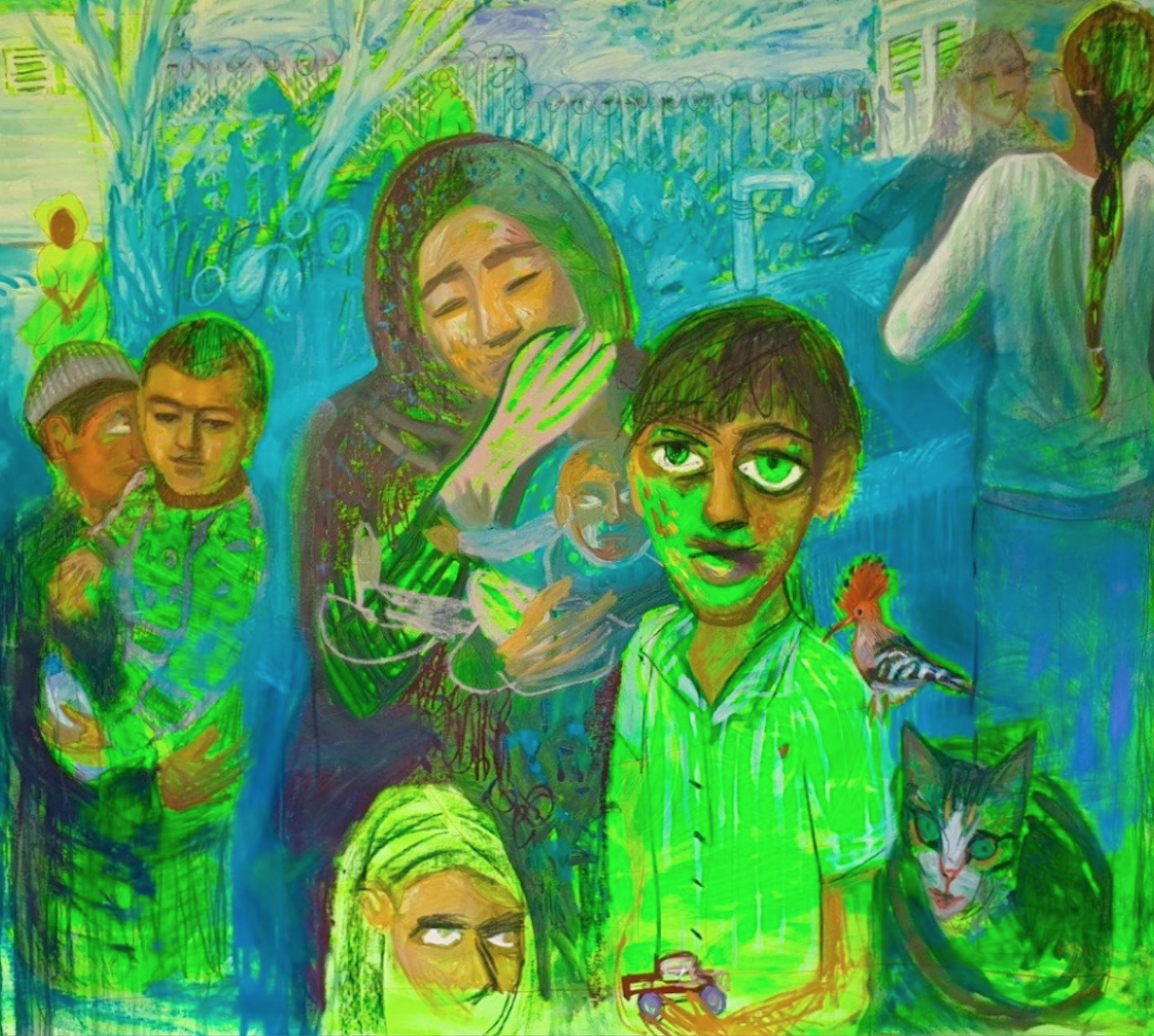 Dreamland – not a final destination. oil bar and paint on canvas
What's your creative background and what inspired you to become an artist?
Since I was a little girl, I have always been obsessed with anything involving paint and mark making. I think this was inspired by my mum, as she had a little studio in our home. And from the age of 6, I remember the highlight of the week was when I was allowed to come into her studio and paint and draw next to her. Fortunately, my mother always supported my creativity, and we would visit a lot of museums and galleries together.
I was very excited when I was able to attend university and complete my BA and MA, as this was something that my mother had always dreamed of doing, but her parents had not allowed her to go to art school. I am very grateful to have attended such wonderful universities, where the creative courses taught me to think critically and really question and engage with my subject. They helped me gain confidence in my abilities as an artist, and the tutors were always inspirational and supportive.

What is the inspiration behind the piece that was selected for the exhibition?

The painting in the exhibition is called: Dreamland – not a final destination. It was created last September during lockdown; the world felt like a scary place and painting was such a powerful way to escape from the fear of the future and all the worry about the pandemic. Luckily, we have the vaccine now, and I feel very fortunate to be living here in the UK and have access to good healthcare and a safe place to call home. For many people across the world, this is not their reality. Refugees fleeing war-torn countries, violence or famine, in search of a better future, have been desperate to flee their countries during the pandemic.
Women and children have been particularly affected, and in my painting, I was trying to capture a moment in a camp where time stands still, as they are confined in limbo between cultures and countries, unsure if they will ever gain the correct documentation to remain somewhere safe. They have been sold this idea of the West, but in the camps, the reality is very different. As the viewer holds the children's gaze and looks into their eyes a bird and cat observe us too. I cannot imagine the suffering and trauma that they have gone through, but if my work can allow someone to just pause for a moment and reflect on the lives of children growing up in these camps, maybe we can come together to find more solutions to this never–ending issue?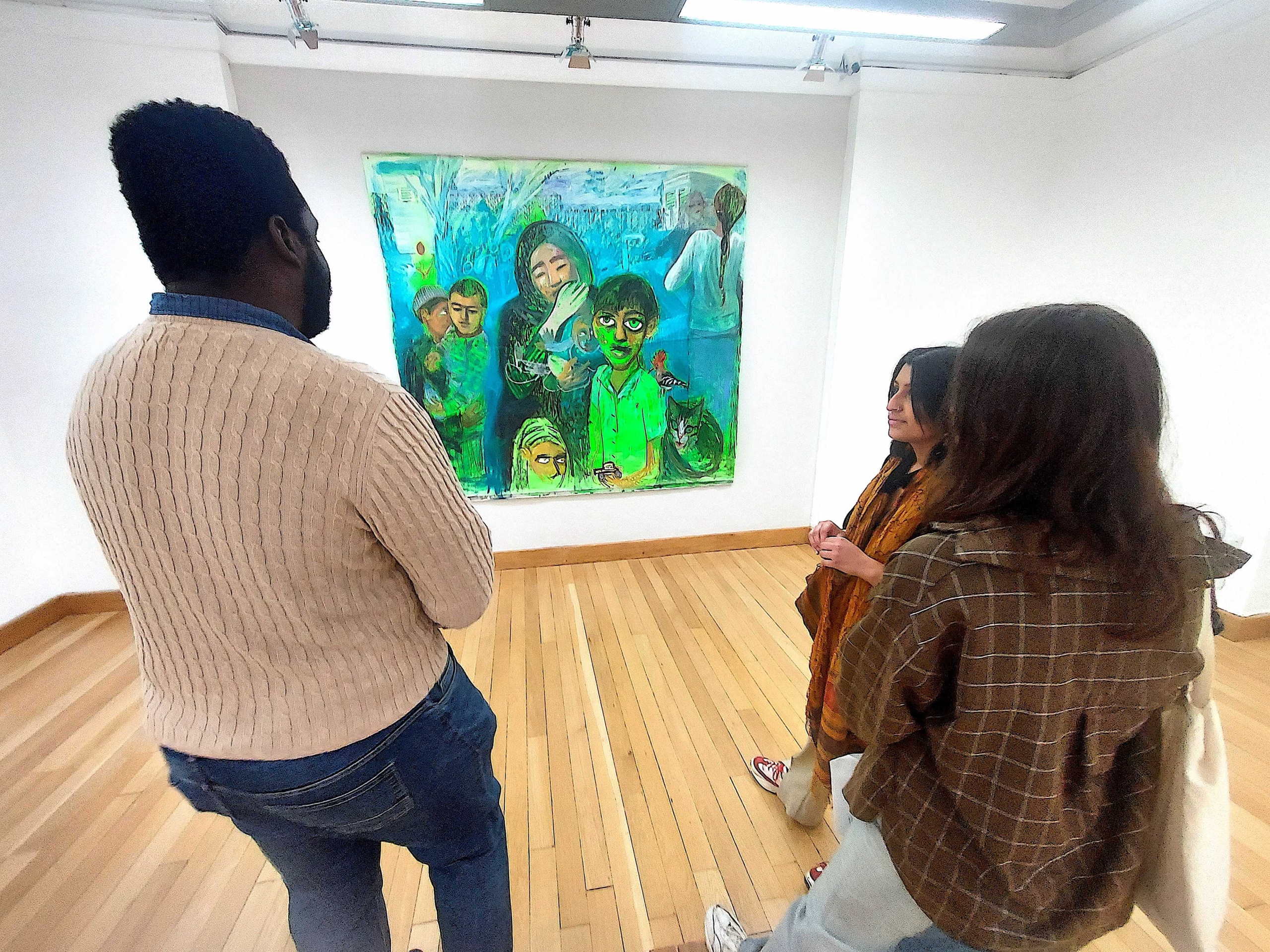 What does the exhibition title I Matter mean to you?
For me, it means that I am visible, that I count, and that my diverse cultural background is valid and matters. I grew up in a culturally mixed home, and this has always been the norm for me. Always feeling a bit of something and nothing all at the same time, and I think that sometimes that can create a lot of questions about your identity and where you fit in. As I have grown older, I realise that all the labels aren't always effective and can be divisive. I have friends from all faiths and nationalities and I love learning about their cultures and finding the common ground between us all, and what we share as humans. We matter, we all do.
Jay Morally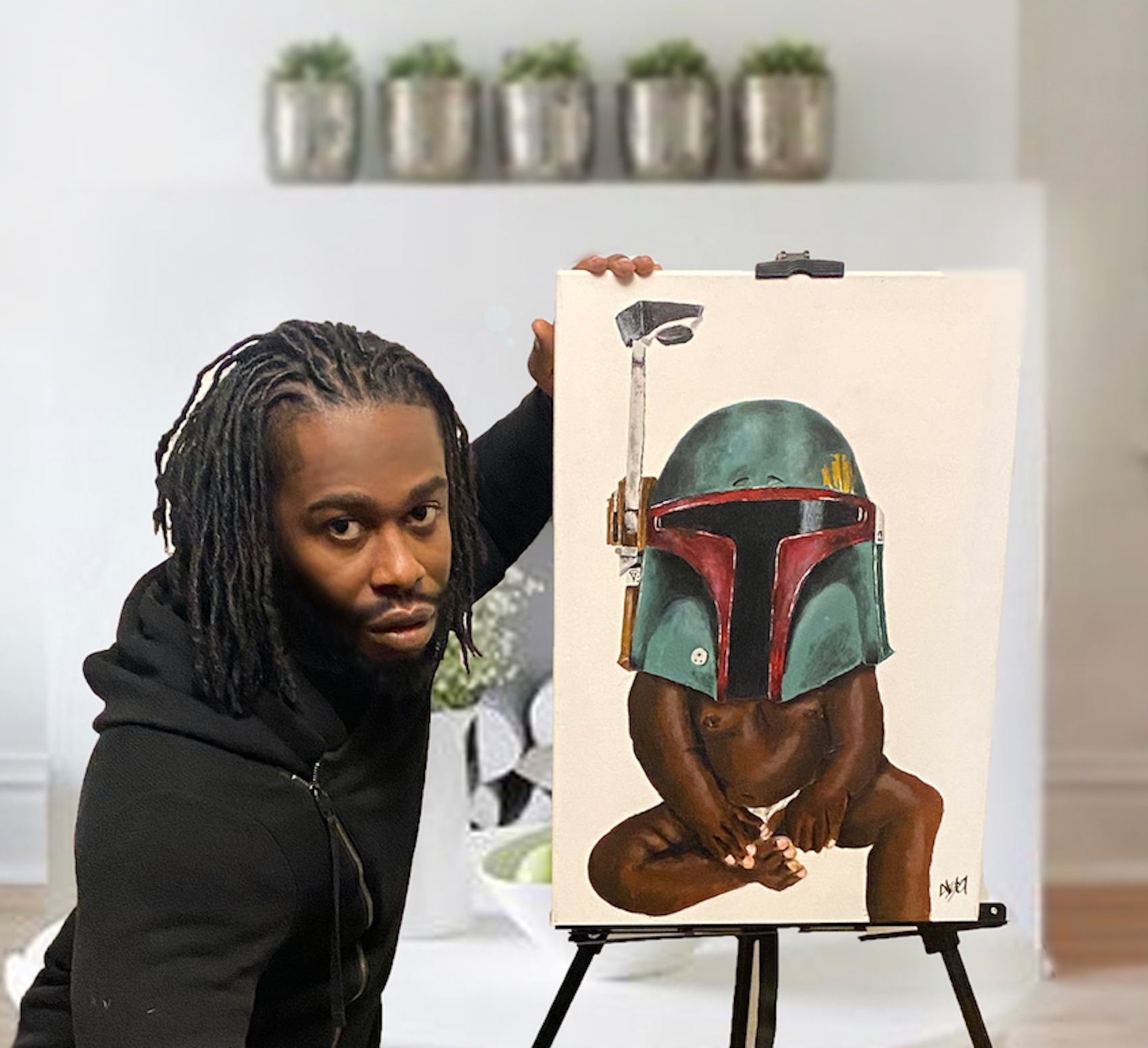 What's your creative background and what inspired you to become an artist?
I am a self-taught artist from South London. I got involved in art at school and at that time art was generally based on landscapes. Later, I deviated away from art because the stigma around it was that art was just a side hobby that I could never achieve anything with. In 2016, I was given a canvas so I decided to work on a new painting. I managed to sell it for a price I was rather impressed with.  From then on, I chose to move away from painting landscapes and create from my imagination.  In 2017, I decided to establish myself as an artist as I became impressed with what I could create and realised art is a job, art is a lifestyle, art is a vehicle and art is fun!
What is the inspiration behind the piece that was selected for the exhibition?
These pieces were inspired by the Star Wars spin-off series The Mandalorian. The Mandalorians are a race of warriors that never take of their helmets. I see black people as warriors particularly as we have managed to endure various challenges and struggles through the ages – and still face them as people of colour. We cannot remove our skin, we cannot remove where we come from and we cannot remove who we are. 'This is the way' – as quoted by the Mandolorian warriors.
What does the exhibition title I Matter mean to you?
'I matter' means to me that everyone, no matter where I come from, who I am, what I look like, wherever my destination, what my preference is, no matter how I view the world or how the world views me… I MATTER!
Suchi Chidambaram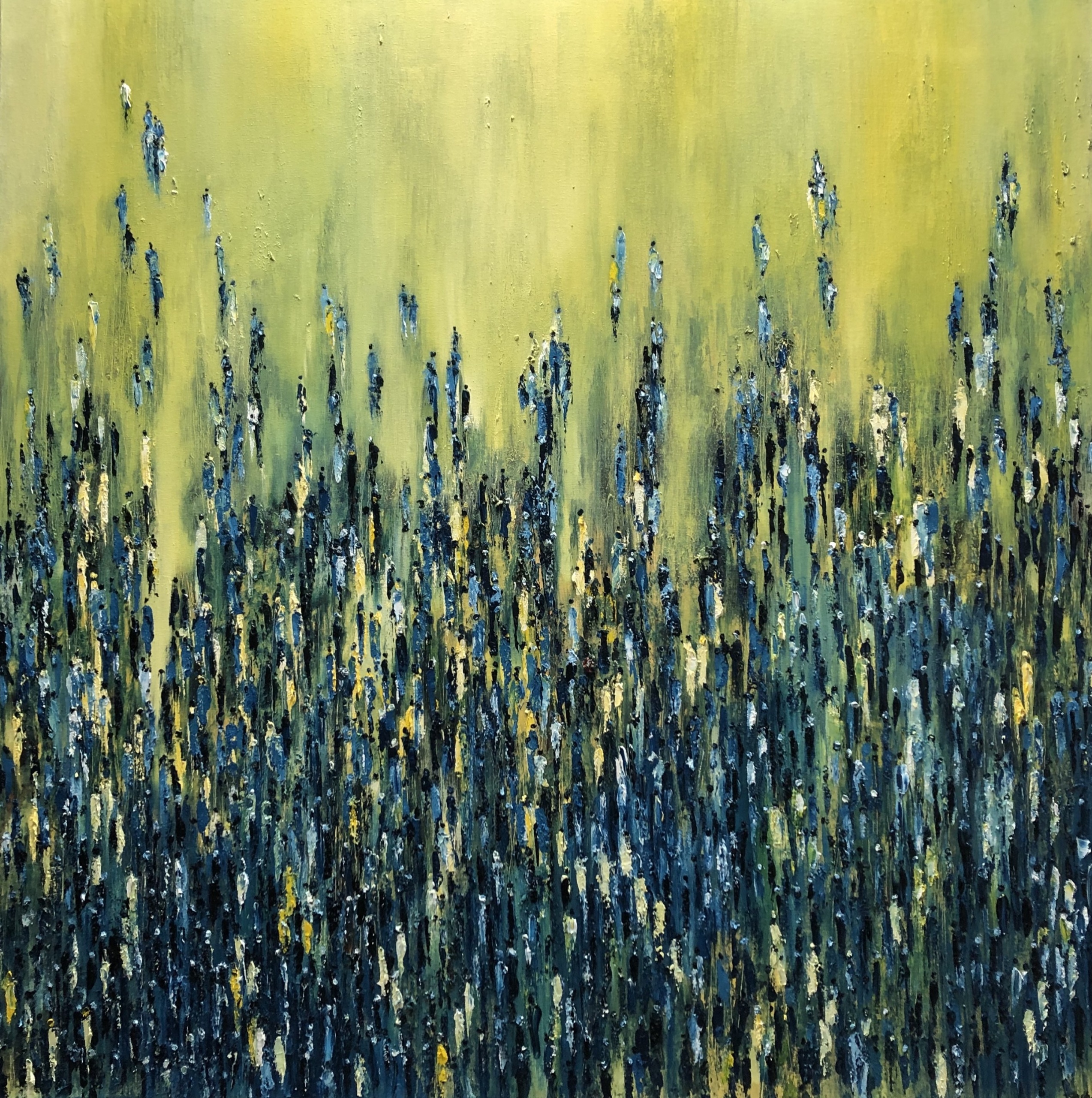 Parallel conversation, Oil on canvas, 101 cm x 101 cm, 2020
What's your creative background and what inspired you to become an artist?
I am a painter, born and raised in southern India, now living and working in London. My fascination for drawing started when I was about seven years old following a visit to an architect's office. Seeing entire walls covered with architectural drawings made a big impact on me. This was my first understanding of perspective. Following this visit, I recall spending most of my free time drawing and learning to paint through observation and experiment.
Initially self-taught, it was only later I got some formal training from K.C. Murukesan, an abstract landscape artist from South India.  I moved to London in 1998 where I continued to develop my practice. My work now focuses on narrating my experience of a place and its people through rapid palette knife marks using oil paints. My interpretations are not painted in situ but from memory, allowing fragments of visual data to mingle with her subjective and emotional responses. The resulting work varies between figuration and abstraction.
What is the inspiration behind the piece that was selected for the exhibition?
Parallel Conversation is a painting from my Crowd series. I am struck by the power of gatherings and their oneness in spirit. In this painting, every individual is depicted with a stroke of thick oil paint that becomes part of a bigger crowd suggested by rapid palette knife marks with the use of rich, strong colour onto a canvas. Collective marks reveal the rhythm and directional flow of this swarming crowd and the patterns they make as they gravitate towards a focus.  Every mark that makes up an individual is unique and significant to the strength of the mass.  The restoration of the oneness of spirit despite our difference in colour, nationality or gender, through meaningful conversation and engagement, is vital to reinstate our solidarity as One. This has been an important subject in painting as in life.
What does the exhibition title I Matter mean to you?
Parallel Conversation was painted in 2020, a year that has brought to the forefront the value and significance of every human life, irrespective of differences in colour, nationality or gender. Our greatest strength is in our mutual respect for every individual and our collective strength as One. I matter, you matter and together WE ALL MATTER.