There's Xmas Cheer in Euston – Food, Drink, Culture!
                                                                                                                                                                                                                                                                       The December snow augurs a postcard perfect Christmas in London – and where better than Euston to kickstart your festivities! Even before you exit the train station you'll stumble across its unique local history. Also, you'll find a station pub named after a towering landmark – a neoclassical railway arch. The pub offers a cosy Christmas menu that's easy on the pocket. And that's just in Euston station! Read on – there's so much going on in and around Euston this Christmas.
History
Euston station opened in 1837 as the UK's first intercity station, running from London to Birmingham. It was designed by George Stephenson, inventor of the first steam locomotive, and built by his son Robert. Philip Hardwick (1792-1870) designed its Doric Arch; one of London's largest, it towered over the likes of Marble Arch.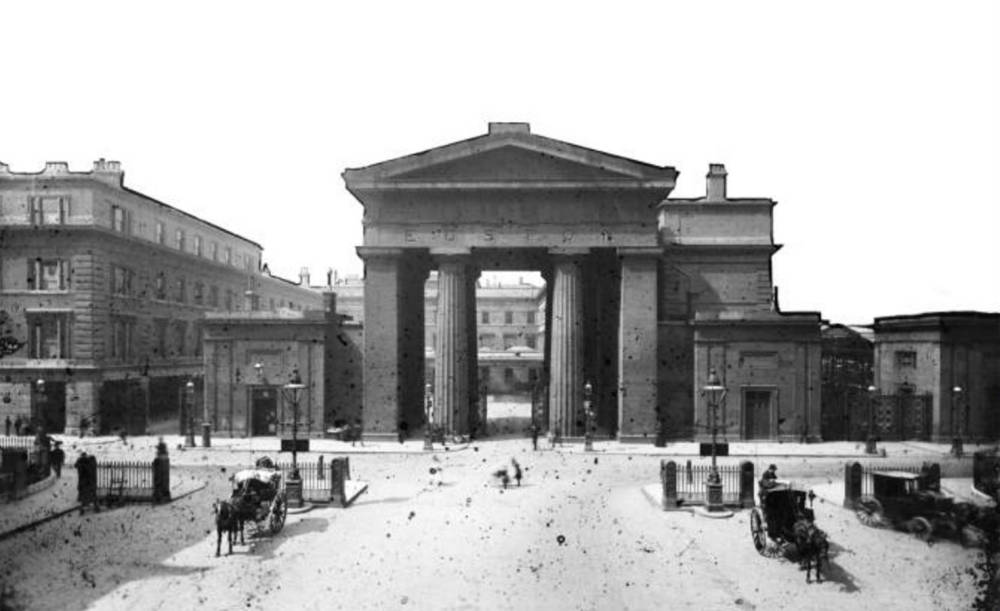 Euston Arch came to be known as Doric Arch because of its classical Greek architecture
The grand-standing Doric architecture aped the magnificent arches and columns of ancient Greece. However, Hardwick was inspired by the neoclassical versions he had seen in Rome. This landmark station entrance was demolished in 1963 to make way for for the electrification of the network. As you can guess, there was a massive public outcry.
Inside the station look out for a plaque honouring Euston's first black rail guard Asquith Xavier. Born in Dominica, West Indies in 1920, he was employed as a guard at Marylebone station and applied for a transfer for the same position at Euston in 1966. But he was told by rail managers that blacks could only be employed as cleaners at the station.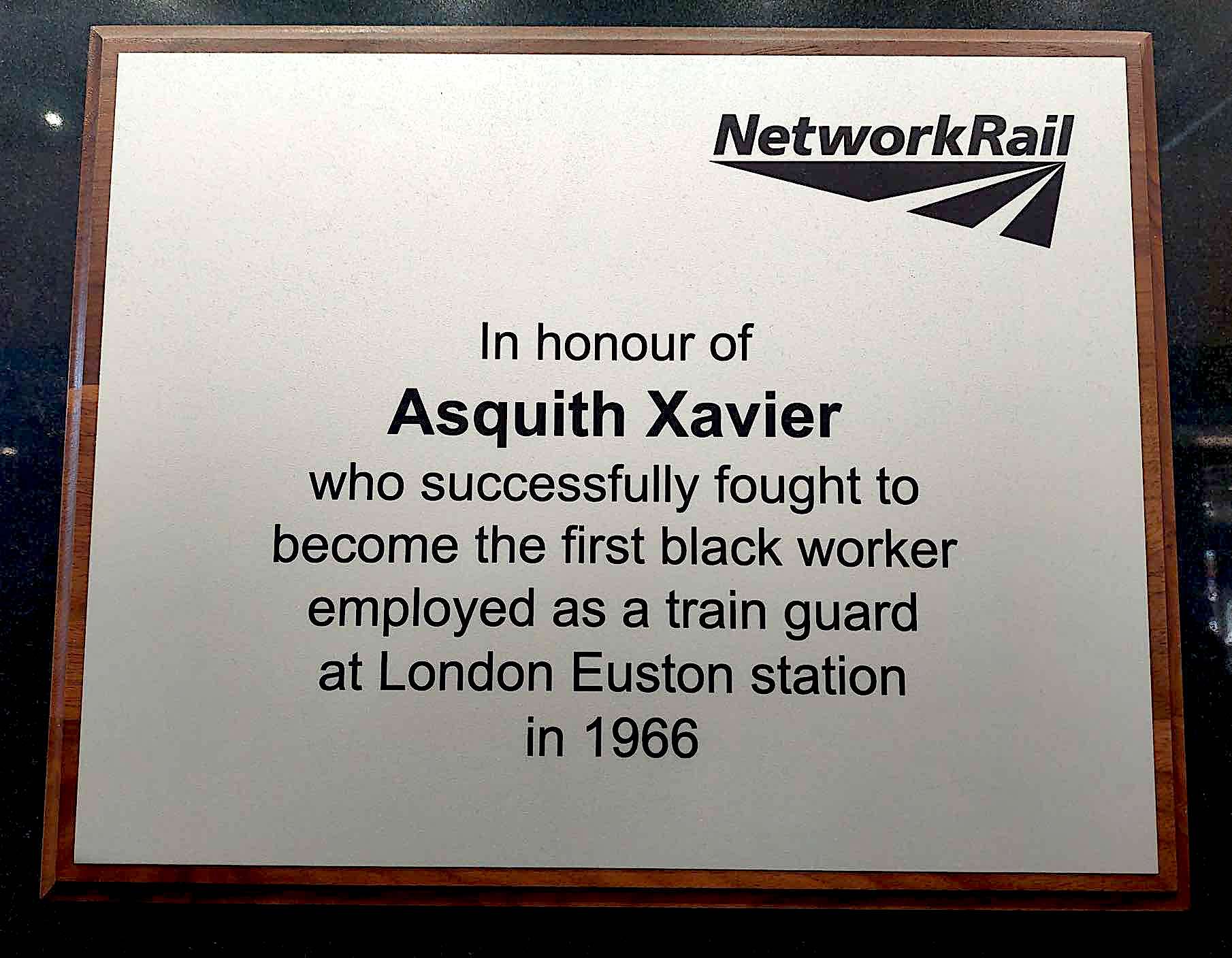 He ploughed on despite this and even received death threats because of his determination to get the job. But his desire for equality won through and he celebrated becoming Euston's first black rail guard. The UK's race relations and employment laws were hastily revised because of his treatment.
If you're still on the history tip, pop along to Somers Town just down the road. There you'll find a brown heritage plaque on Oakshott Court which marks the home of Mary Wollstonecraft, author of A Vindication Of The Rights of Women (1792). She is widely recognised as one of the first feminists – or certainly, the most high-profile. Her daughter was Mary Shelley, author of Frankenstein and married to poet Percy Shelley. Wollstonecraft was married to William Godwin the founder of the anarchist movement.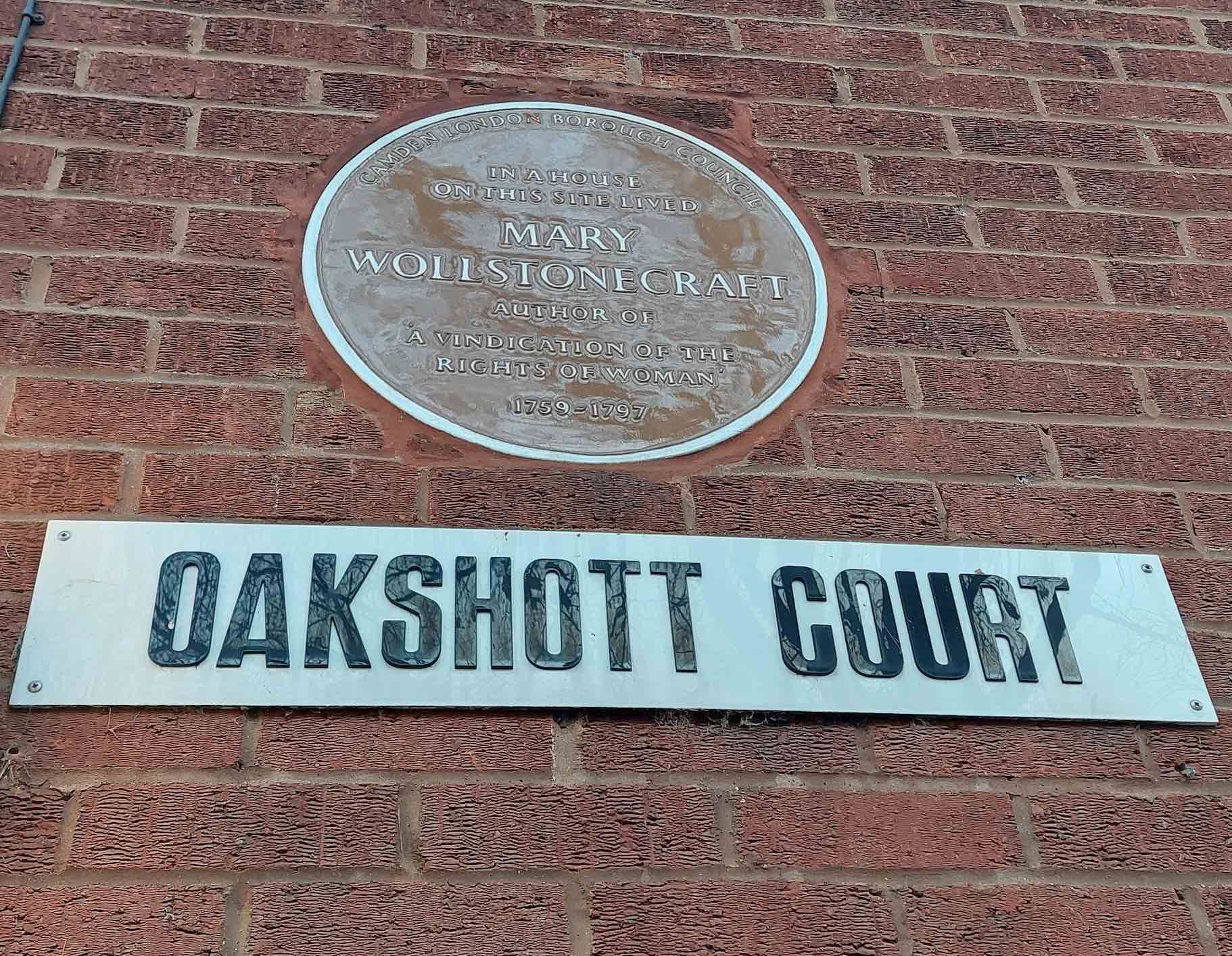 Mary Wollstonecraft's  brown heritage plaque.
.
Exhibitions
The Wellcome Collection is just across the road from Euston Station and a must-visit for those with an interest in science and medicine. The Healing Pavillion installation by British-Kenyan artist Grace Ndiritu examines cultural and racial faux-pas by museum staff when handling African collections in 1915 and 1973. You are instructed to 'remove your shoes' before entering its Buddhist temple-style structure. There you'll find the artist's Twin Tapestries formed from Wellcome's own archive photos. The commission brings together textile and architecture in a post-colonial document re-read from a contemporary perspective.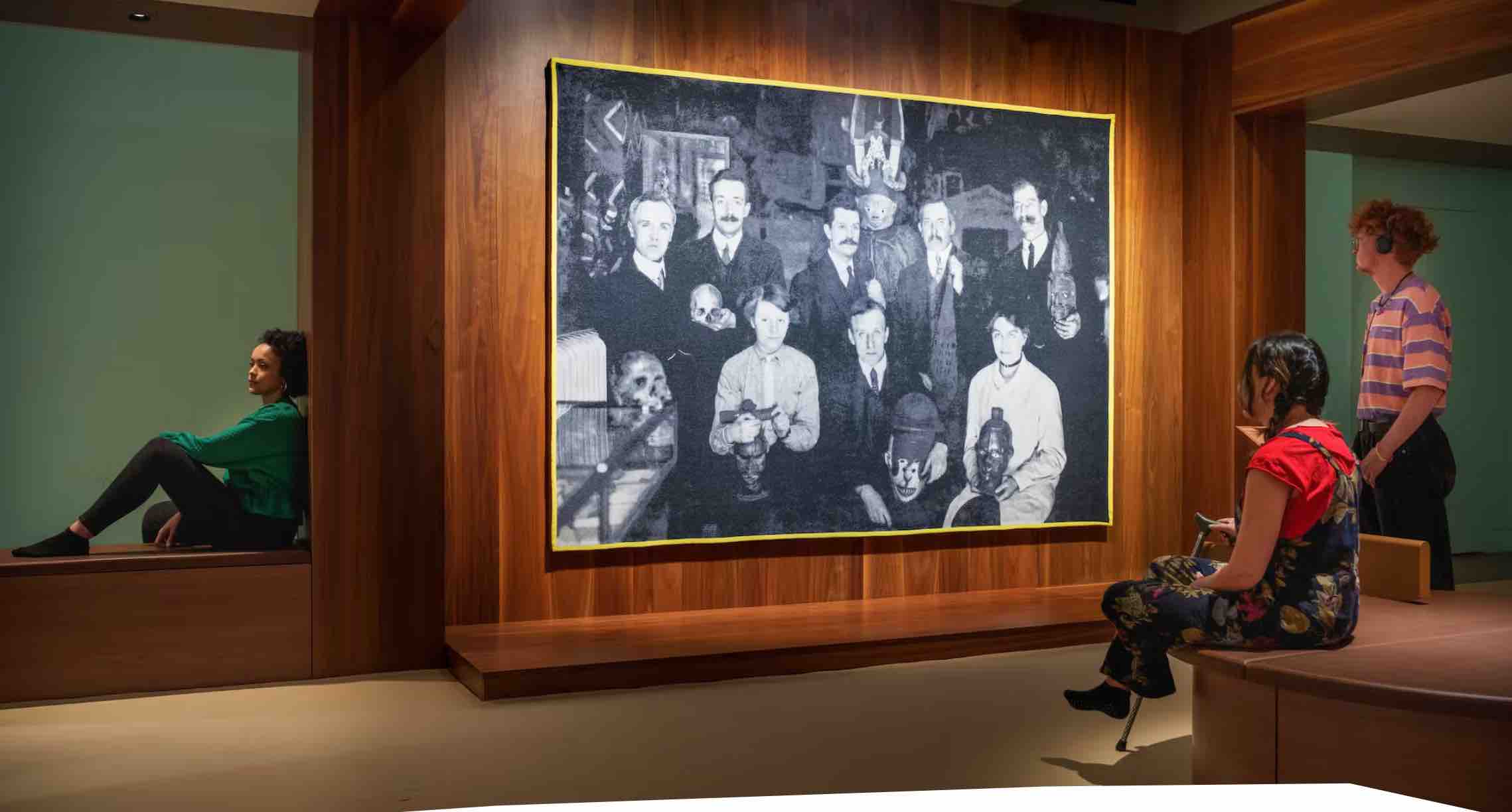 .
The British Library's Alexander The Great: The Making of a Myth exhibition reflects the dizzy magnitude of the man himself. There's an unmistakable tadah! underscore in the presentation of the millennia and centuries-old coins, ancient texts and artefacts from the period of his reign and thereafter. But where do we draw the line between the indefatigable global conqueror of the history books and the fictional, fabled Macedonian dressed up as a superhero by doting scribes? Find out for yourself at this captivating exhibition which just might top anything of its kind in the capital.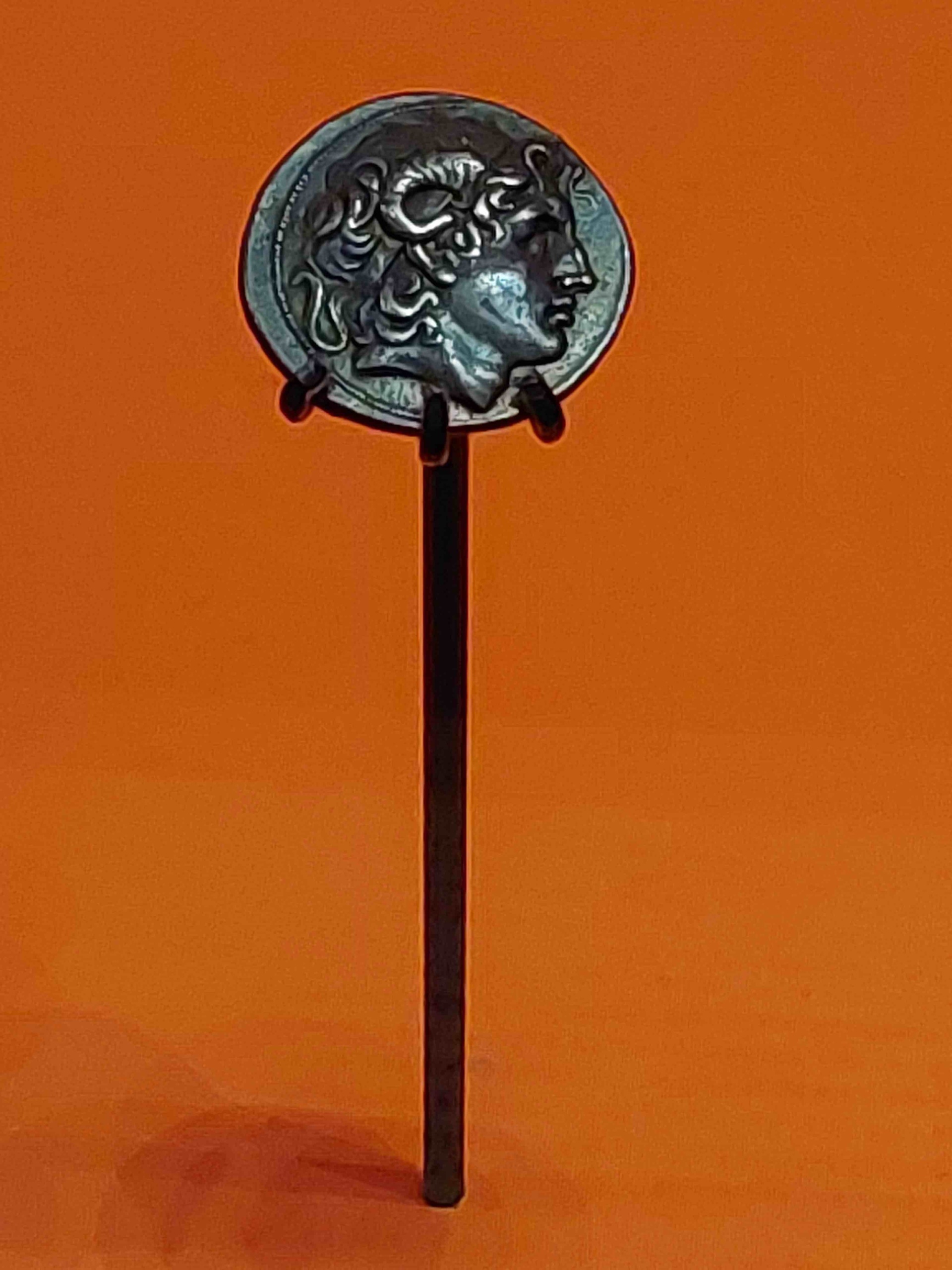 Alexander The Great. 2,000-year-old coin.
.
Food And Drink
Check out the Doric Arch a comfy station pub with an intriguing railway theme. It's named after Euston's iconic neoclassical station arch and has interesting railway memorabilia on the walls. Even the weathered-looking Gents and Ladies signs are railway station cast-offs. Look out for the seating booth designed like a railway carriage compartment. Railway history nerds might want to hunt for hidden stones from the original magnificent Victorian Doric Arch that once stood at the station entrance. 
The Christmas Buffet includes: Confit Ponzu Salmon, Crab Thermidor Tart, Crispy Ox Cheek, Chicken Liver Parfait, Black Pudding Scotch Egg and Vietnamese Spicy Chicken. But personally, I'd skip the Christmas menu and go for the tasty Haddock and Chips – sizeable servings and melt-in-the-mouth delicious. It just depends how strong your Christmas spirit is!